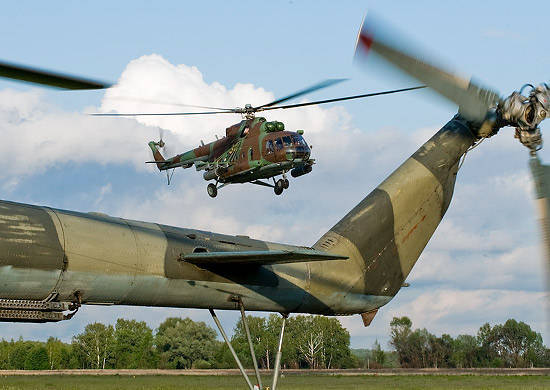 The demining groups of the Central Military District (TSO) continue to clean up from explosive objects in the area adjacent to the Volgograd-Samara highway, in the region of the Volga State Ammunition Ground of the Ministry of Industry and Trade of Russia.
For these purposes, seven mine groups of 40 people with special equipment were involved. Calculation of an engineering mine clearance vehicle IMR-2 clears fire paths from explosive objects
tank
, conducts reconnaissance of fires on the territory of the training ground and, together with aircraft manufacturers, coordinates
aviation
.
Special military guides on the basis of the MT-T tractor (BAT-2) started to clean up the road between the vaults.
The Central Military District grouping includes more than 200 military personnel, more than 20 units of special heavy military equipment are involved. The aviation group consisted of four Mi-8 helicopters and one Mi-26 helicopter, three of which are equipped with the VSU-5 and VSU-15 water discharge devices, which simultaneously release water 5 and 15 tons of water, respectively.
During the aftermath of the consequences, more than 7 km of the road were cleaned, about 800 explosive objects were found. Helicopters of the military aviation of the Central Military District carried out over 100 plums into the fire. During operation, the helicopter dropped more than 500 tons of water.
The fire tank made more 20 visits to the fire zone and ensured the implementation of priority fire prevention measures, bringing the total to the fire center more than 150 cube. m of water.
In order to eliminate the consequences of a fire in the district headquarters, an operational headquarters is working from Wednesday evening, coordinating and interacting with the EMERCOM of Russia forces.