For the interaction of ground forces and
aviation
groups in the US are planning to develop new technologies. The American military, without undue modesty, however, as always, announced that the program already had definite outlines, and over time it could lead to a real revolution in the tactics of warfare with the support of ground forces from the air.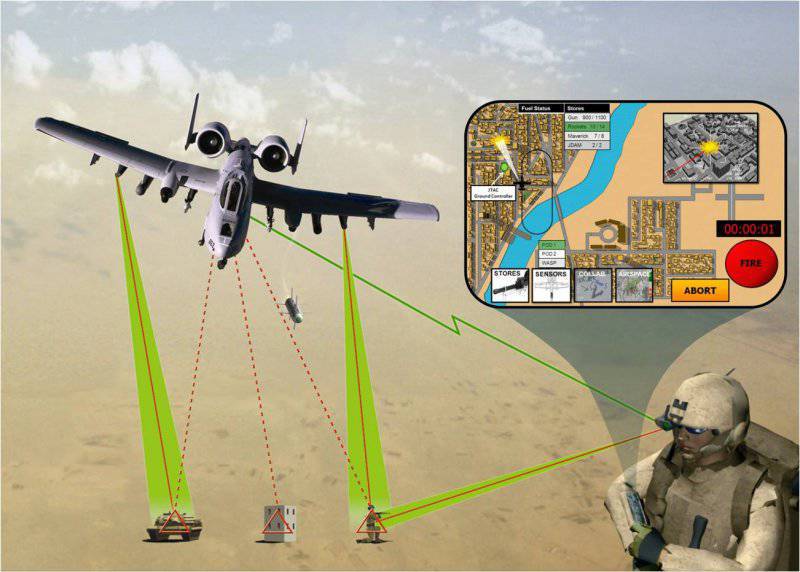 In order to organize air support for infantrymen today, it is necessary to conduct long negotiations, to provide their guidelines for a strike, which can not be unambiguous for any pilot. And if the landmarks are ambiguous, then launched missiles or bombs dropped on the enemy, can please not the enemy, but in their own infantry. At the same time, even existing communication and navigation systems do not allow to completely avoid fatal blunders.
The new program, under the working title PCAS, will create a technological innovation that will enable effective communication between infantry units and military aviators. In practice, the system of coordination of actions will largely resemble an advanced computer game, where, with the help of special software functionality, an infantryman will be able to call air support to strike a specified area of ​​terrain. The pilot will see a kind of label that will show exactly where to hit.
The versatility of the proposed system will allow the infantryman to even choose the type of support from among those aircraft that are available at the base. This can be both support from drones, as well as from manned aircraft and helicopters. The image of the territory of the conduct of hostilities will generate a computer (special functional video terminal), which through a special eyepiece will transfer the image into the eye of a fighter (pilot).
Thus, both the infantryman and the pilot will see in front of them a picture of the same terrain on which they can mark places for striking. Marking a place to strike with one person will result in a similar label for another subject of the battle. This will reduce the risk of blunders, as well as significantly improve the effectiveness of communications between ground forces and aviation groups during combat operations. In addition, the time it takes for the pilot to reduce his plane to the right place to strike at the enemy will be reduced.
It is reported that the computer system is implemented through PCAS-Ground multimedia tablets based on the Android OS. They allow to obtain timely and accurate data on the location of military units and aviation groups (individual aircraft) in the air. Systems receive a GPS signal, which allows you to monitor the situation at the scene of combat operations.
The US military reported that the new system can be used on airplanes, helicopters, armored vehicles, in UAVs. Whether such an idea will make a revolution in military affairs will be known after its implementation.