I've done a lot of noise
news
, which gave "on the air" one previously unknown American sysadmin. The news is that we can be watched by US intelligence agencies. To this end, in the United States, a special program was developed and introduced under government patronage, which allowed collecting personal data about certain citizens, their telephone or Internet conversations, and online transactions. "Mother Mia!", Overly impressionable people shouted, "they are watching us, but we are not taking anything, we are silent in a rag ... We must do something!" Other overly impressionable people also began to feverishly think how to protect themselves from the American special services , characterized by a tendency to total surveillance.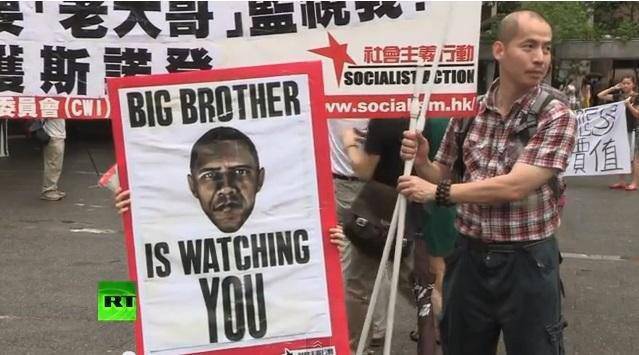 The main irritant was the information that a few years ago, Western intelligence services even arranged a wiretap for the phones of the Russian president (then Dmitry Medvedev) at the time when he took part in one of the international summits. "Nightmare! Horror! If the president is being tapped, how about us being ordinary citizens! "- all the same very impressionable people cried out.
Well, and what - did someone really assume that the NSA or the CIA, or any other special service in this world, is white and fluffy, and works exclusively according to the gentlemen's code: not a step to the left, not a step to the right. To think so is too naive. And the revelations of the sysadmin Snowden in this connection made a lot of noise not even the fact that the wiretapping and the secret services received personal data were carried out, but that the usual (forgive Edward Snowden) pawn decided to reveal the secrets of Big Brother, which in this case are more like secrets Opener. At the same time, one can clearly see that it was Big Brother himself who was outraged more than others. He concealed himself with the hopes that behind the democratic mask no one in the world suspects a completely different physiognomy. As the classic said: "I myself am glad to be deceived" ...
And after all, after the Snowden revelations, Big Brother even managed to succumb to the conditioned reflex that issued him (Big Brother) with his head: a grasp reflex - following the example of private Manning. Oh, you! - I'm here, you know, I care about world peace, and these rank-and-file, mixed with sysadmins, allow themselves to push back the democratic screen and demonstrate my direct work! - in a fit of rage escaped from Big Brother.
But we - people are not so emotional, and therefore perfectly well before Manning and Snowden understood that there are security services of the state, which claims to be a planetary police officer, taking into account the values ​​of only a narrow group of people who settled on Wall Street. They also understood that if a person registers on Twitter, Facebook, Google and other Western (and not only Western) Internet services, uses e-mail, talks on Skype, uses electronic transfer systems, GPS navigators, then must understand: confidentiality is becoming a myth. If the same special services need such information at a certain point in time, then no declared protection of accounts with the software anti-spyware system and other "security" husks will be able to prevent them. How can the door prevent the master from entering the house if he has all the necessary keys with him ...
The situation with illegal tapping and surveillance of user accounts attended to the Federation Council. Senators and narrow specialists gathered to express their indignation about the activities of the American side. Honestly, this meeting in the Federation Council is difficult to comment. After all, it's like: either our senators really believed in the infallibility of the American special services, and Edward Snowden suddenly opened their eyes, or simply decided to play in public. If you believed, then, it turns out that we do not have the Federation Council, but a naive meeting of people with rose-colored glasses. And if they knew perfectly well everything, but decided to play to the public to raise the political rating, then this is completely useless.
By the way, after the meeting in the Federation Council of the Russian Federation, the deputies of the State Duma (the Lower Chamber) were also concerned about the actions of the American special services. Here, in bright colors of the Russian public, they announced that from now on every Russian citizen would have to feel how our legislators are protecting him from American scoundrels who dared to violate the boundaries of private life. How to protect? - this is probably the main question. Is it really possible that Google or Skype will be shown red cards, and GPS-navigators or Apple products will be outlawed by us. You can, of course, prohibit, deprive of licenses, put up other claims, but somehow all these prohibitive sanctions in the Internet age look unintelligible.
People are ready to shout that they are categorically opposed to having their personal data known by representatives of the special services (even the NSA, even the FSB), but they are never registered in various Internet services, do not hesitate to upload their photos and share with millions of other users purely personal information. Is modern man ready to give up the world of the Internet, to erect informational walls around himself, taking care of his safety? Obviously not. No, because we managed to get used to open access to the information we are interested in, to ensure that we ourselves provide access to our pages for complete strangers. This has already become the norm, for many - lifestyle. These special services, and not only the special services (there are enough banal Internet scams, too) are actively used.
Information is distributed on the Web, it becomes public knowledge, it can be used by a person for ordinary acquaintance, and maybe - to extract their own benefit. That is why the hype around the message of Snowden, who today is forced to seek political asylum in Iceland, looks quite strange. By the way, Snowden also differs a certain degree of naivety. If he betrayed an open secret belonging to Big Brother, then does Edward really think that the borders of the same Iceland for Big Brother are impregnable? Does he really, after the same details of the work of the US special services, believe in world democratic principles? If, even in Icelandic fjords, there are problems with high-speed Internet, then this is unlikely to save Snowden. Big Brother is too hurt for him ...
By the way, the States themselves (their special services) do not even see their fault at all in actually stealing the personal data of users of the Network and telephone lines. They declare that journalists are to blame. Like, we stole here quietly - no one knew, and journalists with Snowden trumpeted everything - catch, plant on bread and water, wearing orange robes ... And they will catch, and they will plant. Democracy will triumph, and all impressionable will be declared paranoid! .. They say that there is no surveillance and information - sleep on, comrade ...