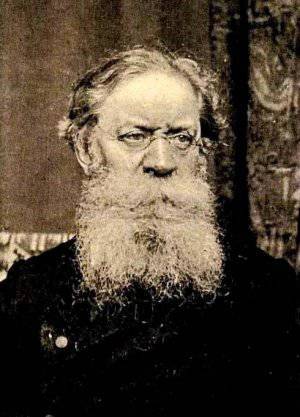 Few people remember that before 1991, Furshtatskaya Street in St. Petersburg bore the name of Peter Lavrov, the famous Russian philosopher and politician of the last century.
History
his life, and most importantly, what his sermons and compositions for the Russian people eventually turned out to be quite instructive for today, when again in our society the calls for "radical changes" began to sound.
Looking at the portrait of this handsome gentleman with a broad beard, a nobleman and professor, an artillery colonel who loved to compose in his spare time, it is hard to imagine that it was Peter Lavrovich Lavrov who called for and demanded:
Stand, brothers, everywhere at once, -
From the Dnieper to the White Sea,
And the Volga region, and the distant Caucasus -
On thieves, on dogs - on the rich
And the evil vampire king.
Beat them and destroy the damned
Light up the best life of the dawn!
Even more, we will probably be surprised that these furious lines are taken not simply from the poem of an elderly professor. This is a quotation from the famous "Working Marseillaise", composed by Peter Lavrov, which was immediately used in Russia as a national anthem immediately after the February Revolution. "Let us renounce the old world, shake off the dust of our feet!" - exalted young ladies, workers, students, and soldiers deserting from the front were enthusiastically singing on the streets of Petrograd.
Later, all of them, probably, were also very surprised when this "bloodless revolution" turned into one of the most ferocious dictatorships in the history of mankind.
Although what was surprising if the hymn, which they themselves sang happily, was calls for a massacre.
The future revolutionary philosopher was born in Melekhovo, Pskov province, in the family of a retired colonel of artillery, a personal friend of the famous A. Arakcheev, known for his devotion to the emperor. In childhood, Lavrov received an excellent home education, well mastered French and German. Having matured, he entered the artillery school in St. Petersburg, where he was considered the best student of academician M. Ostrogradsky, showed exceptional abilities to mathematics. His career continued as a teacher at the St. Petersburg Mikhailovsky Artillery Academy and the Konstantinovsky Military School. During the Crimean War, Lavrov was in the army, however, as he himself later admitted, he "did not participate in any military actions." Soon he married a beautiful woman, a widow with two children in her arms, of German origin. The father, having learned about mesalliance, became angry and deprived his son of material support. For the already large colonel and professor with a decent salary, accustomed to a wealthy life, this turned out to be a blow. I had to earn money by writing articles for magazines and tutoring to support a large family. However, soon the death of his father and older brother made Lavrov completely wealthy man.
However, it was at this time that he began to read out to Herzen, became close to Chernyshevsky. Then came his first book, Essays on Practical Philosophy, in which Lavrov argued that "the moral personality inevitably conflicts with an unjust society." He himself did not openly "urge Rus to the ax," as Herzen did. However, proximity to the revolutionaries led to the fact that after the assassination of Karakozov against Alexander II, Lavrov was arrested, found guilty of "spreading harmful ideas" and sentenced to exile in Vologda province, where he lived from 1867 to 1870 a year.
It is unlikely that Lavrov at that time assumed that when his political associates would come to power later, they would immediately put him against the wall for spreading "harmful ideas".
And not only for distribution, but simply for being a professor or a former royal colonel.
In exile, Pyotr Lavrovich did not work chained to a wheelbarrow, but, using his leisure, wrote his most famous work, Historical Letters. They contained a passionate appeal for young people, for all "critically thinking" and "energetically striving for truth individuals", to understand "the tasks of the historical moment and the needs of the people" to immediately start "creating history and fighting against the old world", which opinion, mired in lies and injustice.
However, he himself did not fight for these ideals in Russia, but fled from exile to Paris, where he joined the First International, went to London, where he met Marx and Engels, and soon began to edit the revolutionary newspaper "Forward!" this newspaper was published his "New Song", which was later dubbed the "Working Marseillaise." However, this song was by no means the only one in which Lavrov called for the destruction of the "villains of the damned." One of his other poems was called "The Song of Hate":
Let in the heart of all, in whom the heart beats with passion,
Only hate reigns heat.
Ready fire; there is enough wood
So that the whole world kindle the holy fire!
Break the enemies without getting tired,
Razite boldly hand.
And you will be the kind of holy hatred
Sacred than holy love!
In Paris, Lavrov, perfectly fluent in French, immediately felt like a fish in water.
When, in 1871, power passed into the hands of the Paris Commune, the emigrant from Russia was delighted and warmly welcomed this great, as he thought, event.
He tirelessly went to rallies, spoke in the squares, urging the workers of the French capital to a decisive struggle. Even he himself, as he later wrote in his memoirs, traveled to the suburbs, from where the communards sacked products. At that time in Paris, as always happens during all the coups, a terrible famine reigned. Parisians even ate all giraffes, chamois and other inhabitants of the zoological garden, hunted for cats and rats.
But Lavrov did not notice this, stating that only working people can realize "great ideals of a better and happy life." He did not even notice how, on the orders of the Communards, several hundred hostages were taken, and then dozens of innocent citizens, including the Archbishop of Darbuis in Paris, were shot. Well, and when later revolutionaries seized power in Russia, then terror and executions became the norm.
The eminent publicist Mikhail Katkov warned long before 1917 what dangers the theory and propaganda activity of Russian intellectuals, philosophers and theorists who, like Lavrov and Herzen, having taken refuge abroad, furiously denounced their own country and called for the destruction of existing in Russia, could pose dangers orders.
"Our barbarism is in our foreign intelligentsia," said Katkov. "True barbarism walks with us not in a gray army cap, but more in a tail coat and even in white gloves."
And also: "Our intelligentsia gets out of its way to show itself as less as possible Russian, believing that this is Europeanism. But the European intelligentsia does not think so. European powers, on the contrary, only care about their interests and do not think much about Europe. "
After the defeat of the Paris Commune, Lavrov did not end up in prison, but was able to calmly live out his century in France, writing theoretical works, and printing a lot in Russia, despite the allegedly "ferocious royal censorship." In Paris, he died, and was buried in the cemetery of Montparnasse.
It is unlikely, of course, Lavrov, then understood what his passionate sermons of the "struggle against the old world" and the affairs of his followers would lead to, for which he should "beat and destroy the damned evildoers". However, when a revolution broke out in Russia, after his death, and the disciples of the former professor, philosopher and retired colonel came to power, Alexander Blok, who was killed by its horrors, understood this. The great poet named "Worker Marseillaise" Lavrov among the "most nasty poems, rooted in the Russian heart". "They cannot be torn apart except with blood," the poet lamented.
With the blood of all the ideas and enthusiasm of Peter Lavrov before the revolution and turned around. Big blood.