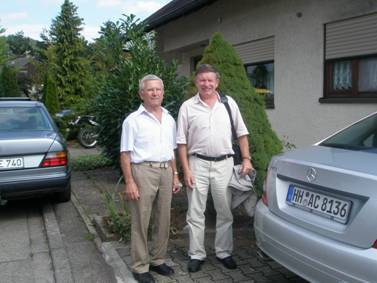 Sometimes the most incredible
stories
may be believable.
We are standing in front of a solid German house in Sulzbach, which is located in Baden-Württemberg and talking. My interlocutor is a person who speaks fluently in Swabian dialect. He looks very young, and I can't believe that he is already 80 years old, that at 12 summer age he was a dashing Russian village guy, and did not know a single German word. Now he hardly selects Russian expressions, when I ask him to speak with me in the language of my fellow countrymen. He asserts that until recently he did not speak Russian at all, and he had to take paid lessons for this. I can not believe that he is my compatriot. When I ask him to confirm it to me, then my interlocutor thinks about it and suddenly says that, most likely, he still feels like a German. This is confirmed by the German language, which became his mother tongue, and the Swabian mentality, which he accepted unconditionally. Moreover, he has a respectable German family: a hard-working wife, three grown children, seven grandchildren and already three great-grandchildren. What kind of belonging to Russia can we talk about now?
And yet he is Russian. And not only because everyone thinks so in Sulzbach. First of all, this is due to the fact that his name is Alex Vasilyev. So officially registered in the German passport, and so it is written in advertisements of his small company supplying plumbing equipment and repairing heating systems in homes.
Today Alex Vasilyev is also a writer. This circumstance led me to him. I wanted to get acquainted with a man who told an unbelievable life story incredibly loud, heading his book "The Child of War from Russia". The book was published in Germany in 2009 at his own expense. In it, he describes how a twelve-year-old boy found himself in a Nazi occupation near Novgorod. He lived with his father and stepmother in the village of Old Brod near Demyansk. Relations with his father were difficult, he was extremely strict and fully focused on his new family. Alyosha, the boy was called so then, turned out to be essentially abandoned to the mercy of fate. In search of food, he lounged around the German field kitchen, sometimes performing small errands for a slice of bread or a plate of chowder. Apparently he was helpful, because the German soldiers noticed him and once offered him to live with them so that he could help them further. So gradually the Russian boy turned into the son of a German regiment. He was given warm clothes from a piece of good-quality matter, and then it was decided to take him officially for allowances. He received not only military uniforms, but also became a full-fledged soldier of the Wehrmacht. He was paid a salary of about 30 Reichsmarks per month, issued a soldier's book and issued an identification tag. He even had a pneumatic pistol. But the boy did not forget his Russian family. He agreed with the German authorities to have his father also employed at the kitchen, he brought home and leftover food from the soldiers' cauldron. All this time, the German 123-Infantry Division, which included a medical company, sheltered Alex, fought in the so-called Demyansky boiler, leaving no attempt to get out of the encirclement of the Soviet troops and break through to the Old Russa. This was accomplished in the winter of the 1943 of the year, and German units reached across the Ramushevsky corridor. Together with them, the Russian boy in German uniform also set off. During the war years, he visited Ukraine, went on vacation to Germany with one of the German orderlies, then ended up in Denmark, where by that time the medical company was stationed - the only thing left of the defeated German division. The end of the war caught Alex's 14-year-old in the southwestern part of Germany, where a company with all its personnel surrendered to the Americans. By that time, he was already fluent in German, and his fellow soldiers suggested that he should choose a German name, so that he could become a full-fledged German and not complicate his future. In the turmoil of the first post-war days, it was not so difficult to do this, especially since the American occupation authorities believed on parole if there were no documents. But Alex Vasilyev decided to keep the Russian surname.
When I asked him if he was sorry about this, and if he had any further complications, he smiled and said that this was also written in the book. Indeed, there is an episode where Alex, already a nineteen-year-old boy, decided to master the profession of truck driver and began to drive cargo from Baden-Wuerttemberg to West Berlin through the Soviet occupation zone. He usually stayed at the border point in his truck, handed the documents to his partner and waited for all the necessary formalities to be settled. But once he was asked to leave the car and escorted to the room where the Soviet officers were sitting. I had to pretend to be a German, to pretend that he did not understand a word in Russian and to assert that he had inherited the name "Vasilyev" from his parents, who had already arrived in Germany before the revolution. They kept him under cross-examination for several hours and released him. But finally, one of the officers advised not to travel this route anymore, since other Soviet representatives may not believe him. So Alex settled for permanent residence in Sulzbach, retrained in the plumber, completed a course and became a master of his craft. Then he married a German woman, the children went, and gradually Russia and everything connected with it was forgotten.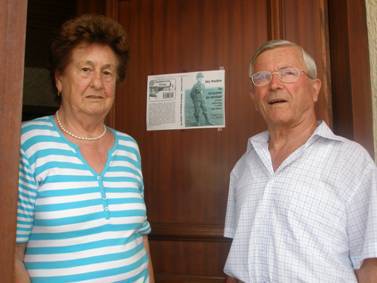 He returned to the Russian theme, and then visited the places of his childhood after he came out on a well-deserved rest in 90-s, and like all Germans, he began to travel. But instead of the Canary Islands I decided to go to St. Petersburg, and from there, taking a taxi, went to Old Brod near Demyansk. During my first visit I did not find any of my relatives and friends. And Old Wade himself was gone: the village died after the war years. But the natural drive, in the end, led to success. In his third visit, Alex Vasilyev already hugged his sisters and stepbrothers. The next few years he provided them with material assistance. This continued, as he writes in his book until 2008, until his last sister was alive. Now he is left alone, and on the question of whether he binds him and now anything to Russia, he shakes his head sadly.
True, his younger son suddenly expressed a desire to learn Russian and decided to visit St. Petersburg soon. Alex hopes that this is not a passing whim of a son, but a serious intention. And then contacts with Russia will not only be renewed, but also filled with new content. And who knows, maybe the grandchildren of the Germanized Alyosha Vasilyev will stick their hearts to the homeland of their grandfather, and will give Russia to respectable heirs.