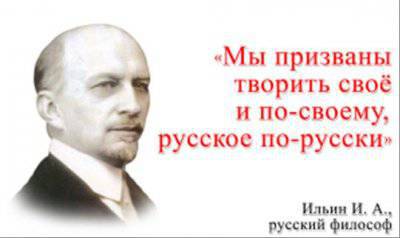 Let's talk again about the Russian people. What else is there to say to a Jew with a Chechen? Or Tatar with Karel? Or Ossetian with Bashkir? About him, of course, about our great and complex Russian people. The theme is inexhaustible. And immense. But it seems that now, just recently, an understanding finally crystallized out who he was, Russian. And we hear, we read many clever and mutually complementary definitions.
Russian means city. Russia - Gardarika, the country of cities. Drevlyans, Krivichi, Vyatichi and others, taking off from the ground and leaving for the cities, became Russians. Cities Russian were able to put. For thirty days in a bare field could build a fortress. Russians have always been able and able not only to build cities, but also to equip city life, which is the life of the prince throne, state life; the adats and all the other delights of communal existence remain there, in the village.
This situation has been preserved and consolidated under the Soviet regime. Lithuanian Vilnius was a predominantly Russian city. Ethnic Lithuanians lived in the countryside. In Turkmenistan, Uzbekistan, and other Asian republics, large cities were inhabited by Russians, people lived without contact with the non-Russian part of the local population, saw Aboriginal people only in the bazaars and therefore knew only one phrase in the local language: "Too expensive". And Grozny was a Russian city, despite the fact that by the end of the Soviet era many Chechens lived in it. Anyway, Russian. Because the city.
Russian means modern. It is spread in the air, and it seems that we have risen to a consonant understanding of who the Russians are and what the Russian people are. Russian is the level of civilization. High level. A Russian is a person who has risen above tribal prejudices, overcame narrow ethnic or regionalism. Ready to discover the world and discover the world. With a word or with a sword - as it is necessary. Russian is Alexander Suvorov. Russian is Leo Tolstoy. And Russian is Afanasy Nikitin, a merchant who spoke four languages, lived for many years in India, but with his heart and mind he was always attached to the Russian land. Because Russian is not a cosmopolitan. Open to the world, he does not lose roots. A Russian is one who, while preserving himself, has made a step into the Other space.
However, those who say wrong: there is no such nationality. Who says that the Russians are a mixture of all the blood, that the Russian people have no genetic basis. Stupidity. All nations were created as a synthesis, mixing, unification of different tribes, this does not exclude their new-found exclusive identity. At the level of instinct, intuition, and evidence, each of us understands that the Russian anthropological type exists. It can not be described in categories measuring the skull with a ruler, but it is. And we will always accurately determine, learn, calculate Russian in any environment. And not only us. All foreigners, natives, natives in the new colonialists recognize Russians, distinguish them from other white people. Yes, they are Russians and Udmurts. Because they see the truth. Those Udmurts who colonize the world became Russians. Udmurt Udmurts always remain in Udmurtia.
Before you open the doors to the outside, you must open the doors inwards. Before you go over the three seas conquistador, seeker, colonizer, you must become Russian - that is, free. Otherwise, remaining a Chechen, you can go to your America only as a refugee, refugee, ask for political asylum, because you are a Chechen and you are being insulted by the Russians. How did the family Tsarnaev. And sometimes it ends badly for everyone. Because it did not open to the world and the world did not open to you. So they remained strangers.
Russian is the responsibility for yourself and others. And Russian is freedom of choice. Russian can become a Buddhist. Russian can become a Muslim. Russian can afford it. Because it is a very strong basis - Russian. A Ingush can not become a Catholic. If he becomes a Catholic, he will cease to be an Ingush. If an Ingush wants to become a Catholic, he must first become Russian. Then he will be free and can become a Catholic or a Hindu. He can choose himself if he is Russian. If he is an Avar, he has no choice. Such is the reality of Eurasia. Only through the Russian opens the whole world.
But Russians also exist as an independent ethnos. With its own unique genetic code. And the Russian village, from which the waves are coming out of the Russian people, is a step to overcome and at the same time a century-old repository of the invincible Russian gene pool.
So, Russians are a unique ethnic community, with their own cultural identity, with their genetics, blood, and anthropological type. And the Russians are a degree of civilization, they are urban, modern, free, state, above and beyond ethnic narrowness. Two judgments contradicting each other. And yet - both true. There is no linear solution to this contradiction. Only together the two approaches are able to determine what the Russian people are. Just as the wave and corpuscular theory of light could only jointly describe its nature. Until quantum theory was formulated.
Ethnic and superethnic essence of the Russian people are united by one of its features. Statism. Statehood. Russian people - princely, sovereign, imperial, Soviet, that is, always - state. State resident, according to Andrei Platonov. He is a secret man. Russian is a state man. Not an inhabitant of the town, not a malicious separatist, not an economic interested. Russian is not just a holder of a Russian passport with a residence permit. Russian is mentally included in the Russian state
history
resident of the Russian state. That, if you will, is the "quantum" definition of the Russian people. But why does the Russian need the state so much? Is it because he is a slave, a slave, a masochist, always looking for a strict lady, with a bridle and a whip? Or vice versa?
Russian needs a state, because it is an ardent, unprecedented, pure individualist. He is free, free. Too free. Everybody was mistaken: both the populists and the westerners, who considered the Russian people committed to communal life, to collectivism. Some saw this as his virtue, others - a vice, and both were mistaken. There is no such individualist in the world as the Russian people. Therefore, he can conquer Siberia, and the whole world. But also ruin your own country. Raise it in pieces! Russian individualism in the absence of a strong statehood breaks apart Russian society. The Russians have a poorly developed "small collectivism", so characteristic of a sweet Europe. Russians are sometimes unable to gather in the village and fill holes in the road or choose a good elder. The Russians are waiting for the state to come and fill the pits. Not because lazy. The Russians have given themselves to the state and rightly expect that the state in return will give everything to the Russians. This is Russian collectivism, "great collectivism," state.
Therefore, in Russia, socialism and collectivism can only be state-owned, and the present Russian state after the collapse of the monarchical project can only be socialist. It is not a question of partisanship, it is a fact. We can not have a municipal socialism of the European type, it will not work. And the capitalist, private-ownership, bourgeois-liberal and at the same time strong state is impossible in our country, it is equal in the Russian land to the absence of a state, the victory of chaos.
And if there is no Russian state, then damn it all, I will be my own master. Russian people will not live for small matters, for their village. A Russian man will go to Goa, chase the dark short people, build a bar and sit on the beach and wash their boots in the Indian Ocean. Sometimes coping, that there, in native Russia. Have we got the Russian state again? And is it not time then to return home.