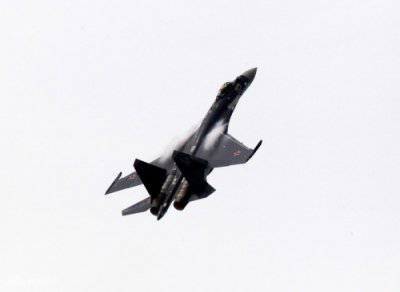 The Deputy Chief Engineer of the Chinese Aviation Construction Corporation AVIC, Tang Yanshi, in an interview with the Global Times newspaper expressed his unconcealed pleasure from the maneuvers that the Russian fighter Su-35С made in the Paris sky.
The engineer stated that he got "pleasure while watching the Su-35С flight." The fighter showed a steady flight at 70 degrees of attack and made a horizontal turn of 360 degrees almost on site using a controlled thrust vector of engines (according to some media reports, the minimum radius of the horizontal turn of F-22A to 360 degrees at low altitude is 750 feet, or 229 meters - approx. "VP"). This fighter used technology that can be used in the creation of the next generation of Chinese aircraft.
The ability of the Su-35С almost on the spot to make a turn of 360 degrees is very important when conducting close air combat, says the engineer, having eliminated such a traditional parameter for determining the maneuverability of fighters as the turn radius. This factor gives the fighter faster than others to take a favorable position for launching infrared-guided missiles into the enemy's tail.
The Americans also understand the importance of close combat by equipping their F-22 and F-35 with guns, since in some cases only guns can be used to defeat an air enemy. Tan Yanshi said stealth and super-maneuverability are now the most important requirements for fighters.
Russian media confirmed the information that Russia and China are negotiating on the Su-35. To the question "what does Su-35 mean for China?" Tan Yanshi answered that China's rapid economic development requires equipping the armed forces with the most advanced
weapons
. "It would be a great blessing if the Su-35 goes into service with our military
aviation
"Said the engineer.