As the web resource flotprom.ru reported, at Severnaya Verf Shipbuilding Plant OJSC in St. Petersburg 13 on June 2013, a rolling out of the slipway to the open slipway of the hull of one of the main Russian naval protracted ships of recent years took place ( "Naval communications vessel") of the 18280 "Yuri Ivanov" project, laid out as early as December 27 2004.
On the open slipway, it is planned to mount the ship's superstructures and the mast, after which Yuri Ivanov is scheduled to be launched, tentatively scheduled for September 2013. After that, as expected, the ship will be completed afloat within six months. Delivery to the customer is tentatively scheduled for 2014 year.
It is also reported that in the current year at the Severnaya Verf the second ship of this project will be laid, which was named by the name of Ivan Khurs by the order of the Commander-in-Chief of the Russian Navy.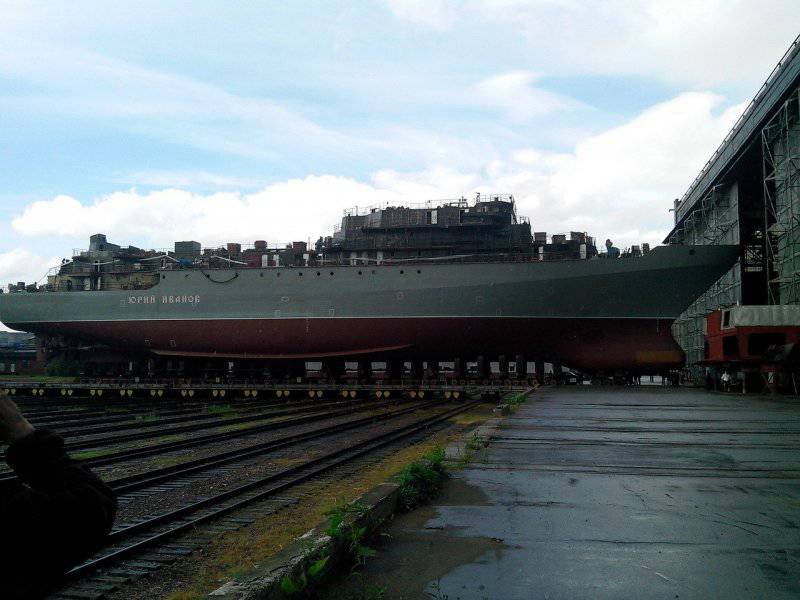 The hull of the main large reconnaissance ship ("naval communications vessel") of the 18280 "Yuri Ivanov" project, rolled out of the boathouse to the open slipway of Shipbuilding Plant "Severnaya Verf" OJSC. St. Petersburg, 13.06.2013