Professional holiday of specialists of the mine-torpedo service of the Naval
fleet
Russia was first celebrated in 1997, as it was officially established by order of the Commander-in-Chief of the Russian Navy on July 15, 1996. However, in fact, today's date, as well as the specialty of the marine demolition miner, has a longer
history
. The fact is that the date of June 20 is celebrated as the Day of the Specialist of the Mine-Torpedo Service of the Russian Navy because on this day more than one and a half centuries ago Russian sailors first used the mine
weapon
, and the first trial was very successful, rightly entering the history of naval confrontations.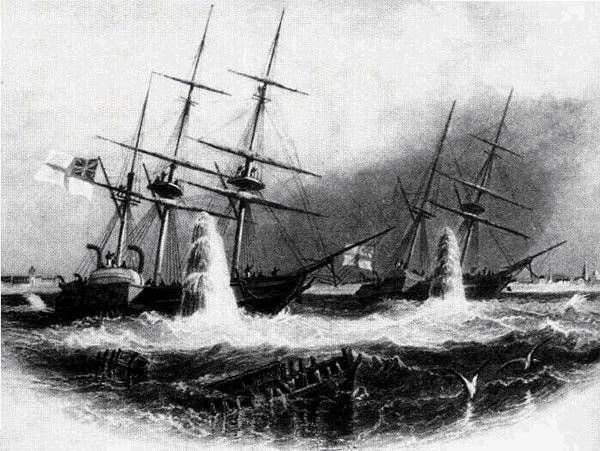 Undermining the Anglo-French steamers on the outskirts of Kronstadt
According to historians, during the Crimean War, the combined Anglo-French squadron entered the Gulf of Finland in order to attack the ports and bases of the Russian fleet, and if the operation was successful, Kronstadt was to be attacked. For the first time in history, Russian sailors used mine weapons against the aggressor to defend their Baltic frontiers. Having lost four warships and fearing even more serious losses, the command of the Anglo-French coalition, some of whose generals were on one of the sunk ships, was forced to abandon plans for an attack on Kronstadt. This significant event happened that seriously changed the course of the entire Crimean War and, possibly, saved Russia from opening a second front in the Baltic, 20 June 1855.
As for torpedoes, the first combat use of torpedoes by Russian sailors took place during the Russian-Turkish war of 1877 — 1878. On the night of January 14 1878, the Russian torpedo was flooded by the Turkish Intibah watchdog, who was in the Batumi roadstead.
Today, mines and torpedoes are used by the domestic fleet primarily to protect the naval bases, ports and other strategic sections of the coastline. In addition, the torpedo weapon is included in the arsenal of submarines carrying out combat support of strategic submarine missile carriers and surface ships.