17 Jun Glenn Greenwald, correspondent for the British newspaper The Guardian, conducted an exclusive online interview with Edward Snowden, a famous public informant accuser, against whom he launched a criminal investigation of the NSA. Visitors to the Guardian could ask him questions in real time. Before the interview began, Comrade Greenwald warned possible participants in the broadcast that Snowden was contacting via a secure connection, and there could be gaps and interference. Snowden's answers appeared one after another before the readers of the newspaper in the form of text blocks in a live tape. Then the interview was posted on the site completely.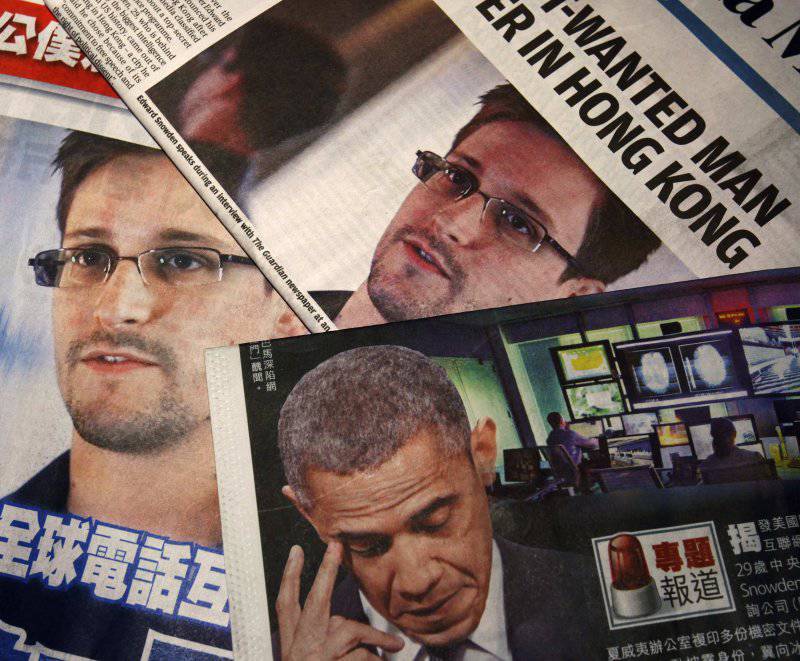 The first question was asked by Greenwald himself. He asked why the fugitive chose Hong Kong.
The US government, the informant said in response, immediately and predictably eliminated any possibility of a fair trial at home - just as it did with other informants. In the US, Snowden is openly declared guilty of high treason and declare that disclosing secrets is not only a criminal offense, but also an unforgivable anti-constitutional act. This is unfair, says the informant. Why? But why: he did not declassify any military operations legally carried out by the United States. He reported on the hacking of NSA civilian infrastructure (universities, hospitals, private business). All this is dangerous, according to the informant. The public should know that the government is doing on its own behalf what the "consent of the governed" does not make sense.
Question number two came from Ian McAskill, a correspondent for the same Guardian: "Why didn't you just fly directly to Iceland, if you chose this country for asylum?"
To this was received the answer as follows. For NSA employees, leaving the US is risky. Agency staff must declare their overseas travel for 30 days, and then follow them. There was a high probability that he would be banned from this route. So he had to go to the country where he could fly without prior booking - to a country with a cultural and legal base where he could work without being immediately detained. Hong Kong provided him with these conditions.
One of the users asked if he had lied about his annual salary in 200 of thousands of dollars: after all, Booz reported 122000 $?
On this, Snowden clarified that the 200 thousand was the peak paycheck in his career; he did not claim that he had been paid so much lately by Booz. In addition, Glenn Greenwald and his colleagues from the Guardian for several days of conversations did not record all the conversations.
To the question of the next user about why Snowden waited for Obama to take the presidency, why he did not declassify the documents earlier, the informant replied.
He believed that Obama's election promises and his very election give reason to believe in solving the existing problems. Not one Snowden, many Americans felt the same way. Alas, shortly after coming to power, Obama closed his eyes to investigating systematic violations of the law. Moreover, he deepened and expanded several programs allowing the authorities to commit abuses. Human rights violations, as is well seen in Guantanamo Prison, where people are still sitting without charge, are of little concern to him.
It is known that Google, Facebook and others refused to admit participation in PRISM. The Guardian reader asked if Snowden thought they were lying? Or maybe they do not know anything?
In response, Comrade Snowden explained that their failures had evolved several times, and therefore it is becoming increasingly clear that they are misleading us. They are obliged by law to keep secret and keep quiet about the named program, but this does not correspond to their ethical obligations.
"If, for example," Facebook "," Google "," Microsoft "and" Apple "would refuse to cooperate with the intelligence community, then what do you think the government would do? Would you shut them down? "
Responding to a question about whether the Chinese government is not planning anything about it and whether it is waiting for information from it, Snowden noted that the rumors in the American media about Red China are a reaction to everything that is somehow connected with Hong Kong or the PRC, aimed at distracting society from the issue of the crimes of the US government.
"Ask yourself: if I were a Chinese spy, why didn't I fly directly to Beijing? .."
Responding to one of the questions about the dangers of terrorism, Snowden noted that American officials each time take this trump card from its sleeve when a public debate can limit their power. US officials are directly misleading the public or are lying about the need for wiretapping programs.
In addition, it is important to keep in mind that Snowden is called a traitor by people such as former Vice President Dick Cheney, a man who, according to an informant, gave the government a scheme of unwarranted phone tapping as a kind of warm-up on the way to the conflict in which more than 4400 died and nearly 32000 injured Americans, and the fact that more 100000 Iraqis are dead. The word "traitor" in the mouth of Dick Cheney is the highest award an American can receive. The more anxiety we hear in the voices of people like him, Snowden said, like Feinstein or King, the better we all become.
Speaking of Manning, Drake and other informants, Snowden said that these are examples of what answers society can give to the state. According to him, citizens who have a conscience will not ignore the wrong actions of the government simply because they will be destroyed for this: conscience will not allow. If the Obama administration responds even more harshly against Snowden himself than against others, she must be sure that she herself will soon face a severe public outcry.
Obama has the opportunity to return to sanity, to constitutional politics, to the rule of law.
"He still has time to enter
history
as president, who looked into the abyss, but stepped back and did not jump. "
Snowden advises him to demand the creation of an ad hoc committee to review these interception programs, to give up the dangerous privileges of state secrets. Obama could start the tradition that the next presidents would take from him, he could show his respect for the law by setting up an investigation to consider the policy he was leading in his office in order to detect any wrongdoing.
"Not a drop can be trusted in the government if our top officials are freed from control: they must set an example of transparency."
Among other statements by Snowden, this one stands out, about the USA:
"This country is worth dying for."
Separately, the informant noted that James Klapper, director of US National Intelligence, openly lies to the public without consequences. And this, according to Snowden, testifies to the perversion of democracy.
Further, the informant once again rejected the "information" about his contacts with the Chinese government, and said that he worked only with journalists.
In conclusion of the online interview, he expressed regret that the media are much more interested in what he, Snowden, did at the age of seventeen, or what his girlfriend looks like. The largest surveillance program in human history, alas, is of less interest to the press ...
Then Snowden thanked everyone for their support.
In another room
The Guardian
An article appeared by Helen Davidson - that Edward Snowden's father asks him to stop declassifying. Lonnie Snowden asked his son to return home - even if he faces jail time.
Philip Sherwell and Malcolm Moore write more about this topic.
"Daily Telegraph"
.
Lon Snowden is a retired US Coast Guard officer. He told Fox News, addressing his son:
"I hope, I pray, and I ask you not to publish any secrets that can lead to treason."
The father wants his son back home. He believes that the American justice system applies everything absolutely correctly. He would even prefer his son to be imprisoned in the United States, rather than a free man in some country that does not have that freedom that is protected.
He further criticized the government's program for total surveillance, but immediately said that he was "saddened" by his son's decision to disclose secret documents.
Mr Snowden Sr. fears that some people influenced his son to "cross this line and commit treason ..."
Journalists are reminded that former Vice President Dick Cheney suggested that Edward Snowden is a Chinese spy, arguing that he chose Hong Kong as a refuge. In response, the Ministry of Foreign Affairs of China said it was "complete nonsense."
Returning to the online interview in The Guardian, in conclusion of the article we will give another remark of Edward Snowden - the phrases that he said in response to a question from the Greenwald correspondent:
"All I can say right now is that the US government cannot hide the truth by putting me in jail or killing me." Truth is coming, and it cannot be stopped. "
Observed and translated by Oleg Chuvakin
- especially for topwar.ru