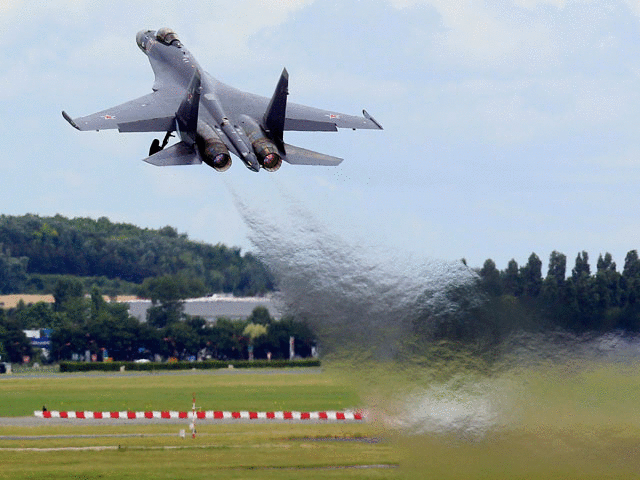 The Russian multi-purpose super-maneuverable Su-35С fighter, which had never before imagined abroad, successfully flew the first demonstration flight at Le Bourget air show near Paris the previous evening.
Before the spectators of the prestigious air show that opened on Monday, the 4 ++ fighter generation, created at the Sukhoi Design Bureau, demonstrated aerobatics, including a corkscrew, RIA reports.
News
".
The plane, which potential buyers are actively showing interest in, is similar to its predecessor Su-27, but the car has undergone a deep modernization. As the President of the United Aircraft Corporation (UAC), Mikhail Pogosyan, said, the uniqueness of the onboard equipment is that the range of detection of airborne targets with a locator is more than 300 km. According to him, the most powerful engine of a fighter can improve its maneuverability characteristics.
Su-35S is equipped with a new enhanced glider. Due to the design features, the aircraft does not have a brake flap and front horizontal tail. According to the developers, Su-35С is difficult to detect on radars due to the use of composite materials in the design. Su-35S have already begun to deliver to the Russian Air Force. It is planned that by the end of 2015, the army will receive 48 of such aircraft.
The equipment presented by Russia is a success at Le Bourget. On the eve, the first demonstration flight of the Ka-52 Russian Alligator helicopter also took place. As ITAR-TASS was informed by the delegation of Russian Helicopters, the organizers of the exhibition particularly marked this flight.
Shoigu will privately inspect the stands and watch the flights
On Tuesday, Minister of Defense of the Russian Federation Sergei Shoigu is expected to arrive at the air show, a source in the UAC told RIA Novosti. As the agency's interlocutor noted, Shoigu will examine the stands of the Russian delegation, including the exposition of Rosoboronexport, Russian Helicopters, and UAC. According to the source, the minister's visit is private: he wants to see the achievements of the world
aviation
and see how Russian pilots "demonstrate their advantages in the sky over Le Bourget".
The 50 International Air Show Paris Air Show 2013 runs from 17 to June 23 in Le Bourget, France. In addition to the Su-35 and Ka-52, Rosoboronexport also brought the Yak-130 training and combat aircraft to France. A new laser inertial navigation system LINS-100RS - the development of the Russian-French company RS Alliance was also deployed on the stand.
The Russian company represents all types of aviation weapons intended for the destruction of air, ground and surface targets at various ranges. The exposition of Rosoboronexport also includes space for air defense systems - Igla-S missile systems, Pantsir-S1 air defense systems, Tor-M2 and Buk-M2 air defense systems, and Antey-2500 air defense systems.