War films made during the Soviet era remain unsurpassed in quality and acting. One of these film masterpieces is the famous film "They Fought for the Motherland", directed by Sergey Bondarchuk. The film is largely famous. It has its own tragic notes and notes of the greatest patriotism. By the tragic pages of the film in terms of his filming include the death of Vasily Shukshin. Vasily Makarovich died directly while working on the film in the village of Kletskaya, Volgograd Region. The role of Shukshin - Lopakhin - was one of the central roles in the film. Death caught up with the remarkable Soviet actor (director, screenwriter and writer) 2 October 1974.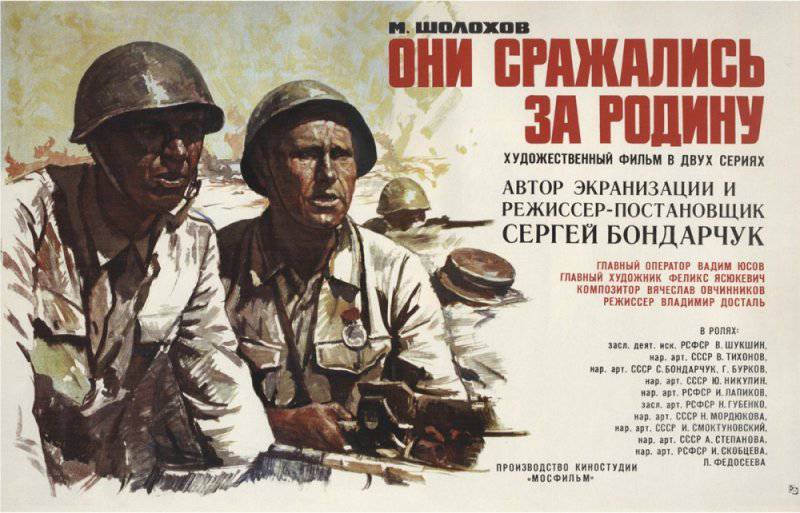 In the same year, 1974 was recognized as the best film of the year. For all
history
rolled in the USSR film Sergei Bondarchuk watched over 40 million viewers, which introduces it to the hall of the highest-grossing films in the history of Soviet cinema. Even modern kinohity not always able to repeat the success of "They fought for their homeland."
If you decide to review the film, you can do it through various online cinemas. One such movie where
watch online movies
can be free, is 24kinoshka.ru.
In the film described, a whole galaxy of the greatest Soviet actors is engaged. In addition to the mentioned Vasily Shukshin, this is also George Burkov, Yuri Nikulin, Nonna Mordyukova, Andrei Rostotsky, Vyacheslav Tikhonov, Yevgeny Samoilov, Sergey Bondarchuk himself, Innokenty Smoktunovsky. None of the above artists, unfortunately, did not survive. However, the memory of them will be stored in the hearts of millions of viewers for many years.
However, today other actors who were also involved in that wonderful war film live and continue to work. One of them is Irina Skobtseva, who recently celebrated her 85 anniversary. Irina Konstantinovna - widow Sergey Bondarchuk. Another great actress who played in the film, Tatiana Divine. Tatiana at the time of the shooting was just 17 years old. Her role is a young nurse. It was after her role in this film that Tatyana Andreevna decided to finally link her life with cinema and theatrical art. Today, one of Tatiana-Bozhok's favorite works is sounding films and animated films, among which are the Adventures of the Good Soldier Schweik.