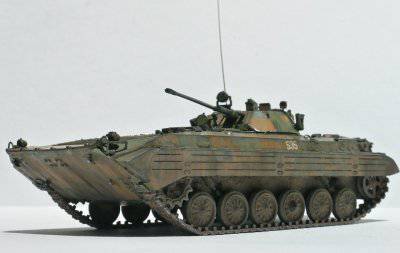 The Indians are planning to accelerate the modernization program of Russian-made BMP-2.
In the next three to five years, more than 1500 BMP-2s with a total cost of over $ 1,2 billion will be modernized. The program has already received official approval from the country's Ministry of Defense. Within its framework, New Delhi plans to announce a tender for the supply of 2000 engines for infantry fighting vehicles. Tender documents have been sent to Indian and overseas suppliers. These are Indian companies such as Mahindra & Mahindra, Tata Motors, Force Motors, Ashok Leyland, Maruti Udyog and Crompton Greaves, as well as the German company MTU, the French company Thales and the Russian Rosoboronexport. The Indian Army will need a 350-380 horsepower engine that is easy to operate and maintain and suitable for use in difficult weather conditions. During the modernization, it is planned to install night vision and fire control devices on the BMP-2. The arsenal of the infantry fighting vehicle will have a modern complex of guided anti-tank missiles and a 30-mm automatic grenade launcher. The implementation of the modernization program for Russian infantry fighting vehicles will lead to a significant delay in the implementation of the ambitious Indian program for the development and production of its own $ 10 billion infantry fighting vehicle (Futuristic Infantry Combat Vehicle - FICV - program). Last year, Moscow offered New Delhi a new BMP-3 to replace India's FICV program, but India has yet to make a decision on the matter. The floating tracked BMP-2 was developed by the design bureau of JSC Kurganmashzavod on the basis of the BMP-1 and is its further development. The need to create a machine was due to the insufficient fire capabilities of the BMP-1 to defeat the lying and sheltered enemy manpower, light armored vehicles such as the American M113 armored personnel carrier and defensive structures, as well as to repel attacks from low-flying aircraft and helicopters. The 2A28 gun did not provide an effective fight against
tanks
and other armored vehicles due to insufficient accuracy and short range, as well as the low power of ammunition. For the first time the car was presented to the general public at a military parade in 1982 and then adopted. Serial production completed.