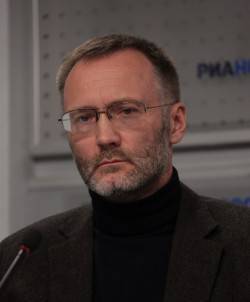 Famous Russian political scientist and publicist analyzes the reasons for our demographic failures.
- Sergey Alexandrovich, back in 2005, our experts prepared a report with data on the damage that the depopulation causes to the country's economy. Since the 60-s of the last century, the Russian population has ceased to replicate itself. In the middle of 2000, the country lost annually at least 750 thousands of people. Experts predict that if this situation persists, every 50 years the number of indigenous people in the country will decrease by 30 percent. But we were told that measures to improve the demographic situation led to the fact that in 2012, there were thousands more people on 300 - for the first time since Soviet times. Statistics draws almost a rosy picture, but after all, migration contributes to population growth. If in 2011, more than 250 of thousands of foreigners settled in the country, then in 2012 - more than 270 of thousands ...
- Unfortunately, the trend is obvious, and we cannot yet reverse it. Apparently, today we are talking about tactical successes, but not a strategic victory. For example, Secretary of the Security Council Nikolay Patrushev confirmed in September 2011 of the year: the working-age population from 2011 to 2025 will decrease by at least 10 million people. As he said, "the reserves for raising the level of economic activity in the young and the older are virtually exhausted."
The vector remains the same: the population is decreasing, respectively - and the number of those who can work for the benefit of our economy. In the coming years, we will come across this more than once and, of course, we will begin to try to find a way out of the situation. But we must bear in mind that this tendency can hardly be reversed within three to four years, because it has been forming for a long time. The reasons for its occurrence are many, and they are very different.
- It seems we got into a vicious circle. In order for the gloomy forecasts to not come true, it is necessary to develop the economy - specifically in the sense of increasing the level of people's welfare. For the development of the economy people are not enough. Studies from 1960 to 2000 year in 100 countries of the world have shown that a one-year increase in life expectancy gives an increase in gross domestic product by 4 percent. As Health Minister Veronika Skvortsova said, if the state program is implemented, then the life expectancy increased to 74,3 years will bring the growth of GDP by 20 percent! Then we shall live - but when?
- About "we will live" - I don't know, I don't want to encourage readers. We are dealing with a kind of psychological trap. People want to live well in perspective, but no one today is particularly eager to do something to achieve this goal. Including - those who are called "ordinary citizens." I want to live without worries, but I don't want to give birth to children and work. Therefore, we are waiting for a well-fed and comfortable, long and not very burdensome life to fall on us. And, of course, healthy.
Maybe that was how they lived in ancient Rome: if you were born in a family of a slaveholder, then you have a huge estate and crowds of people who work for you while you indulge in idleness.
- Well, why only in ancient Rome, our newspapers have calculated how many billions will be inherited by the children of oligarchs. It is difficult to say whether they want, having received this money, as they say, work hard.
- This is what became the main dream of our population: to get somewhere a billion and do nothing. But let's honestly admit that this is impossible. The Americans are trying to realize themselves in the role of world slave owner, but for us it doesn't shine.
Back to the real economy and demography. We should understand why and why population growth is necessary, for which we so advocate. Just to make the people bigger? A strange goal, but it is it that gives rise to the desire to pump Russia with migrants. Well, why do we need all this? Suppose we transport all of Central Asia to ourselves, then all of Africa. Then we will disappear, as such, we will turn into yet another Central Asia. What is the great meaning here? Primitive population growth for growth cannot be a strategic task. The true goal should be the reproduction of the original authentic civilization,
historical
the basis of which is nevertheless Slavic and is based on the foundation of Orthodox culture.
When we talk about the fact that we need the growth of the working-age population at any cost, we do it based on the interests and logic of the business. And in this case, the easiest and cheapest way to solve the demographic problem is indeed the massive recruitment of migrants. And if you call a spade a spade - replacing one population with another for the sake of solving specific business problems. If we consider ourselves not as a civilization, but as a kind of business project, then really, we need more people - no matter what. It is desirable - one who needs to pay little and who will not ask for anything. "End" Central Asia - we will take the starving Negroes from Somalia, for example. They generally can work for stew. That is, from the point of view of business, they are even better than the indigenous population several times. But this logic is suicidal, it is pointless to simply "fill" Russia with a people in order to produce more. The state and society do not exist in order to minimize costs and maximize business profits. Practice shows that this does not give any positive effect for society as a whole.
Moreover, even from the point of view of the economy, it is obvious that the number of the population does not automatically translate into its quality. Much is said about the modernization of the economy. But with whom and how to modernize it? With millions of uneducated migrants who sometimes speak their native language with difficulty? After all, this is a question of the quality of the future that awaits us. For another life, another economy is required. Creating quality living conditions requires not a huge army of unskilled workers, but the development of new sectors of the economy. But a technological breakthrough in the current Russian conditions is possible mainly on the basis of the indigenous population.
And here it is necessary to recognize something else: civilizational reproduction rests on the birth rate of the indigenous population. But it, unfortunately, does not want to give birth. I speak about Russians, about Slavs, who, alas, for many years are subject to a number of social diseases. Some of them are artificially stimulated by interested people and organizations, but another part of the disease objectively exists.
In general, the decline in the birth rate throughout the world is associated with the destruction of the traditional society. In our country, this destruction systematically began in 1917, but inertia persisted for a rather long time. After the war, the demographic "pit" associated with huge losses, in my opinion, was stratified on the intensive destruction of traditional consciousness and the gradual departure from the life of that generation, which still remembered the foundations of the traditional family. That is why the trend of declining birth rates began to appear especially clearly in the early sixties. Including, I link its occurrence with the notorious "sixties", all the so-called "thaws". Because the Western system of values, in which individual self-realization is much higher than traditional foundations, began to be introduced into consciousness. The family began to lose value as such, and to the forefront came the endless self-reflection, digging into oneself, the growth of individual ambitions and the desire to look like something special in life. All sorts of "lyricists" and "physicists" began to argue about something very abstruse, and at the same time the level of divorces began to grow unprecedentedly, which already in 70-s was even perceived as a threat by the authorities. In addition, by this time the family had already forgotten about the pre-revolutionary, Christian tradition of the family, as the people of that generation passed away, and the Soviet ideology began to falter and lose internal energy. The emergence of emptiness was inevitably compensated by the growth of selfishness, heightened demands for life, lower levels of tolerance, various individual "searches" and so on. In general, another "devastation" began in our heads. The family institute began to rapidly deteriorate. Even official Soviet statistics clearly shows this. Incomplete families, abandoned children, All-Union search for alimony employees - all this has become commonplace. The family began to lose its value, it became "uninteresting" to give birth to children, because they interfered, as they say, with self-realization. Well, parenting, as you know, requires a lot of effort and hassle, and even self-restraint, and the main interest in life has been getting pleasure. So the process did not begin in the nineties, when the Soviet Union collapsed, but much earlier. The wave of growth of divorces occurred in the seventies: young people, formed in the conditions of "thaw", entered the period of the creation of families. And their negative example has become a vicious "science" for the next generations.
In the nineties, with the disappearance of the USSR, the tendency radically increased, we completely and without restraint began to adopt the Western fashion, which dictated that personal well-being and freedom is more important than anything else. And the cruel crisis in all spheres of life and the almost complete refusal of the state from its social obligations only aggravated the collapse of the family institution.
- This is about hedonism?
- Exactly. Personal pleasure and personal consumption is more important than family, more important than personal responsibility, the state, society, and everything else. Above all - me. It is my needs that are the measure of what is right and what is wrong. The rest is secondary. Under these conditions, any social responsibility is recognized as a relic. Including family. This remnant prevents self-realization, well, if so, then it must be abandoned. Children? Give up. Family? And from her too. Patriotism? Yes, do not make me laugh. Duty to the state? Come on, what are you talking about. Roughly speaking, my desire and I are the main goal of everything.
Unfortunately, this phenomenon has penetrated very deeply and has long been massive in our society. We are ready to offer ourselves a lot of excuses for which they do not intend to have children. Most often they are contrived, for example, they declare to you that "they do not want to produce poverty". Sorry, you have money for a trip to Turkey or Egypt, but not for children? In order not to get out of nightclubs, there are funds, but not for raising children? Enough for a car - not enough for children? In the end, millions of people regularly spend money on vodka and other dubious addictions, but not on children.
When they say that there is not enough money, you need to understand these words like this: "I don't want to limit myself and my pleasures for the sake of children". But since it's still inconvenient to state this directly and openly - everyone wants to consider himself right and good - they are beginning to blame everything on external circumstances. The most popular culprit is a state that "does not create the conditions." But does the state have to help with everything and everywhere, as they say, wipe the snot with a handkerchief? Look at other countries with traditional families: there that, everyone is showered with money according to the principle of take - I do not want? Not at all.
Let me remind you of one case in which everything mixed up: the desire to have fun, the presence of a car, money, absolute irresponsibility - and the child left in the care of the mother. So, last fall in the center of Moscow, a drunk girl on a Mercedes made an accident, because of her fault, not only were several cars broken, but the motorcyclist lost his leg. In the capital, there are a lot of traffic accidents, but this one has interested everyone. After all, the culprit of the 21 accident of the year confessed that she had gotten behind the wheel of a drunk because her mother had called her and asked her to come to the sick one and a half year old daughter immediately. The girl behind the wheel in the blood found 1,23 ppm, which corresponds to about 150-200 grams of vodka. Further more. She asked to be released on her own recognizance and offered a pledge of 500 thousand rubles. She later admitted that she had never learned to drive herself, but had given her the "rights". On the eve of the collision, she left a note on her page on the social network: "I want something like this tomorrow, so that it's all right!". Officially, she was unemployed, she drove an expensive car by proxy received from a businessman. Need to add something? What conditions should the state create for this woman to react responsibly to raising her own child and to the lives of people around her?
- I remember how I raised my children in Soviet times. I was looking for a pram, there weren't all these diapers, as there were no children's medicines. Now - all in stores and pharmacies. So raising children today is easier in some respects, you see.
- Yes, now there are more opportunities for this. But the question is in social attitudes. They are primitive: I do not want to strain, I want to be forever young, that is, to constantly have fun. Naturally, children have fun interfere. Even those who still start a family do not want to change their way of life, but try all their lives to "goat", remaining eternal teenagers. This ideological setting is the root of Russia's demographic problem. The remaining problems are only derivatives. The destruction of the traditional consciousness was the cause of small children and childlessness.
I take the risk of running into the rebuff of the Soviet patriots, but I will say: it was the model of that time that consciously, actively and systematically destroyed the traditional family in Russia. Look at the orgy of the twenties - the family at that time is called a relic. About the sixties, I have already said above.
Then they realized it and tried to at least partially return to our traditions, the Soviet system began to promote the thesis "Family is the cell of society". He was not born of a good life, in that period when it became clear: the collapse of a family can lead to irreparable consequences. They counted - they shed tears, and began to support the family. Social support in the late Soviet Union was really tangible, but she could not correct the situation.
In general, in my opinion, it was revolutionaries and their followers who voluntarily or unwittingly became the bearers of radical liberal, frankly pro-Western ideas in the sphere of social relations, being followers of one of the western philosophical doctrines. Having destroyed traditional Russia, this infection began to slowly eat and the Soviet organism itself, in order to subsequently explode in an explosive manner in the nineties.
The collapse of the USSR in the nineties completely brought down all social policy. Of course, family people began to live much harder than non-family, the material difficulties were enormous. Now we are trying to build a new model in the field of family support, but so far we have only a part of what existed in Soviet times. Although, as I said, the Soviet model could not overcome the negative trends.
Nevertheless, the main problem should be considered ideological. In pre-revolutionary Russia, there were no kindergartens or pioneer camps — and in families 10-12 children grew up. And today, three or four are considered a feat. In fact, this is the minimum necessary for reproduction. But it seems to us that this is very, very much ...
- One of the Western ideas that sprouted on Russian land is the "child free" movement, uniting people who voluntarily chose childlessness. They claim that the roots of the movement are in a high standard of living and education, which makes people want to live for themselves. It turns out, the better it lives, the faster we die out?
- It is necessary to look deeper, and to do this using the Internet is very easy. In fact, the founder of this ideology was an American, Margaret Sanger, who created a new model of genocide, as many experts believe. She propagated the rejection of childbearing, and her success was assessed in 1925 by the Rockefeller Foundation, who began to sponsor the American Birth Control League. In 1934, Sanger published a draft law designed to "stop the overproduction of children." Today, they are trying to assure us that the absence of children is the privilege of a "developed" society, to which Russia belongs with its "creative class". This is how they cover up frank calls for hedonism. At the same time they explain that the less there are consumers in Russia, the thicker will be the chowder of the rest. Not only the citizens of our country.
- So what is family and children in the Russian mentality?
- The problem is that today I do not understand what the modern Russian mentality is. It is extremely blurred, I will say simply: Russians are gradually dying out. And they do it, first of all, on their own. This threatens the disappearance of Russian civilization as such. I will disappoint readers who are constantly looking for the perpetrators on the side - this is primarily a matter of the Russians themselves. Yes, there are dark forces that angrily oppress us - both inside the country and abroad. But the question is Hamlet's, "is it worthy of being humbled under the blows of fate, or should we resist?" I'm sure: we must resist, but we don't want to do that. For the most part - again I repeat, unfortunately - Russians today are looking for reasons to do nothing. Even those who loudly declare that he has some kind of active life position, as, for example, nationalists. They are ready to fight with anyone, but, roughly speaking, do not intend to make any effort to give birth and raise five or six Russian children. They prefer to go to gatherings of radicals, attend fan stands at football matches, cover themselves with English-language tattoos, or even have their faces stuffed - and at the same time imitate real Russian patriots. Here you go, and bring up five Russian children, this is an act! No, they answer, we do not want to do this. We will be drinking beer, waving scarves, yelling in a bad voice, establishing some secret societies of "sword and screaming". I assert: everyone who prefers it to create a normal, Russian, large family is, in fact, the main enemy of the Russian people.
Moreover, how many Russian women - with the sanction of Russian peasants - kill their Russian children in the womb, making abortions! If the number of abortions among us had been reduced by at least twice - I don't even say that they disappear altogether - we would get a powerful increase in population. But - no, we will not do it. I myself consider myself a moderate nationalist, however, when I hear some moans and cries of people who consider themselves nationalists, I ask: "Have your women ever performed abortions?". If you did, and you supported it, then you are the killers of the Russian people. And no need to look for anyone else - just look in the mirror.
I tell them: "Think about the fact that every year Russian women, together with Russian men, kill a million Russian children!". Do everything to reduce abortions - and you will see such an increase in the Russian population that you never dreamed of.
At the same time, of course, there are "dark forces" that are completely uninterested in us growing. They promote abortion, introduce an unhealthy lifestyle, stimulate drinking and promote hedonism. This is not only "Westerners", they are among our fellow citizens, including those with positions.
But let's remember that a person always has the freedom of choice: if you accept all this, then do not blame the evil uncles who do not allow you to live a normal life. For example, Vladimir Medinsky released a book that Russian drunkenness is a kind of myth. Yes, the tales of age-old Russian drunkenness - a lie. But the current situation is simply catastrophic, the level of drunkenness is overwhelming, it is being promoted at every turn - see the so-called entertainment or humorous programs. All around drunkenness, I'm not talking about the fact that everything is "below the belt." The idea that it is interesting to be drunk, fun and fashionable is being introduced, drinking will provide you with a bright, cheerful and carefree life. And even a relatively sober lifestyle - boredom, this is for "suckers", for fools, real cheerful guys are obliged to be drunk and commit idiotic, sometimes suicidal acts. And in this, almost the meaning of life. Then we are horrified by the statistics of drunken accidents and murders. The question is in a conscious choice. Today, no one can force you to get drunk against your will, have an abortion, throw your children, forget your parents, and so on. Therefore, no need to blame on external circumstances - we do all this ourselves, on our own free will and completely consciously. Absolutely consciously we kill both ourselves and our future. And no new revolutions, to which we are periodically called, will not be able to change the state of affairs unless we ourselves decide to change.
- To sum up, what should be the first and most important step in solving a demographic problem?
- We must look at yourself. Understand that no one will provide you with a "dolce vita". Say, people from central Russia have a lot of valid claims to people from the Caucasus. But, forgive me, in spite of the fact that life, for example, in Dagestan or Ingushetia is far from sugar, local residents of children give birth, not kill. Therefore, they become more. So what are we waiting for? How do we plan to increase the number of Russian population in our country? Words, and again words ... All these illusions are reminiscent of schizophrenic ravings, he kills his children - but at the same time wants more Russians. This will never happen - as long as we continue to live as we live now. Moreover, we are doomed to historical defeat. As they say, the clock is ticking, but no one wants to hear this, everyone is talking loudly about the need to "improve and deepen." And everyone lacks the notorious freedom. I want to ask - why do you all need freedom? In order to die faster? I am against the freedom to die. And I hope that I have like-minded people.