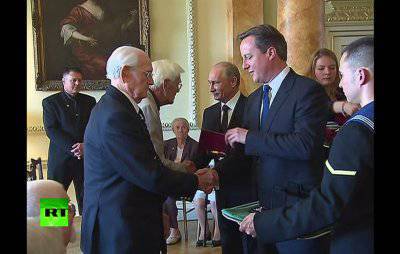 The President of Russia and the Prime Minister of Great Britain personally awarded 20 participants of the Arctic convoys of World War II with the Ushakov Medal and the Arctic Star.
Vladimir Putin particularly noted the merits of veterans. "The point is not only in the enormous amounts of material assistance provided by the USSR to the Allies during the Second World War, but also in the fact that you and your comrades in
arms
demonstrated personal courage and heroism, giving the world confidence in the victory over Nazism, "the Russian president said. He also added that Russia remembers the participants of the Arctic convoys and consider them heroes.
David Cameron praised the veterans for working in difficult climatic conditions, called it vital, and added that the award found its heroes after 70 years. The Prime Minister also thanked the veterans on behalf of all Britons.
During the ceremony, medals received 20 people. The general list of participants of the Arctic convoys includes 825 surnames. The Russian side intends to submit them to the award.
Arctic convoys are the formations of special courts that provided communication between the northern part of the Atlantic Ocean and Soviet ports during the Second World War. The ships were equipped with cargo and means of defense in permafrost conditions.