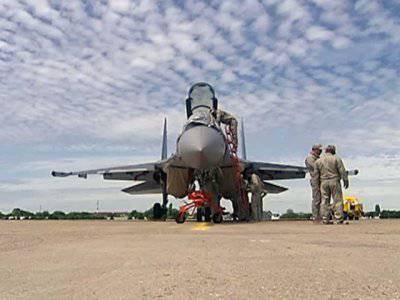 The 50th anniversary international aerospace show opens at Le Bourget. The exhibition will run all week. More than 1,500 companies will present their latest developments, including 46 Russian. The loudest domestic premieres are the Su-35-C fighter, the Yak-130 aircraft and the Ka-52 combat helicopter.
At the largest anniversary international air show in Le Bourget, more than two thousand companies are represented. 44 countries show samples of civil and military equipment. But the attention of all is riveted to the latest Russian fighter Su-35. His French put in the center of the main avenue.
30-mm gun, 12 suspension points for rockets and bombs, target detection range exceeds 400 kilometers, and the on-board radar allows you to track an object at a distance over 80 thousands of meters. Su-35 without refueling flies more than three and a half thousand kilometers. This is the fourth-generation fighter in the world.
Before the training flight the car is examined by the technicians The design withstands overloads of up to 14,5 units, despite the fact that for a person the limit is ten. The cockpit protects the pilot.
Honored Test Pilot Hero of Russia Sergei Bogdan tested more than fifty military aircraft. He says that the Su-35 engine is special. One kilogram of weight accounts for one kilogram of weight, which makes it possible to perform the most complicated aerobatic maneuvers - "spatial barrels", somersaults, "flat spin", "Pugachev's cobra".
At Su-35 for the first time tested vector thrust. This is the only machine in the world that can make a "pancake" - a turn on 360 degrees in the horizontal plane without loss of speed.
Mikhail Pogosyan, director of the United Aircraft Corporation, was in the past an engineer and chief designer of the Sukhoi Design Bureau, watching the fighter's flight, clearly worried. Su-35 abroad is presented for the first time.
Foreign experts are showing increased interest in the fighter and recognize Russia's leadership in this industry. "I've seen 22 of the year in this industry, but this flight is something incredible!" Said engineer Christian Kunovski. "This is not a fighter, this is just a UFO! Frankly, I cried for the first time in my life with delight!"
Until the end of 2015, the 48 of such aircraft will appear in service with the Russian army. Ten - already in the ranks. Rosoboronexport expects to begin deliveries abroad. At Le Bourget, they plan to sign contracts for the sale of three cars at once: Su-35, Yak-130 and Ka-52 helicopter. In addition, the transfer of the first Russian passenger aircraft Superjet-100 Mexican company InterJet.