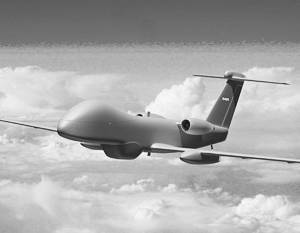 The three largest aircraft manufacturing companies in Europe - the EADS concern, the French Dassault Aviation and the Italian Finmeccanica decided to start building reconnaissance unmanned aerial vehicles (UAVs), their representatives said on Sunday.
The project will be implemented within the framework of the European MALE program and involves the creation of UAVs capable of flying at medium altitudes for a long time, ITAR-TASS reports.
"This will help meet the needs of the European Armed Forces, and at the same time will contribute to resolving the difficult budget situation by combining research and appropriations," the aircraft manufacturers say in a joint communiqué. In this way, in their opinion, "European sovereignty and independence in the field of information and intelligence will be ensured, and a reliable system will be created that can withstand cyber attacks".
As noted by Agence France-Presse, "perennial rivals have teamed up to catch up with American and Israeli competitors." Such machines, "as the Afghan campaign and the events in Mali showed, became an essential element of modern warfare."
Earlier this week, French Defense Minister Jean-Yves le Drian of France announced the purchase of American Reaper drones for the country's armed forces. At the same time, he expressed regret that "European manufacturers have so far failed to establish cooperation in this field."
In May, the German Defense Ministry announced the termination of a large-scale program to create a Euro Hawk unmanned aircraft. As one of the main reasons for such a move, the difficulties associated with obtaining permits for flying the world's largest UAV in the airspace of European countries are cited.
Euro Hawk is a European version of the American drone Global Hawk, produced by concern Northropp Grumann. It was supposed to equip reconnaissance equipment developed by the European concern EADS.