We have a large historical the fact of victory over absolute evil, which could destroy at least half of the world. Victory in World War II is a Victory, in fact, of Good over evil.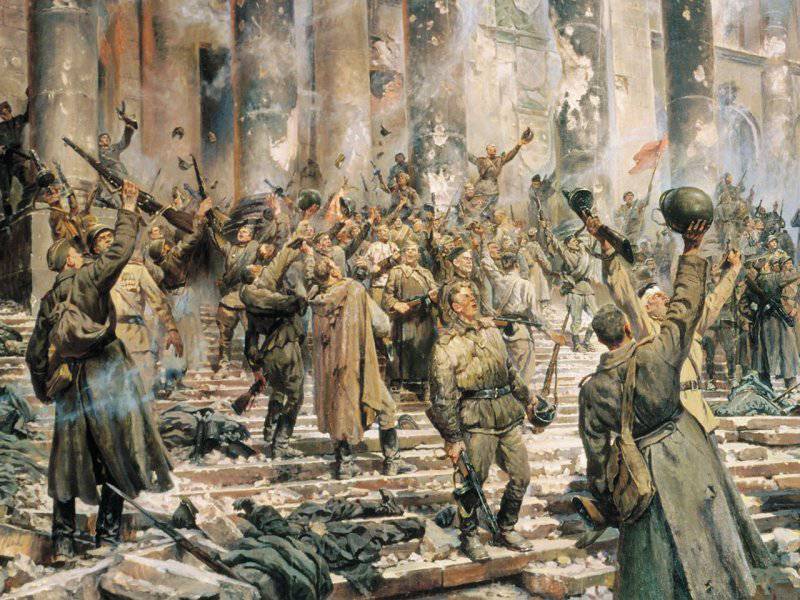 Recently, the significance of this victory of the Russian people has often been called into question. The opinion is increasingly heard - Well, yes, there someone fought with someone, of course many people died, but in general, and in fact - this is a "banal episode of history"
In the West, this interpretation has recently gained popularity:
Only those wars in the history of mankind that were waged for democracy were correct. The rest is when some freaks kill other freaks.
And it is precisely this interpretation that is now being attempted to present in the world.
Moreover, this is done purposefully and deliberately, to devalue the value of Our Victory.
They need to present a real victory in the most terrible war in world history, as something passing through, not too important and not important for achieving the main goal - the establishment of universal "democracy."
Those. there is an attempt to juggling value systems in order to change one value system to another. At the same time, an obvious and understandable fact was washed up - Fascist Germany, at that moment, brought death and destruction to a huge number of people on the planet. It posed a threat to global peace. And the order that the Nazis established in the occupied territories, as well as the order that they were going to establish in countries that they did not enslave, was the hateful order of the new slave-owning society, where there is a race of gentlemen, and there is a race of slaves. And no difference was made for anyone.
From a religious point of view, it was a frank, than not covered by Satanism.
And to those nations, to whom he did not reach, it is just luck. And this is precisely the merit of our ancestors, because they sacrificed themselves, not allowing the victory of this Satanism.
So the value of this Victory in the historical retrospect is unequivocal. And now there is an attempt to belittle and blur this victory, to show that there was nothing special in it.
Well, there was one war, maybe there will be another, let's see ...
We need to speak openly that it was not only the victory of good over evil, but also the question of our survival and continued existence. This is extremely important, because You can often hear conversations:
Well, what about the Soviet Union? ... Well, how did he win? ...
Yes, he filled up all the mountains of corpses. ..
Here we have brought such a price, and see how clever the French are. They have a couple thousand died there, and all
Or the Dutch ... .. They generally did not die. That's the way to fight!
But they forget one simple thing. As the French and the Dutch, like all of Europe, they simply lost. They simply surrendered to the mercy of the victorious enemy.
They did not fight at all. They just lost and put the whole world in a situation where someone had to cope with this monster. When someone had to make a huge sacrifice.
Those who refused to make such a sacrifice, in fact, shifted the responsibility to other nations. So let other nations understand. ..
And OUR people turned out to be the one who was ready to make this sacrifice. And more than any other nations
Yes, a huge number of people died. There were miscalculations? Sure.
But in general, it's about the fact that Hitler's Germany could only be stopped at such a price.
And if our people would not have made this sacrifice, then someone who deftly settled and suffered a small number of losses would have lived in a state of slaves until now.
During World War II, our people showed a powerful mobilization potential. Yes, we had an incentive, if I may say so, because we were in a situation of survival. If it were not for those huge and simply inhuman efforts, and in the rear too, we would simply lose the war. The task was this - either by exerting all the forces, intellectual, physical, human losses, we pull out this victory, or if we miscalculate somewhere or want to relax somewhere, we lose and the country ceases to exist.
The mobilization system in the USSR was quite tough. And in the conditions of war, she allowed to carry out a modernization of the economy, which provided and victory. It is possible that in the conditions of Holland or France this would have been unattainable. That is, the authoritarian model that existed in the USSR, and which had its very obvious shortcomings, had certain advantages in the conditions of extreme.
In conditions when one third of the country was occupied, it was impossible to modernize the industry with a full transfer of it to the military rails, it was impossible, which also indicates a strong organizational potential.
It does not mean that there were no problems in the USSR. They were - and in the field of political management, and repression, and the shooting of personnel officers, it all happened. And some things were just scary - this is all real.
But all this should not be put on the same level as the value of the Victory that was won. Because very often they try to level the victory
The fact of the matter is that the Victory was achieved in spite of all this. And this is also its value.
Why do they want to devalue our Victory, or simply steal it from us?
We want to deprive our historic pride. In the newest history, the Victory in the Second World War was the most powerful achievement of our Civilization, our people and our country. Having devalued the victory, we want to impress a simple thing - in fact, you didn't have any success at all. You are absolutely meaningless and unsuccessful. And in all relationships is not an effective nation. And your country has always not been effective, and your story is not correct, and your grandfathers are idiots, and your great-grandfathers are fools ....
...
What is it done for? This is primarily:
Demoralization
Instilling hatred of one's own country
And this opens the door to the perception of another value system. In fact, there is an internal decomposition in order to run the virus.
Then what next thought? ..
And if everything was bad in my history and in my country, then where is everything good?
There is a model. It is perfectly promoted, advertised, it glitters and shimmers with all the colors of the rainbow. And this is the next goal.
The Americans, after the collapse of the Soviet Union, entered into the struggle for global domination. And although we are talking about a multipolar world, we are apparently moving towards this, but in fact 90 has been in fact, and now the Americans, whether you want it or not, are realizing global domination.
America is the most powerful country in the world thanks to the collapse of the Soviet Union. Personally, I think that it was not they who won the Cold War, but we destroyed the USSR.
For what reasons? This can be a long discussion.
But it was our asshole, our whim and our illness, as well as our way out of it.
And it is in this situation that America has become the global dominant in the world. And now they continue to be so. It is the most powerful country with vital interests in every corner of the world. (138 states where they have military bases).
To justify their dominance, because some money and
weapons
always a little, including need a successful historical project. MODEL VICTORY of America.
A list of merit in the past, except for the values ​​that they have now.
How to show the world why they are eligible for global domination and why they consider their model to be the best.
But here we need victories. And Americans have the most "impressive victories" were victories in "star wars" or even in some Hollywood films.
It is a fact, an indisputable fact.
Therefore, they build their own myths. And one of the myths is that they won the monster of the USSR in the cold war. Although we have already said that the Soviet Union collapsed due to its own internal problems, mistakes and misunderstanding of itself.
The fact that there was no real victory in the Cold War is also proved by many statements by American politicians and historians, for whom this was a complete surprise.
Victory cannot be a surprise if you go to it ...
Even a year before these events, and even six months later, none of them could have imagined a similar result. There were separate "visionaries" like Brzezinski, who talked about this, but even he didn't imagine it as it happened in reality.
Americans say - and we rid the world of this Monster of the Soviet Union.
But here, in the triumph of America in the world, they are hampered by our victory in the Second World War.
Because what happens?
How did the Soviet Union, this "creepy Monster", from whom the whole world suffered, could defeat Hitler's fascism, the plague of the 20th century? And what does it mean?
And here another model comes into action - the USSR had no victory, the Anglo-American forces played a decisive role in this victory, and as for the Soviet Union, it was a battle between two tyrants, two comparable dictators, two nonhumans. ...
Well, many people died there - so what to do ??
Just some villains killed other villains ...
Yes this is such a villain rascal life
But we are another matter. And it is the Anglo-Saxons that really "made the world happy."
Here, to obtain the moral right to dominate and to sell our own model as the most successful, the value of not only our Victory is destroyed and devalued, but our foundation of values ​​is being dismantled.
Another very important thing is that the cult of victory was around the Second World War, as well as everything connected with it. A large number of human victims of various nationalities from different territories of our country, and not only, who were under the occupation of fascism and died for the common cause, and even the subculture that has existed for dozens of years around it all seriously binds the peoples in the post-Soviet space.
This is a common historical memory, because our Victory in the Second World War is first of all:
Good, righteous, and right cause
And not least - we really did it together. It was a GENERAL victory.
These are the spiritual bonds that V.Putin spoke about in his message to the Federal Assembly 12.12.2012.
This subculture, like the common historical memory of the Victory, holds the peoples of the former USSR tightly enough. And many do not like it. Because having a common cultural platform, having a common Success Story, as is now fashionable to say, having a common value is always a prerequisite for interaction and cooperation, as well as a platform for integration projects. And this is also not like.
Therefore, some say - Let's pull out all the common things that unite them. Let them have nothing left. Let's get rid of everything that they had in the past, so that they would hate each other and feel completely strangers.
Therefore, in many states the following model has officially become: And it was not our war. We were forced to fight in it. We didn't want at all, and to us it's all up to a bulb
But you are up to the bulb because they have not reached you. Because your grandfathers became breasts and did not let the fascists to you. And when they came to you, they would all bear your head.
It was the second World War, in which dozens of countries participated. And in the last year of the war, Germany officially declared war on 80% of all countries in the world. Even Argentina, Brazil ...
This is the question of how now, for example, in Georgia they say: "It was not ours that was war ...".
The whole world fought, but for Georgia, it turns out, it was "not our war" ... ..
Therefore, one of the elements of our integration is common memory and one history, the real level of cooperation between our peoples, as well as our Victories. But it is necessary to tell the historical truth, incl. and the truth, which is not very convenient.
There were a lot of examples of perfectly conscious collective heroism of people of various nations. The same Ukraine or Georgia. And what terrible destruction that war brought to Ukraine, not to mention Belarus ..
And how in this context it is cynical, painful and despicable to watch how ideas of flirting with Nazism and talks about Ukraine are being rehabilitated in Ukraine, and what, you think, Hitler and I would be nice ...
I think that in fact, Hitler would not leave anything from them. These people would be turned into slaves, into pigs, to whom it is convenient ..
Why invent something? It is necessary to read the original sources. Hitler wrote everything, how he would destroy the Slavs and the rest of the nations.
Why should each other hang "noodles on the ears", now invent his own thoughts for Hitler?
Yes, he expressed all his thoughts quite clearly in his speeches, books, speeches, articles, etc. And there was not any sentiment about the Slavic peoples in particular.
We must speak the truth and give a clear assessment of the historical process, the price of the victory that was. And we should not give anyone, according to our Victory, to stamp on and assert themselves, as some scum do, crawl with dirty feet, as was often the case in 90x years, when some simply revel in the process of smearing, mucking and trampling everything.
All this requires propaganda work, as well as work in new information networks and the Internet, as well as symbols of Victory.
The only thing I want to say is to avoid the fact that, unfortunately, the late Soviet Union suffered when it was all too formal, when sugary plots were invented that had no relation to reality, when it became overgrown with unattractive tinsel, turning into merchandising and laziness And this, too, in its own way devalued the victory, as it became one of the reasons for the ideological crisis in the USSR.
Unfortunately, in many countries, it was decided to simply delete the history of victory from their national history, as if this was not the case.
"Freedom" has called for the withdrawal of the concept of "Great Patriotic War"
Well, the Baltic States - these people can only regret. They joined the European Union and already consider: "there is happiness ...". And all the dreams that were - they came true. Now they are Europeans, yeah ..
On the question of the romanticization of Hitler and everything connected with him. Myths that it was possible to get along with Hitler - a blatant and blatant lie. There were no chances to get along with the occupation regime on equal terms. Hitler didn't even think about equality with respect to his allies - Italy, Hungary, Romania .. And if they went on victoriously, they wouldn't have a shadow of a doubt, but what to do with those whom they enslaved .
Either you work for us, or you are dead - there were no other options.
And these newfangled trends that it was possible to coexist with Hitler are complete nonsense and deception. Or you would not be, or you would be laborers.
Therefore, talk about the fact that this is not our war and not our enemies - at best, this is stupidity, and at worst - an extreme form of cynicism.
But the negotiations of the Americans, the Europeans were not up to that during the war, with Hitler, this is the usual position of the whole period of their existence. They live on a world island. Yes, they won the space for themselves, and in relation to Europe, they have for decades, or even centuries, been professing the role of the historical operator.
Europe, Eurasia, Asia - for them this is the field where they are trying to solve their problems. The strength of the American model, as well as weakness, lies in the fact that they transfer the solution of their problems to foreign territory, as well as to solve their problems at the expense of others.
It is senseless and illusory to look for romanticism in the Anglo-Saxon politics, as was in our dreams of the end of 80 and the beginning of 90. Yes, it is somewhere and the property of our character - to see good in everything. But on the one hand, this is both our plus and our minus, when we begin to evaluate politics, in the moral values ​​of Russian civilization. And she has never operated with these moral values, much less the policy of the Anglo-Saxons. She calmly, pragmatically and cynically solved her questions on foreign territory. So it was in the periods of the First and Second World War, and it continues today.
For America, this is a very successful strategy. Thus, competitors are weakened, potential rivals collide with their heads, their own economy is being fed, there is an opportunity to have a specific military doctrine of the expeditionary corps, unlike us and Europe, while fighting on foreign territory. Whereas we and Europe fought all our lives on our own territory, burned our own cities, destroyed our own bridges, and at the beginning during the defense, and then during the attack, and then it was all restored.
And then all these statements and questions: And why do they live the best? And we live in poverty and poverty, although we won?
And because some live on the world island, while others surrendered in time. And we had to repeatedly mess up porridge for them.
And this is a fact. Of course, he does not justify our problems and mistakes. And about the negotiations of America with the fascists. At the end of the war, realizing that excessive strengthening of the Soviet Union could create a problem for them, they tried to negotiate with Germany. Because the complete disappearance of Germany seemed to them unprofitable, there are a lot of reasons. Germany under Hitler is too much, but relatively live is normal.
For them, this is the usual chessboard on which they rearranged the figures. Unfortunately, for Americans and now many situations are like a chessboard. Precisely because they live there. There, as if nothing touches them. And here it is possible to rearrange other nations as pawns, well, you will think, a couple of pawns will inevitably be "eaten", well, what can you do, such is a chess game.