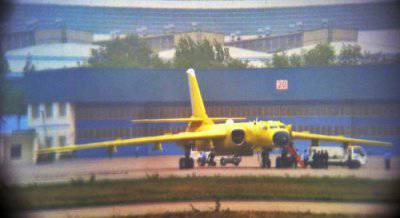 China has upgraded the air potential of strategic strikes (
aviation
strategic nuclear triad component) and, judging by the photographs, deployed advanced N-6K bombers on the Air Force combat base, mil.news.sina.com.cn reports today. These aircraft are capable of delivering strikes up to the Strait of Malacca and the island of Guam.
Bombers of the old H-6 series had a low combat load and combat radius, outdated design and low efficiency. They could be easily intercepted by enemy fighters. For these reasons, the bombers were the weakest link in the Chinese strategic triad until H-6K appeared.
The biggest external difference between the H-6K and the H-6 is the fighter-type nose section, made of composite material. The aircraft received new onboard systems and avionics in the form of six color multi-function displays, in the tail section instead of the 23 mm gun-mount system, an EW system was installed. The bomber has an advanced data transmission system, a new on-board radar, some work has been done to reduce the aircraft's visibility.
The payload of the H-6K is increased to 12 t (H-6 - 9 t) due to the suspension of modern CJ-10A cruise missiles (to 6 on underwing pylons, "working speed of the missile" from 1,5 to 2,5М, 500M conventional equipment), the accuracy of hitting the target is less than 10 m) and guided bombs with satellite and laser targeting to carry out targeted strikes at sea and land targets. The aircraft is equipped with more powerful engines, which significantly increased the combat radius (more than 3500 km, flight range increased to 8000 km compared to 6000 km from H-6). The reach of enemy targets using CR increased to 6200 km, which gave the bombers a real strategic potential for striking back.
The appearance of the H-6K placed strategic aviation in second place after the Second Artillery Corps (land-based strategic missile forces), ahead of the SSBN.
In combination with promising unmanned strategic reconnaissance aircraft, H-6 bombers can be on duty around the clock and immediately take off for the destruction of naval targets discovered by drones in the western Pacific and South China Sea. They can be accompanied by advanced J-20 fighters equipped with an in-flight refueling system.