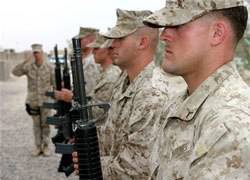 Service in the Canadian army is significantly different from service in the Russian armed forces. Moreover, these differences are not only formally significant, but in their degree are extremely significant. The fact is that, first of all, service in the Canadian army is not just the lot of all that is suitable for the health of the male population, but above all those who really want to do military work, get military specialties and accordingly lead a military lifestyle.
However, unlike the Russian army, military service in the Canadian army is much more comfortable and less burdensome. Military specialty is not shameful and many professions can be called prestigious. That is why it is a pressing issue.
immigration to Canada from Russia
. Thanks to the successful resolution of this issue, you can get a lot. And this is not only a first-class military profession, which can later be useful in civilian life, such as various engineering specialties, which are in considerable demand. It should be noted that among such specialties and professions related to information technology.
Service in the Canadian army gives military personnel various social benefits, which are also significantly different from the Russian ones, which are limited by discounts on travel in transport. If you decide to serve in the Canadian army, then after serving you will be much easier to obtain citizenship in the country of maple leaves. In addition, it will be much easier to search for housing, as if desired, housing from budgetary resources can be provided. It is no secret that this housing surpasses the "Khrushchev", which were allocated to Russian officers.
There are also benefits for admission to educational institutions, for health care services, transportation costs. Currently there are various programs to further improve the lives of the military.
If we talk directly about the service itself, it is more like a regular work with weekends, holidays and a schedule similar to the usual daily routine. A significant advantage is the relationship in military teams. Soldiers of the Canadian army fully use their civil rights and individual rights. There is no question of any hazing. If such a situation arises, then internal security services will be immediately involved in the process.
But do not think that this is a real paradise. In professional terms, the Canadian military is not inferior to any other. Preparation is conducted quite seriously. There are mandatory programs to strengthen physical strength, possession of various types
weapons
, driving, mastering the skills of hand-to-hand combat. Therefore, the Canadian army can be reached only by having first-class physical health, although there are specialties where it is not required. For example, there are military doctors, psychologists, programmers, specialists in economic services, etc.
In general, service in the Canadian army is considered a worthy and respected occupation in the country.