One of the definitions of the word culture:
Culture is a system of values, life notions, patterns of behavior, norms, a set of methods and techniques of human activity objectified in objective, material carriers (means of labor, signs) and transmitted to subsequent generations. It includes non-material culture — man-made abstractions, such as values, beliefs, symbols, norms, customs and established principles, and material culture — physical artifacts or objects — stone axes, computers, loincloths, tuxedos, cars, paintings, hammocks and indoor stadiums. Culture is the basis for allowing people to interpret their experiences and direct their actions, while society is a network of social relationships that arise between people. Culture is what distinguishes human society from the animal world. Culture is an environment artificially created with the help of language, thinking and symbolic meanings.
Defenition of the word lack of culture:
- wildness, Asiatic, unconsciousness, barbarism, backwardness, lack of culture, zhlobstvo, ignorance, savagery, lack of consciousness.
- lack of culture, cultural backwardness.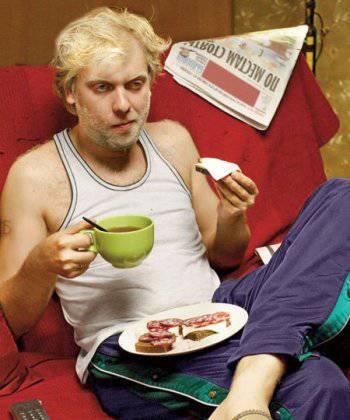 Recently wrote an article "
Russia is a refuge
". Its meaning is that given the natural decline in the standard of living in Western countries + propaganda of "iridescent perversions" + "Juvenile" = return to Russia of millions of economic Russian-speaking migrants and their children + the flight of normal European Americans, preferably one with me the sight of elderly French actors) from the European standard madhouse. Honestly, when I wrote that article, I understood that there was a significant proportion of unrealizable fantasies in it.
"You buy not a house, you buy a neighbor," says one intelligent woman. I think everyone understands the meaning of this proverb. When choosing a place of residence, it would be necessary to find out who your neighbors will be, what they do, presence / absence of bad habits and criminal convictions, attitude to hygiene. I am sure that the same rule applies when choosing a country of residence.
What awaits a foreigner in our country? I'm not talking about high-paid athletes, bank employees and pevschkah on corporate. All these people with personal chauffeurs, 5-star hotels and French-language restaurants may not even notice a change in their country of residence. I am talking about ordinary people who have gathered, as it were, to move in with a one-way ticket.
Friday, evening, summer, good weather. Exit to the balcony, look around. Listen up. When I did this for the last time, I immediately remembered the film "I Am a Legend", there, too, at night, human-like disrepute crept out. They shout there, they fight, they continue to defecate, a little further they sort of copulate. Everywhere inhuman sounds. The people after work week "have a little rest" and "drink culturally".
Interestingly, there is a connection between the purely "cultural", of course, libation and official discipline, the number of domestic crimes and the smell in the bushes near the benches in the courtyards? Those who are older will confirm that earlier the playground was used for its intended purpose in the evening, and not for inflating adolescents with cheap beer and "yaga" to the very eyebrows. By the way, young mothers in the courtyards did not stand with beer and cigarettes, using baby strollers as mobile mini-bars.
Interestingly, there is a link between the percentage of drinkers - smoking moms and the number of childhood diseases?
Familiar builder when choosing workers from the countries of Central Asia, looking to smoke a bidder or not. If he smokes, then, for sure, he knows well for a long time in Russia and the pricing of works. Cultural influence of the environment of my homeland, mlyat. Familiar Uzbek says that in Bukhara if a girl smokes, you can safely come up and agree on a jointly spent night.
I wonder if there is a relationship between the dynamics of the number of women smoking (this is, in addition, uncivilized) and the dynamics of the divorce and the number of abortions? This fact is very indicative: at the height of the Great Patriotic War, a German doctor who examined girls aged 16-20 who were hijacked from the USSR to Germany decided to appeal to Hitler to immediately start peace negotiations with our country. He was surprised that 90% of girls were virgins, and he wrote to Hitler that it was impossible to defeat people with such high morality. Nowadays, a high school student is a virgin often a marginal and outcast, doomed to ridicule.
I wonder if there is a relationship between attitudes toward virginity (the morality of the people) and the scale of their military victories?
Recently, a gang of young jackals seriously beat a family friend for refusing to "share" 10 rubles. Broken ribs + broken internal organs + concussion = 10 rubles. Interestingly, these freaks read "Crime and Punishment"? And what percentage of Gopnik fans of chanson, rap and classical music?
Watch domestic football (you can on TV), not really paying attention to what is happening on the field, but listen to the "chants". If, for example, Kazan "Rubin" came to visit my "Spartak", then the fans are chanting: "To love Kazan, to love." If the match with CSKA, then "Love the horses, love." Army fans have chants, where Benito Mussolini figures (the central sports club of our army, here). What to talk about, we have some heads of regions can call the arbiter publicly a "selling goat" (a role model), and they will have nothing for it. A normal person who does not use foul language at home will never lead a child to the football arena, even if he is a football fan a hundred times. And once poets gathered full stadiums. At that time we were the first to fly into space and half of the world looked into our mouths.
Interestingly, is there any relationship here?
If I go by public transport, I try to read books or newspapers: what time to lose. Once a woman came up and said that I probably came from the past in a time machine. To my puzzled question I answered that many people did this before (the most reading country in the world, after all), but now it's not accepted to read on the bus.
I wonder if there is a relationship between the number of reading passengers and the number of those who are ready to give place to a pregnant woman or a pensioner?
With books in general movies. Once we eagerly read more than anyone else in the world (probably, it was before we started drinking as much eagerly), and the bookshelves were displayed in the most prominent place in the apartments. And what, suddenly, which of the guests will think that the owners do not read books at all - they will stop saying hello. Then they gradually stopped reading, but the bookshelves remained (so that the neighbors did not suspect anything), and then their sons and grandchildren threw up unnecessary waste paper, so that they did not take up space, and their peers would laugh. A familiar janitor, an intelligent and educated woman, found many really good books thrown away by such "readers".
I wonder when the fundamental knowledge of children and students was deeper - the era of universal readability or a comprehensive Internet?
More about the book (I can not touch this topic): the new ones are very expensive. Why our state has preoccupied with domestic cinema., Which will shoot the right patriotic films, promises serious money for this business, and books of the necessary direction are not subsidized in any way. Why is the nonsense about bored housewives, engaged in a private investigation and a patriotic bias things really catchy, start somewhere with 300 rubles? Vaughn, in Germany, the Salafis distributed the Koran for free, probably not just throwing money at it, but see it as an investment for the future.
Interestingly, we somehow need to bring up patriotism in future generations, or even if only free flyers to a nightclub get free?
Today, June 12, I am finishing this article. Today is a holiday, a holiday. On the occasion in many cities held celebrations. On this day 23 a year ago, we voluntarily donated vast territories together with our compatriots and the values ​​that were there to the new owners.
Interestingly, in Belgrade somehow celebrate the collapse of the SFRY and the "independence" of Serbia from the rest of the republics? In London, for sure, 4 July is a national holiday in honor of the "liberation" of overseas colonies.
The achievements of the people in various fields directly depend on the cultural development of its citizens. If we want to become PERSONAL, then we must look attractive in our own eyes and the eyes of the whole world, so that we are leveled and tried to imitate us. This is impossible to achieve, if we, excuse me, spoil in the entrances and each other, litter the roadsides and our own heads with "cultural consumer goods" and mass-produced slag. I hear a lot about Russian messianism, but the greatness of our people for the most part in our
stories
and not in the present. Why is this happening? The answer is in the title of the article.