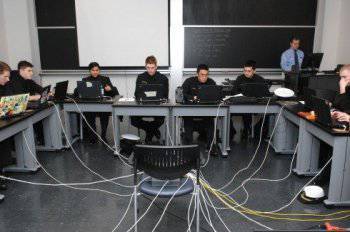 Annapolis, Maryland - This fall, the United States Naval Academy will be the first academy to offer its students the opportunity to specialize in cyber operations (Cyber ​​Ops).
The Pentagon has announced cyber security as the first priority for military development with a focus on training leaders at this stage. The Department of Defense recognizes the importance of this, but is still trying to pinpoint its role in protecting the nation from cyber attacks.
Nevertheless, the military leadership has repeatedly reported that the officers who will determine the future of the Pentagon in ensuring cyber security are likely to be the youngest group of officials, including those who are still in the process of training. The graduation of the 2016 Naval Academy will be the first to include graduates with a degree in cyber operations.
The leadership of the Maritime Academy spent five years developing programs for cyber classes after the assignment of its former commandant, Admiral Gary Roughead, who later became head of naval operations, to provide such training in addition to computer science.
The Academy has started the formation of compulsory courses for all cadets who must complete a course in Cyber ​​1 in the first year. In the third year, midshipmen must take another mandatory course in Cyber ​​2, which provides more detailed instructions, including cyber policy and economics.
The dean and vice rector of the Naval Academy, Andrei T. Phillips, said that the goal was always to offer a cyber security research program that goes beyond the writing of program code. "We wanted to be sure that we cover both the basic theory and the politics, law and economics that are associated with cyber hazards," Phillips said.
Students specializing in cyber operations will have the opportunity to complete internships during the summer in civilian software and Internet companies, as well as in federal agencies such as the National Security Agency, which is 30 minutes away from Naval Academy.