According to Chinese network resources, at the beginning of June 2013, two corvettes of the new 056 project (NATO designation - Jaingdao class) - the fifth and sixth ships of this type, respectively, were introduced into the PLA Navy. This refers to Qinzhou corvettes (tail number "597") and Shangrao (tail number "583"). The Qinzhou Corvette was built by the Guangzhou Huangpu Shipbuiding Company in Guangzhou (becoming the second corvette of this shipyard), and the Shangrao Corvette was built by the Shanghai Shipyard Hudong Shipyard of the Hudong-Zhonghua Shipbuilding Group (and also became the second corvette handed over to the factory - the first corvette Bengbu series).
Thus, since the introduction of Chinese
fleet
the first corvette of Project 056 Bengbu (tail number "582") on February 25, 2013, the PLA Navy received six (!) ships of this type in three and a half months - in addition to the three mentioned ships, Huizhou corvettes (tail number were also delivered in April-May) "596", built at Hudong Shipyard), Datong (tail number "580", built by Dalian Liaonan Shipyard in Dalian) and corvette with tail number "584" (possible name Suqian, built by Wuchang Shipbuilding Industry Company in Wuhan). According to the available information, at the listed four shipbuilding enterprises of the PRC at least 12 more project 056 corvettes are in various stages of construction, including four under construction afloat: Gian corvette (tail number "586") - at Hudong Shipyard, corvette with tail 587 for Guangzhou Huangpu Shipbuiding Company, a 585 corvette for the Wuchang Shipbuilding Industry Company and a 581 for Corvette for Dalian Liaonan Shipyard.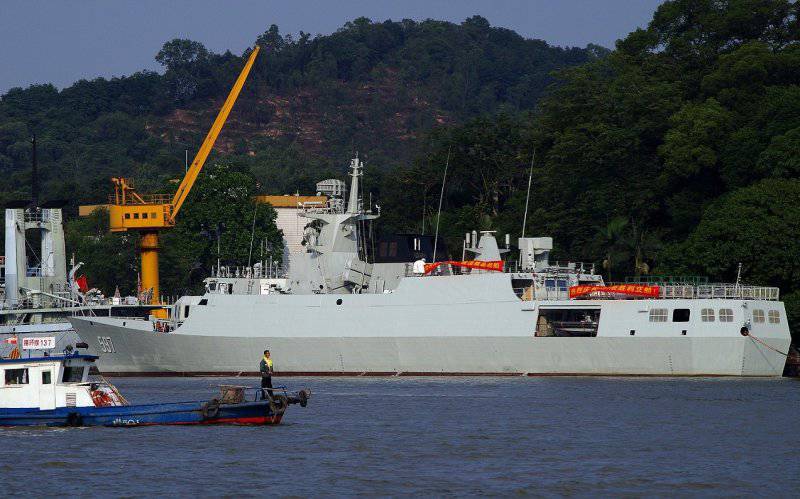 According to the Chinese classification, the 056 project refers specifically to frigates, although a number of Russian-speaking sources attribute them to corvettes. The ship's displacement is 1300 (according to other data, up to 1500) tons, and the armament is represented by two rocket launchers (anti-ship missiles YJ-83, they are also C-803, range to 300 kilometers, speed to two speeds of sound), AK-176 gunner ( caliber 76 millimeters), two 30-mm guns and two three-tube torpedo tubes with a caliber 533 millimeter. The air group consists of one helicopter, for which the takeoff deck is equipped.
The surface part of the ship is made with elements of technology to reduce radio sight. Two diesel engines (the power of which is not indicated) allow to reach speeds up to 28 knots, and in economy mode (18 knots) the range is about 3700 kilometers.
http://bmpd.livejournal.com
http://lenta.ru/news/2013/06/12/chinacorvett