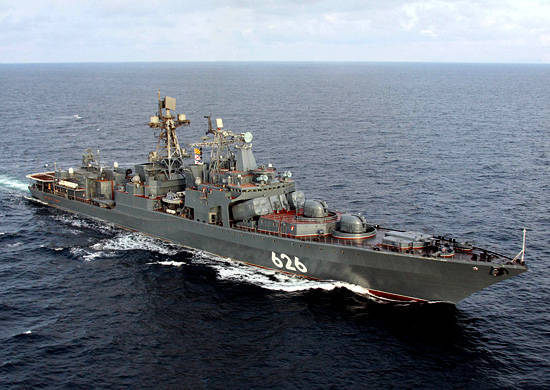 Today, a large anti-submarine ship (BOD) of the North
fleet
"Vice Admiral Kulakov" became part of the operational formation of the ships of the Russian Navy, operating on an ongoing basis in the Mediterranean Sea.
To the south of the island of Cyprus, the Northern Fleet ship will meet with the BOD of the Pacific Fleet Admiral Panteleyev.
In the course of joint actions, the crews of large anti-submarine ships will work out elements of the detachment's anti-submarine defense using ship-based helicopters.
BOD "Vice-Admiral Kulakov" - the second warship of the Northern Fleet, performing tasks as part of the inter-fleet grouping of the Russian Navy in the Mediterranean Sea. Earlier in its structure operated a large anti-submarine ship of the Northern fleet "Severomorsk".
From the main base of the Northern Fleet of the city of Severomorsk BOD "Vice-Admiral Kulakov" came 11 May. During the long voyage, the North Sea residents became participants in the Pomory-2013 international exercise, visited the ports of Bergen (Norway), Liverpool (Great Britain) and Lisbon (Portugal).