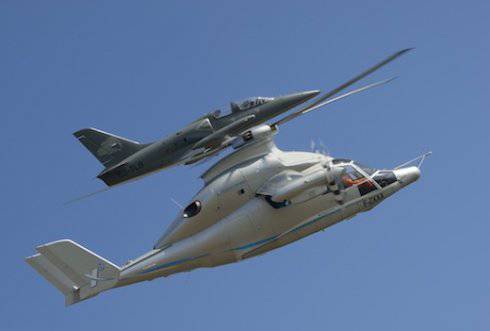 The Eurocopter's high-speed hybrid helicopter X3 (Eurocopter) has developed 472 km / h in horizontal flight. Previously, this helicopter developed an 487 km / h speed when descending. Both of these results are unofficial speed records for rotary-wing machines. This was reported by the company Eurocopter.
Record speed in horizontal flight was reached at an altitude of 3050 meters during the 40-minute test flight over southern France near the Flight Test Center (FAC) Istres.
The concept of the X3 helicopter combines the excellent characteristics of vertical take-off and landing with high cruising horizontal flight speed exceeding 400 km / h in the design of the rotorcraft.
The X3 demonstrator is based on the airframe of the Dauphin helicopter and is equipped with two gas turbine engines (GTE) RTM 322, providing rotation of the 5-blade rotor, as well as two screws mounted on the wing of a small span on the sides of the vehicle body. This scheme allows you to create a promising rotary-wing transport system with the speed of a turboprop aircraft and the helicopter take-off and landing characteristics.
The GTM version of the RTM 322 for the X-3 demonstrator is based on the RTX 322 engine of the NH90 helicopter. The engine has a FADEC system adapted to the requirements of a high-speed demonstrator.
The hybrid helicopter X3 is created to perform both civil and military tasks, in particular, missions to search for people in large territories, provide coast guard and surveillance, patrol the borders, evacuate the wounded from the battlefield. The helicopter will also be able to carry out tasks for the transportation of passengers, including on long-distance lines. The machine is also intended for the transfer of military units.
Eurocopter began flight tests of the X3 demonstrator in September 2010 at the Ist Flight Test Center in southern France. During the flight test program, the rotary-wing machine demonstrates excellent flight performance, maneuverability, high acceleration and deceleration characteristics, ascent and descent, has low vibration levels, which eliminates the need for passive or active anti-vibration systems.