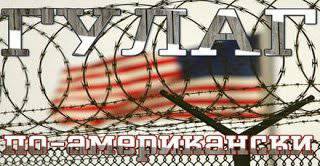 Why is it that over the past 25 years, quite sufficient for any reforms, we have not achieved anything other than solid theft in the country? Although over the same period after 1917, thousands of new factories, power plants, roads, cities, and 43 have grown in it already in many types of weapons ahead of the entire German armada! .. Why is the last thunderous chord against corruption with the resignation of the whole the thieves galaxy ended, as already seen by all, nothing? Why is there a terrible degradation of the people - just recently being in science, music, literature ahead of the rest? He could not reborn by himself overnight!
It seems to me that private answers like "because the commies did not finish off, did not sharpen the elections, did not overcome this and that" already are ridiculous. The essence is clearly in something more general, and more and more often it comes to mind that we have only two ways: or, conditionally speaking, a gulag tested for creation - or a skull. And no matter how much we want the third, humane and bright - it seems that it is not given. We are already a quarter of a century poked into it, like Pinocchio with its wooden nose into the painted hearth, but we rest against the blank wall. And who can guarantee that he will be looking for the next 25 years? What at the current rate of decay in general will stretch so much more?
Someone here will say: well, again an old song about "the need for autocracy and the charms of the whip"! But, as Nikita Mikhalkov likes to argue, "wait a second"! This song is not old at all! Let's look without embellishment at the current leader of the planet - the United States: is there any, if not GULAG, system? There are more prisoners than in the USSR under Stalin: 2 million-plus people. Unanimity is complete, control over everything is total: the speed on the road has exceeded by 10 km / h - a policeman's whistle, but also degraded - the same whistle! And the metaphor of "half the country is sitting, half the country is knocking" - to a tee about them!
My biologist friend, who has lived there for more than 10 years, told in my Moscow kitchen: "I told a couple of jokes in my laboratory, the director of the institute calls for another day: bite your tongue, you are not here for Russia! .. Come up to a woman on the street - you will sit down for harassment ... "-" Why not come back to us? "-" Honestly, I would return if it were not for the money. Here my work is worth shish, and there, if you fit in, approve of the war in Iraq and Afghanistan, there are no problems. I, as a hereditary Jew, cannot get away from this firm stake! "
As regards the extermination of the enemies of the people, America, too, has long and relishfully surpassed our former GULAG. Only we fought with them, with all the inevitable excesses, at home - and the States are fighting with them, already with hyperstrain, all over the world. We had a percentage of innocent victims - they do not have the concept of this innocence: you can put a hundred, two hundred thousand without any courts and "triples", simply by virtue of their GULAG doctrine. Their hero, Rambo, beat the Vietnamese like flies for one thing that the creatures did not want to die; they are allowed to torture - and this is not all blots, but the very basis of their successful existence.
But it is not customary for us to sharpen this point, because it goes against the ideas of the highest value of freedom and democracy, which was largely imposed on us by the civilian Gulag. The alignment of this fiction, blown up by our freedom fighters on the suction of the American bondage, and breeds darkness harmful to our people of delusions.
What now, that under Stalin he, I think, is still the same; about the same in America. His character is to grow stupid with impunity and respond favorably to the stern, overbearing whip that Stalin personified for us. In the States, the same role is played to this day by the merciless to their enemies the CIA, the State Department and the army - whose symbol has become the noble executioner Rimbaud. Where are our Abakumov and Beriyam, who sought proof of guilt in their dungeons, before him! The hero of America on his way shoots everyone simply, "from the hip"!
Today, without that whip, everyone steals from us, even those who are naturally gifted, but who are deprived of its necessary part-time job, grow into hooks. After all, gifted personalities - Chubais, Gaidar, Berezovsky, Mavrodi, and so on, but fatally turn into villains without a good whip! Under Stalin, she was exactly in the measure dictated by the era that "the doctor prescribed," as was the choice: to steal and sit down - either work hard and be rewarded. And in America over the years of its uninterrupted GULAG, this award has grown immeasurably!
Our Gulag is being reproached for landing the future academic Landau: he spent a whole year in jail for nothing, instead of pushing our science forward! But he grabbed his year for what now in the US he would be given all 15 b: distributing leaflets calling for the overthrow of the current government. Kapitsa and Nils Bohr stood up for him, and they let him go after repentance - work in science, overthrow Stalin! And he, having received from the heart the suggestion, further brought with his work great benefit to the country. Who knows, maybe without it he would have grown into the likeness of some current balabola like Gozman. But Stalin wanted to see him as a beacon of our science, which he achieved.
Is the same
история
- with the landing in the 30s of young Tupolev and Korolev for the squandering of then scarce public funds and unrestrained speech. This landing hardened them so much that both then became the greatest designers of the planet - and there are no cases of similar forging of our creators. As a result, our
aviation
over the twenty years from the 40s to the 60s, it turned from plywood to reactive supersonic, having outstripped the whole world in TU-144, MIGs and Milevsky helicopters.
Our today's loudspeakers are saying that all this was not due to our GULAG, but contrary to! But the obviousness itself shatters them into fluff: we don't have that camp system anymore - but there isn't even a small share of the achievements that came with it!
Here is another episode from the story by Lydia Smirnova, People's Artist of the USSR. In a hungry childhood, the aunt who had rigidly raised her put her in a corner in the corridor of a large communal apartment, where neighbors' clothes hung nearby. There was something in the pocket of one coat, it turned out to be money, she stole it somehow, bought herself two rum women for it - and felt herself on top of bliss. And then she began to buy sweets for stolen from other people's pockets - oh, how great! She was caught, her aunt beat her in the blood, ridding her of all bad traction. And she grew up in a great actress - it couldn't have gotten stuck on deadly theft, like the current "not seen" daughters and "sons".
I mean, intelligible punishment is necessary as bread to the very nature of man, which was exposed in all its subcutaneous filth with our present impunity. And for such vast countries as ours, the United States, China, the punishment, apparently, should be very harsh - or the inevitable degradation, as we do now.
I also wondered for the time being: why did our liberals so furiously dabble this long-rained Stalinism so furiously by the States and their suckers? But he suddenly realized: this is a direct know-how intercepted by our antipodes! After Gagarin's flight, US President Kennedy said: "Either we will build education by the example of Russians, or we will have to learn Russian!" But the example was clearly taken not only from our education - but also from a terribly effective GULAG that gave rise to our cosmic breakthrough. He skillfully applied the same experience to China and other countries that went to growth. Residents of South Korea in the crisis 1998 of the year handed over their jewelry to the treasury: the same Stalinist loan on bonds, healed from us - and brought them their national success!
That is, competitors simply knocked out our invention from under us in order to exploit it themselves. A typical case of theft of effective technologies - and this, with a little technical refinement, regularly serves them today. We, with our splendid spirit, fancifully intertwined with imperious meanness, hated our gulag - and they pragmatically fell in love with theirs. And live with him be healthy, with the same iconic slogans, unless it is also slightly modified - laughing at our empty quest for the fabulous "third way".
Yes, it may be both healthy and noble - that, in the wake of the rival-inspired tale, we embarked on a quixotic quest for the ideals of freedom, humanism, and absolute democracy. But there is a sad law: unlimited idealism in dreams leads to an inexorable collapse in reality.
With that cunningly slippery pacifier, all the current democracy came in when the Gaidarists began singing at the beginning of the 90-s: we need a free sale of land, as in the USA - and everything will be fine. Then I, penetrating, penetrated our Institute of the USA and Canada and asked me to write out laws on land in America. Extract read: no free sale of land there is no trace; regulation, not fallen asleep, and the Soviet Ministry of Agriculture! Not an acre of farmland can be sold to the left, the painting of all crop rotations - and the seizure of land from those who do not take the proper harvest. And in the midst of controversy about the land, not one of our newspapers dared to embrace an article reviewing all this!
In the same way - and with their other freedoms. If you have an umbrella stolen there, you can simply tell the insurer about this, he will pay the check on the check. But if at least once I lied, I didn't pay even a penny of taxes and got caught - you will die from life forever. Another friend of mine, a poet who tried to live in the States, returned from there six months later. "If you want to live to be a hundred years old, America is your country. I registered my mother there, except for a high pension she has such a set of medical services that we don't even dream here. But if you want freedom, it is not there close, everything is tougher than we have under Stalin, slightly different forms, but in essence - so. "
That is, it is the GULAG that damned in our hearts reigns and flourishes, on which our opponents climbed with their hands, not by their elbows, but by shoulders in world blood. And we all poke into this painted democratic center, imposed on us by the bloodiest regime on earth. From those who are many times more than our political and other prisoners, we tolerate instructions for cleaning our prisons from those with whom the GULAG is full, keeping their country in fear and contentment!
Recently, one of our liberal was screaming on TV: Gorbachev can be forgiven for having given us freedom, which never seemed to have dreamed! Maybe he did, but this is something that no one wants to take in the leading countries of the world, who realized that it is possible to live successfully only in freedom. In theory, one can argue with that to hoarseness; but all practice, all 25 years of our industrial and moral decline, throws these disputes into the garbage.
Today, our greatest horror story from the pro-Western cohort is about "tightening the screws." But in the West, these nuts are so twisted, that for the most miser of underpaid taxes they easily give 10 years to prison; and if we had that Western right, half the country would immediately fly to the bunks. The same Westerners demand not to punish us for economic crimes - even in the West, even prime ministers are punished for them! All this insult laid down on our current base, and on the occasion of the dream of a marvelous "thornless rose" deftly wound on a thief's fist, we left far from our yesterday's GULAG. Just where? Forward or backward?
And that's not what it says - it blows about our back course into that still dototalitarian chaos, in which we are dying out for a pinch of imported imported tobacco. Our disgustingly opened piggy spring will sell and endure everything for wild show-off to ride and break all the rules in huge and worthless jeeps - their drivers are already dancing in wild joy from it! At the same time, we are not creating anything close to what our Gulag has created and are now creating Gulags of other countries. But through the waste of our subsoil, production, brains, the very human form we are leaving our future, hoping that the payback for this will never come. Or it will come, but then it will be possible to hide from it in foreign GULAGs - like in the old days, the White Guards from the Soviet power. But is it possible with such hope, and then only for the most selective villains, to continue to live?