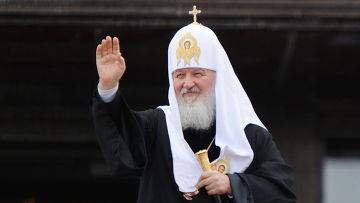 Hello, dear readers, write this article, or rather answer the article The Shadow of the Father Zvendonia ("Russian Service RFI", France)
http://www.inosmi.ru/russia/20130611/209894481.html
I was motivated by the fact that a week ago I became a participant and knowledge of what our French friends wrote about. This time I couldn't keep silent, because already 2 time I notice that the statements of world leaders or simply Western journalists are directed personally against me and my life.
Let me first tell a little about myself - a citizen of the Russian Federation, a Russian or a wild Muscovite - as you please. My date began in 7: 20 with the fact that I woke up and sent a text message to my bride, a citizen of Ukraine, with whom after the wedding I am going to spend my whole life in disputes and fights over who still belongs to Crimea. Then he had a quick bite, got into the car and went to the temple of the New Martyrs and Confessors of Russia at the Butovo training ground in order to agree with the priest about our wedding in a month.
Why did I choose this temple? I just live in Butovo, I baptized my son in it from the first (unfortunately, failed) marriage, I go there to services to my spiritual father, and also because my great-grandfather was shot in 37. Then, already under Khrushchev, he was rehabilitated, but I will not stand up for him, because there is a 1001 man on the forum who says: "But who admits that he is guilty, shot, that means for the cause". The Lord is with you, I will not argue. In a word, I go to this temple, because it was my life, it was like this
stories
my family, it happened to me, and this is my life.
When I got home, and taking advantage of my free time, I traditionally started flipping
news
. I do not bypass the side and the foreign press. Today an article entitled "The Shadow of Father Zvezdonia" ("Russian Service RFI", France), by Hasan Huseynov, was published.
I will not tell the story of the Butovo proving ground and about who the Butovo and Russian new martyrs are, and why the church honors them so much. Anyone interested in this will be able to find information on the Internet, in the end, it's not only Saints, but real historical figures of a very recent past. I will not retell here completely the article, but I will only comment on some passages, and anyone can re-read the article itself.
So,
"On the Children's Day 1 June 2013, Patriarch of Moscow and All Russia Kirill Gundyaev delivered an amazing political speech. At the Butovo training ground, where, at the end of the 1930s, NKVD firing squads killed hundreds of their compatriots and immediately buried them in the ground.

This rhetorical monument of our era will eventually be studied in school. But some passages need to be disassembled in hot pursuit.

Passage one:

"From August 37 th to October 38 th, especially at the end of 37 th year - October, November, December, dark, dark months, not autumn, not winter, snow and rain, cold and wind - and here bring the unfortunate, doomed to death of people. Dark, damp, dirty - it would seem that there is no hope for the light, no hope that God will reveal the truth. Perhaps, up to the very last moment these people believed that a miracle would happen and they would remain alive. But then God did not reveal any miracle, and they were slaughtered on the edge of these terrible ditches, which were then filled with mud, burying the bodies of the martyrs for Christ ... "

According to the old Soviet tradition, rooted still, the speaker hides from his listeners who committed the crime does not even hint, not that he doesn't name those specific people who actively destroyed their compatriots at the Butovo range from August 1937 to October 1938 in thousands ."
So it was, word for word, but the trouble is that, judging by the passage, our European friends did not understand the meaning of the message. The meaning was different: although the Russian people are divorced from Orthodox values ​​and every day the rust of democracy and tolerance still begins to eat him up, but he still continues to hold on to the unshakable guidelines that do not allow the world to turn on its head, yes and tell me, did anyone forbid these people to hope for a miracle until the last breath, and the question "Where is your God?" sounds like something stupid, or did they shout to the crucified Christ?
Maybe up to the very last moment these people believed that a miracle would happen and they would remain alive.
I still allow myself to quote from the Bible:
Gospel of Matthew, Ch. 4
5 Then he takes His devil to the holy city and delivers Him on the wing of the temple
6 says to him: if you are the Son of God, throw yourself down, for it is written: He commands your angels about you, and they will carry you in your arms, so that you will not stumble on the stone with your foot.
7 Jesus said to him: it is written also: Do ​​not tempt the Lord your God.
But then God did not reveal any miracle, and they were killed at the edge of these terrible ditches.
Gospel of Matthew Gl 12
38 Then some of the scribes and Pharisees said: Teacher! We would like to see a sign from You.
39 But he answered and said to them: A wicked and adulterous race seeks signs; and a sign will not be given to him except the sign of Jonah the prophet;
40. For just as Jonah was in the belly of the whale for three days and three nights, so the Son of Man will be in the heart of the earth for three days and three nights.
Further, the preacher misleads his hearers, suggesting that the victims "may have believed that they would remain alive."No reason for such a statement, the speaker can not present.
And who to you, our dear obschecheloveki generally said that they were waiting for the superheroe, where at least a word about this in the words of the Patriarch?
Matthew GlNXX
21 Another of His disciples said to Him: Lord! let me first go and bury my father.
22 But Jesus said to him: Follow me, and let the dead bury their dead.
The phrase "to die is not scary, scary before God to answer for sins" is inherent for Orthodox Christians. Orthodox Christian understands that death is earthly, it is the beginning of eternal life prepared for the righteous. It was in the new life that they hoped to remain alive, and not to be overthrown into a fiery hyena and die an eternal death (that is, the ignorance of God), there is a phrase alive in body, but dead soul.
According to the old Soviet tradition, rooted still, the speaker hides from his listeners who committed the crime does not even hint, not that he doesn't name those specific people who actively destroyed their compatriots at the Butovo range from August 1937 to October 1938 in thousands .
Before talking about it, you probably need to visit at least Russia, before you write about it, you must at least come to the Butovo training ground.
If you look closely at the icons that painted the walls of the temple, you will see in them the silhouettes of Red Army men with stars on the budenki that shoot people.
How is it that the culprits and perpetrators are reflected even on icons, suddenly become unmentioned, isn't that enough?
The sermon says that it was "the moats themselves that buried the bodies of the martyrs for Christ."
Meanwhile, at the Butovo proving ground, NKVD officials of various origins and religions were killing citizens according to various indications. Then the executioners buried the dead in the ditch.
And again a lie, again the deepest misunderstanding of the Russian mentality and Orthodoxy. Nobody hides the fact that not only clergymen were shot at the Butovo training ground. The exhibition and archives are organized on the territory. Anyone has open access to this information. If we separate the executed clergymen and people for other "faults", then there is clearly a line. Sacred ministers suffered these sufferings and death for the sake of Christ, who suggested that we take our Cross and follow it. They did not give up their belief in God, they did not give up the moral values ​​that the Bible carries in them. It is for this that Orthodox worship the New Martyrs of Russia. Yes, of course, there were other people, for example, like my great-grandfather, and if we were to judge the logic of some people, I wouldn't have been guilty and not shot. So let's first clearly answer yourself the question, what is the fault!
Further the author of the article suffered in the dressing:
all progressive humanity is indignant that Stalin was not openly condemned in this church service, we do not know whether we live in a democratic manner. But to be honest, the motive of the article was, nevertheless, a grudge that the Patriarch mentioned the problem of the recently adopted law in France on sodomy.

And yet, why the shepherd was afraid to call those old murderers? And the new ones - who are they? And why is it not scary to call them?

Yes, here they are! Disguised as French parliamentarians and leaders of the so-called culture, who, it turns out, "tear people away from Christ."

"To be a Christian today is not to lose vigilance for a minute ..."
Perhaps this is the only phrase of the author, with which I agree, to be a Christian today is not to lose vigilance for a minute ...
Just today, I personally received a second comment from our Western friends in the last six months.
For the first time, this was H. Clinton's statement:
It will be called the Customs Union, it will be called the Eurasian Union and everything like that. We will not be mistaken about this. We know what the goal is, and we are trying to develop effective ways to slow down or prevent it. "
Again, these are not empty words, this is a direct threat and an attempt to essentially destroy my happiness, my nascent marriage with a beloved woman, who by the will of fate turned out to be a citizen of one of the countries that is actively lured into the customs union.
They say that Russia is a big dangerous bear that lives in the forest; in any case, such an advertisement was at the height of the Cold War in the United States.
Looking at myself, I'm trying to understand what is dangerous about me? Probably, I am dangerous because I try to keep my values ​​and know how to defend my interests, and I also do not allow outright lies. "Russian service RFI", in a blatant manner without understanding France the deep meaning of our traditions, attitudes and worldview, allowed herself to familiarize ourselves with events familiarly, mocking our history, mocking the Bible and the religion of the majority of the Russian people, because Repressions of 30x are a lively topic for us.
Unfortunately, such attacks will continue, but we all need to understand that at first glance, some spit in the direction of Russia fall into its goal.
Today, once again, I washed, because distorted everything that is important to me, what I did a week ago, and formed a false impression of my homeland and my life not only among millions of foreign readers, but also my compatriots.
But this is a real information war, reconnaissance in force. They know that ordinary
weapons
we cannot be defeated while we are able to create the newest military complexes that cool hot heads. But should we miss such blows in this undeclared war?
Tomorrow, such a spit can hurt someone who is reading these lines now, which means that it's time for Russia to focus today, or go to the side of world history by losing spit.
PS I will forgive forgiveness, if it seemed to someone that I quoted many Bible quotes, with these quotes I wanted to show only the incompetence and ridicule of the Western press over one of the important values ​​for us.
I did not want to argue about the repression of 30x. I do not want to shout that I was offended and now filled with anger, I demand satisfaction.
Just do not teach us what to do and how to live, so that we would not be taught where to go, much less escorted. Maybe democracy is the right of people to live the way they want and can, and not the way they demand it?