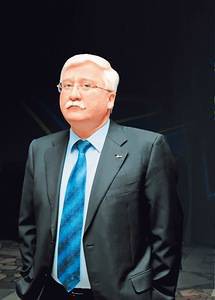 At the end of May, the procedural check against Igor Ashurbeyli, the former director general of the largest and successful defense enterprise GSKB Almaz-Antey, was completed.
Law enforcement conducted an audit during the year. Based on the results of the verification measures, a reasonable procedural decision was made - to refuse to initiate a criminal case due to the absence of corpus delicti in the actions of Igor Ashurbeyli, the Moscow Monitor reports.
Igor Ashurbeyli, who headed Almaz-Antey State Specialized Design Bureau from 2000 to 2011, became one of the most prominent figures in the Russian defense industry. Great demand from foreign customers for the anti-aircraft missile systems developed by GSKG guaranteed both GSK and the entire air defense center, a steady income and the best positions in the ratings of Russian defense industry enterprises. Ashurbeyli came to Almaz in 1994 year - one of the most difficult periods of the enterprise.
Almaz, which Igor Raufovich headed in 2000, was just beginning to emerge from the crisis. One of the main achievements over this period is the adoption of the C-400 "Triumph" for arming and setting on combat duty. The company has provided a full cycle of development of anti-aircraft missile systems with the manufacture of prototypes in-house. In addition, the great merit of Igor Ashurbeyli as CEO was that he sought to preserve a unique human potential, a brilliant group of scientists, followers of the creator of the anti-aircraft missile
weapons
in Russia, Academician A. A. Raspletin.
Under the leadership of Ashurbeyli, an internal restructuring was carried out at Almaz and its subsidiaries, which resulted in the absence of taxes, wages and energy debts. The capitalization of the defense enterprise by the efforts of Ashurbeyli has grown 37 times. He managed to return the NGO to the number of leaders of the Russian defense industry.