The crew of the second serial nuclear submarine of the 955 "Borey" project "Vladimir Monomakh" began to prepare for the first voyage to the factory tests, they reported at the Sevmash defense shipyard in Severodvinsk.
As the responsible submarine deliverer, Eduard Usov, noted, "Now the submarine is being prepared for launching into the sea, checking all the missile carrier systems." A prayer service was served on the ship. Words of farewell to the ship and its crews before entering the tests were told by the deputy head of military equipment production, rear admiral Sergei Barannikov, deputy commander of the White Sea naval base Gennady Taran, commander of the Vladimir Monomakh nuclear submarine, ITAR-TASS.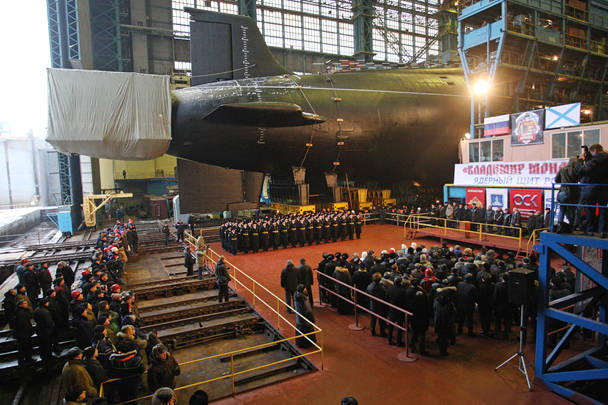 Nuclear-powered rocket carrier Vladimir Monomakh is the third ship of the Borey project. It belongs to the class of strategic missile submarine cruisers. The nuclear-powered icebreaker was laid on Sevmash on March 19, 2006, on the day of the celebration of the 100th anniversary of the underwater
fleet
Of Russia. "During the construction of the Vladimir Monomakh submarine, the latest achievements in reducing noise were applied," the press service said. - The nuclear submarine is armed with a new missile system with an intercontinental solid propellant ballistic missile (ICBM) Bulava.
The head missile carrier of the 955 "Borey" project, "Yuri Dolgoruky", built on Sevmash, on January 10 was transferred to the Russian Navy. The first serial cruiser of this project, the Alexander Nevsky, is undergoing state tests and is expected to join the fleet this year. And the Prince Vladimir submarine, built in the summer of 2012, is built on the stocks of the enterprise (according to the improved project 955А - approx. VIEW).
Boreas, armed with Bulava ballistic missiles, are intended to become the basis of Russia's naval strategic nuclear forces for the coming decades. As previously reported, a total of eight Boreas were planned to be built before 2020: three of them are 955 project and five are 955А (upgraded with enhanced armament and less noise - the number of Bulava ICBMs was increased from 16 to 20 each). The construction of the lead ship "Yuri Dolgoruky" cost 23 billion rubles.
Borey-class submarines are designed at the Rubin Central Design Bureau of the Central Design Bureau (General Designer Sergey Kovalev). In their construction, modern advances have been applied, improving the hydrodynamics of the hull and significantly reducing noise. The main armament of warships is the new Bulava missile system. Each submarine of the 955 project can carry 16 intercontinental ballistic missiles (ICBMs) on solid-fuel P-30 "Bulava" with a range of more than 8 thousand km, equipped with separate head units for individual targeting. Submarines are equipped with a rescue pop-up camera, designed for the entire crew. The Boreev length is 170 meters, the width is 13,5 meters, the maximum dive depth is 450 meters, the submerged speed is 29 nodes (approximately 54 km / h), the displacement is about 14 thousand 800 tons, the crew is 107 people.