All the troubles of Russia - from an excess of territory, indicates a well-known American geopolitics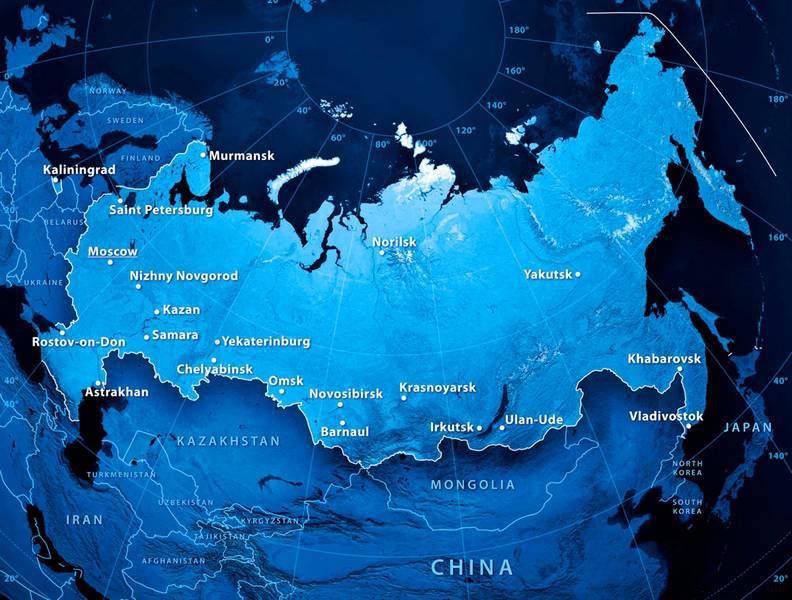 What is the main fault of Russia before the West? You shouldn't be puzzled for a long time: US Secretary of State Madame Madeleine Albright gave the answer to this question quite exhaustively. It turns out that we have too many places, we are unscrupulous. Right here, the one and a half billion China huddles together on its shred, and there's nothing to say about tiny Japan, and we squeezed the Kuriles to them. But our population is only slightly larger than in Japan.
But how to blame Russia for this subtle, elegant? How to hint at the right course? Analytics to help - as if cold, detached, equidistant, but with all the same theses, camouflaged for problems. One of the last such attempts is the article by the famous American geopolitical scientist Robert Kaplan, published in the journal Forbes. Its title intrigues: "The world through the eyes of Putin." Of course, American science is at the forefront, but really to that extent? The content dispels this alarm: Mr. Kaplan just imagined himself in the Russian president's place and told his readers how difficult it is to manage such a cumbersome, cumbersome, uncompetitive scumbag, and even surrounded by enemies.
Touching care, thank you. Yes, and theses are outwardly fair: indeed, we have almost the "Japanese" population by the number, even though Japan itself is half the size of Khabarovsk Territory in its territory. The Far East, Transbaikalia, Siberia are almost uninhabited, if we proceed from the average global population density indicators. The government very convincingly portrays the concern with this problem, even established a separate department, which in the end turned out to be more of a decoration. But what does a Harvard professor have to do with it? And with it, he simply states: they say, my job is to remind, draw your own conclusions. By the way, Mr. Kaplan hardly doubted that his article would be read with particular interest in Russia.
A large territory is a big problem, the researcher continues his general thought: here you have problems with ensuring elementary border security, then you and the management crisis as such, here you have an unfavorable geographical position, which directly affects competitiveness. Again, the author proposes to draw conclusions to the readers, but according to the already prepared matrix, we need an alteration on the principle of "do the opposite." Razderban large territory to pieces, giving each "effective manager", but with China and do not even think of getting closer - it is dangerous!
It is clear that in modern conditions Kaplan and his associates have not so many chances to be understood - this is not the current trend in Russian politics. In 90's, a commission would probably be convened based on this study, which would suggest "effective solutions". But why did we, in fact, take it that even now there are no particularly enterprising persons in the top circles who will study the article "with a pencil" and submit their suggestions? Let no prospects, but this is so far ...
Theses of American geopolitics were commented by the well-known publicist and author of the best-selling book "Why Russia is Not America" Andrei Parchev:
- The goal of the absolute majority of such reviews is a certain orientation of public opinion itself, an indication of how to relate to this country now. In general, the tonality in Kaplan's article is rather neutral. The author does not consider the greatness of the territory of Russia as a kind of threat to Europe from Russia, but on the contrary, in a sense, expresses sympathy for our country and leadership: they say, that's how hard it is ... I was reminded of one funny episode from Orwell's novel "1984". The article by an American researcher is, if I may say so, sending out some notes to all speakers: we now sympathize with Russia, we don't stigmatize it anymore. Combat leaflets on the stand of political information should be periodically changed.
The theme with the threat that China carries to Russia is designed primarily for the Russian audience. Of course, the author of this article, like his colleagues, was well aware that his article would be made public in Russia, it was written explicitly with an eye to this. If we talk about China, it is unlikely in the United States really assume that China is ready today to move its armored wedges along the steppes of our Transbaikalia. Yes, and no solutions are proposed for Russia in this regard and are not expected, since the confident pedaling of the topic of the threat from China is a consequence of the fear of the geopolitical rapprochement of Moscow and Beijing. Not that it was so scary for the West, but, in any case, inconvenient given the economic power of China and the Russian military potential.
In fact, until now it was not customary in the West to recognize the real economic difficulties of our country. This is understandable: why give Russia extra reasons for promoting its positions? Objective difficulties in our economy were not recognized by the West. More recently, during the negotiations on Russia's accession to the WTO, when our negotiators tried to bargain for some economic benefits in parallel, they were told: "No, you are fine, everything is fine, there are countries that are in worse conditions feel good. " Well, since most of our negotiators were theoretical economists, they really could not argue. And so the picture described by Kaplan is quite real. Moreover, it was previously described in the works of Soviet scientists - the same Pipes, and also not so long ago, the current state of Russian politics was analyzed by modern Russian scientists.
That is, in general, Kaplan did not say anything new in his article. It's another thing that the Russian leadership, on the basis of these calculations, concluded that we cannot directly and recklessly join the world economic system, that we cannot directly compete with the developed branches of the modern world industry. Therefore, we need to keep a certain distance from both Western economies and the Chinese economy. It is necessary to have a protective barrier and live in the proposed conditions.
- And how fair is the conclusion of the American researcher, that the vast Russian territory interferes with quality management from Moscow?
- State control does not depend on its scale in any way. The same regional separatism can develop quite perfectly even in comparatively small countries, where from one district center to another is at hand. Russia just has a very good feature - a very large homogeneity of the people and the political system. For foreigners who more or less know Russia, this is generally surprising when they drive 2000 kilometers and find exactly the same people who both speak and think exactly the same way as they have seen before. If somewhere in England, when moving from one village to another, you find out that they are saying a little differently here, then in our country, despite the contradictions between the center and the regions, the country is still quite homogeneous. Another thing is that this capital must also be able to use. In my opinion, centralized management through the appointment of governors by the president would probably be more correct here than their election.