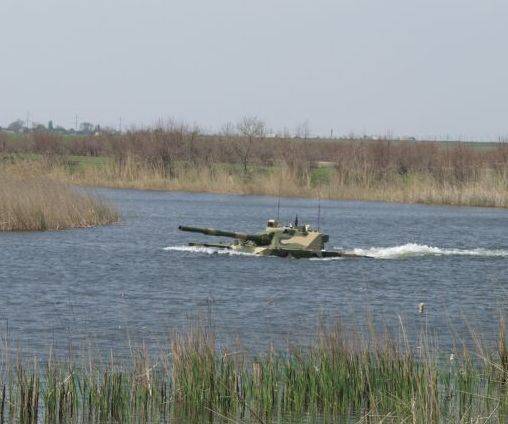 The Volgograd machine-building company VgTZ, a member of the machine-building-industrial group Concern Tractor Plants, began to develop design documentation for the modernization of the 125 mm self-propelled anti-tank gun (SPTP) 2C25 for the airborne forces known as the Sprut-SD. This was reported to the Vestnik Mordovii news agency in the department of strategic communications of the Tractor Plants Concern.
Currently, the leadership of the Ministry of Defense of Russia and the Airborne Forces are preparing to incorporate development work on the modernization of this product into the state defense order, and Volgograd Machine-Building Company, meanwhile, has intensively engaged in the development of the relevant topic.
As part of the modernization, in addition to unification with the BMD-4М on the engine, transmission and chassis, it is planned to install the latest electronics on the SPTP. Thus, the new self-propelled anti-tank gun will be equipped with a modern digital fire control system with more advanced sights, including thermal imaging, as well as software and hardware complex, allowing to include the object into a single tactical level control system.
The number required to purchase self-propelled anti-tank guns will be determined by the Ministry of Defense.
In the 90s of the last century, the Volgograd Tractor Plant was the developer and manufacturer of this specialty. The 2005-mm 125 mm self-propelled anti-tank gun 2-25 was adopted. Therefore, its modernization in the direction of unification with the new assault vehicle BMD-4М is planned to be carried out in Volgograd. The potential collaborators of this development work are Kurgan enterprises of Tractor Plants - SKBM OJSC and Kurganmashzavod OJSC, the developer and manufacturer of BMD-4М, respectively.
Currently, SPTP is a combat armored tracked floating vehicle with a powerful artillery-missile weapon system, which can make marches up to 500 km without refueling and can be transported by military transport aircraft
aviation
and landing ships, to land by landing and parachute methods with
crew inside the car. Possessing a high power density, the machine is capable of fighting in high mountains and hot tropical climates, without preparation, to overcome water obstacles in the swell of up to 3 points while firing afloat in the ± 30 ° sector, loading under its own power into landing ships from the water during execution combat missions.
SPTP 2S25 in terms of firepower is not inferior to the main
tanks
type T-72 and T-80, and its mobility on land and water is at the BMD-3 level. These and other qualities, combined with the circular rotation of the turret and the stabilization of weapons in two planes, make it possible to use the Sprut-SD as a light amphibious tank. Analogs of such a machine do not exist in the world.
Modernization of the PTP will significantly increase its combat capabilities, and in terms of firepower it will be compared to the T-90 tank.