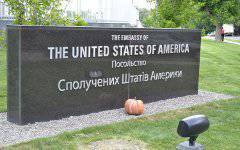 It was from what surprised and dumbfounded two employees of the American Embassy in Ukraine, when a young Ukrainian Anna Vlaeva in a stylish national attire presented them with a garbus. How do they living in Ukraine know that in this case it symbolizes and on what occasion do girls hand it over? And therefore they are shy and rejects and could not understand what the trick was. For the joint picket of the new Russian-Ukrainian political association of the radicals "RUPOR" and the Slavic Party of Ukraine read "The Act of Khaletsky versus the Act of Magnitsky" and, according to their understanding, at best would throw them sour tomatoes, and here with a generous and sincere Ukrainian sweet smile they were given a gift, and a large one at that time, extremely rare. Yes, you are dumbfounded in unchanged dark glasses and with guards, and anything that does not fall under the stereotype simply cannot be. But here it is big and beautiful, rare and tasty, how to be? We decided to simply hand over to all the United States of America from all of Russia and establish their embassies in front of the stele so that everyone passing by would understand how Ukraine accepts American matchmaking.
It is for uninitiated Americans from the embassy and others that the secret of this popular custom is revealed: in many regions of Ukraine matchmakers came, as a rule, without warning, sometimes without prior agreement of young people, and usually this matchmaking ended in refusal to elders — the original handing of a garbus. So was the joint action of RUPOR and the Slavic Party of Ukraine, during which the newspaper "Slavic
news
"With the Act of Khaletsky, in which it is written in black and white that everyone who will interfere with the reunification of the united people of Russia will be unequivocally indicated on the door, and giving the harbuz is nothing else than our first warning. A warning to those who shamelessly interfere in our internal affairs and teach us to live in an American way: brazenly and consumerly. Of course, we are not opposed to the wealth that accompanies the American dream, but 2 / 3 of the globe is bent on ensuring this dream, when the Americans themselves do not overload and the word laziness is not invented by us.
My eldest son tried to work in America in Houston as a programmer at a cool company. So "negros" work there - they come not from Africa, but from former socialist countries and Soviet republics and "blacks" - they call themselves, because they work many times more, and they receive many times less Americans. One word is disgusting and he left their "paradise", because there is no need to dream of any human dignity in the position of a slave. And it is not heard that America introduced quotas for "slaves" and for immigrants. Especially - this concerns us - former Soviet citizens: with our level of acumen and that good education. Shards of which by the power of enthusiasts are still preserved in schools. In the three-stage universities, they have already been emasculated, but this is temporary and will soon settle down.
"The parliaments of Russia, Ukraine, Belarus prepare and adopt the corresponding Law on preparing for the reunification of a single people and the responsibility of those who interfere with it" - this is how the text of the Khaletsky Act begins, which is against the states adopted Magnitsky Act and only because their right to have slaves in him. Fastened by the right words about human rights, but universally violated at every step and especially in relation to the newcomers, not to mention outside of America itself, where they behave like "elephants in a china shop", neglecting all conventions and exposing themselves to their powerful military potential and often in direct action. We would defend ourselves in America and try to publicly judge their citizens, as they judge and extradite ours. Bout's case is a complete confirmation of this, when only for the dubious intention to commit an action they were put in jail and not given to Russia, in spite of all its diplomatic attempts.
The act of Khaletsky repeats the structure and style of the Magnitsky Act. But fundamentally it contains the creative basis for the reunification of the people and unification into a union of states, which is an indispensable condition of their power and well-being of all the people of Russia. And so. we will point out who will interfere with this natural process right on the door, but for now we are giving garbuz as the last warning.
It was necessary to see the faces of American diplomats, who, in the full sense of the word, were paid to the ears and sun-eyes of a simple Ukrainian girl Annushka, having sewn off once and for all, thereby indicating their guests in our common house -
historical
Russia and the future of New Russia. The power of RUPOR has already been born, capable of bringing what has been started to its logical and natural conclusion, and Germany, by uniting the people, has achieved its economic superiority within the EU, displacing the dollar from all over Europe and then, squeezing the American boot, by creating together with Russia and China's new continental bloc and new continental axis: Paris-Berlin-Kiev-Moscow-Beijing or the EURASIAN LIVING SPACE. But the Americans took the watermelon. agreeing with custom, which means rejected ... Ukraine and Annushka.