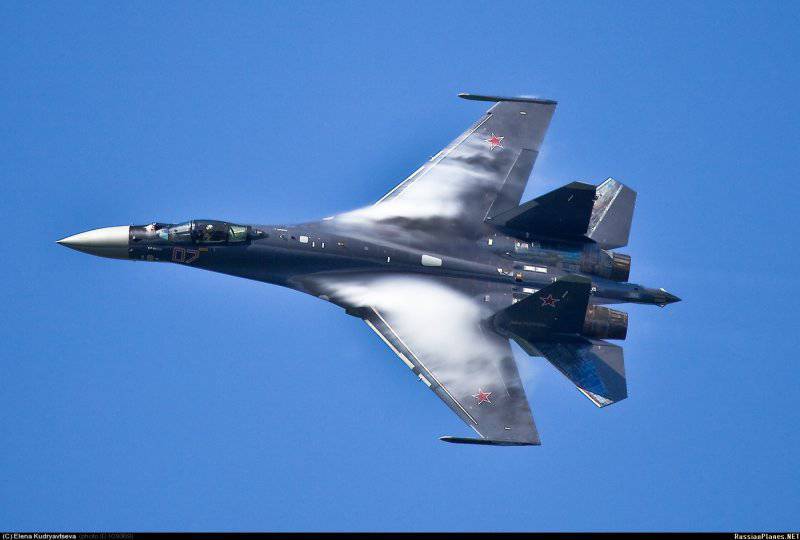 5 June 2013 of the year at the Kubinka airfield near Moscow by the Chinese military delegation that arrived in Russia was demonstrated on the ground and in the air by the Su-35С fighter. The Su-35С aircraft with the 07 Red tail number, the seventh production vehicle built under the 2009 contract of the Russian Air Force of the year, was demonstrated during the flight. The fighter was transferred to the Russian Air Force 28 December 2012 of the year and is part of the 929 State Flight Test Center (GLITS) in Akhtubinsk. In May, a flight from Akhtubinsk flew over to the airfield of the Open Society "Flight Research Institute named after MM Gromov" in Zhukovsky near Moscow, where it is being prepared for participation in the June air show in Le Bourget (France).
Recall that the Su-35 fighter of the "third iteration" (T-10BM program) was originally created with an eye primarily on the Chinese market, and only in 2009 the management of the Sukhoi Corporation managed to achieve a contract for the supply of 48 of these Russian Air Force aircraft Su-35S. At the same time, lengthy work continued on promoting the Su-35 in the PRC. In 2007, the Chinese side began working on issues regarding the upcoming possible supply of at least 48 aircraft for the PLA air force. At a regular meeting of the Russian-Chinese mixed intergovernmental commission on military-technical cooperation in Beijing in November 2010, a preliminary agreement was reached on China acquiring 48 of these aircraft. And at the next 17th meeting of this commission in Beijing on November 20-21, 2012, a protocol was signed regarding the purchase by the PRC of 24 Su-35 fighters. On January 22, 2013, the "Agreement between the Government of the Russian Federation and the Government of the People's Republic of China on the further development of military-technical cooperation in the field of combat
aviation
", the central part of which was the agreement on the acquisition by the PRC of 24 Su-35 aircraft, and which opened the way directly to contract negotiations. The start of the supply of aircraft to the PRC is expected after 2015.