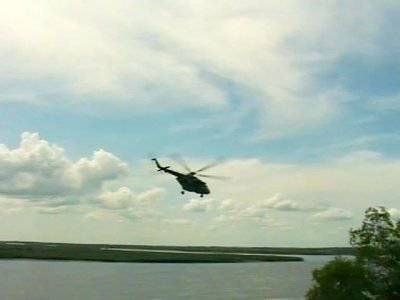 In the Khabarovsk Territory, up to 140, a group of forces and equipment was increased to conduct a search for the missing Mi-8 helicopter, six aircraft and nine pieces of equipment were involved.
To enhance the search group from the city of Komsomolsk-on-Amur, eight rescuers of the Khabarovsk branch of the Far Eastern Search and Rescue Team of the Emergency Ministry emerged. At their disposal - two cars and two boats. Planned departure to the intended area of ​​the accident An-74 Russian Emergencies Ministry.
At present, about 4 thousand square kilometers of terrain have been surveyed, the Interfax news agency reported. Searches have not yet given positive results. A hotline telephone has been opened at the Head Office of the Ministry of Emergency Situations of Russia for the region: 8 (4212) 41-62-60. On it you can find information about the progress of the search.
As reported, the Mi-8 helicopter did not get in touch on Thursday at 21: 50 (14: 50 in Moscow). He made a commercial flight and followed from the village of Tugur to the village of Briakan. On board were four crew members and a passenger, as well as about three tons of cargo - food and fish.
To search for the missing helicopter, a group of more than 100 people was formed. On the morning of Friday, June 7, a Be-200 plane with rescuers flew from Khabarovsk to the search area with a rescue team from Khabarovsk to Komsomolsk-on-Amur a Mi-8 helicopter EMERCOM of Russia was sent, which, taking aboard a group of rescuers, would also fly to the incident area. Two helicopters Mi-8 of commercial airlines are in readiness for departure.