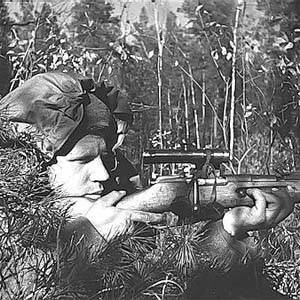 "My sniper practice started with a fascist sniper contest. On the third day I felt that a fascist was hunting for me. However, I could not find him. On the fourth day of the morning dawn, I made my way to a firing position. I met a sergeant-gunner who was familiar. I smoked a smoke. He and I He speaks:
- Look, be careful. Fritz sniper appeared.
"Here I am looking for him."
I took the OP and began to observe. Fritz did not appear.
So dragged on for quite a while. I was terribly tired of prolonged immobility, I took it and sat by the birch tree. Suddenly a bullet clicked in the trunk of a birch, behind which he was sitting, then another. "Here he is, a fascist sniper," - I think.
Two shots for me were unexpected, but I found Fritz on them. Then he took the stuffed scarecrow and stuck it out from behind the birch. Fritz did not keep himself waiting - he made three shots at the stuffed animal and, I must say, quite successfully: there were three holes in the helmet. These three shots betrayed him. He sat in the bush, in 200 meters from me, well disguised. Apparently, having decided that I was killed, he suddenly got up and said to someone: "Rus felt." And then I finished him off.
The main role in my success was played by a well-chosen firing position. I equipped it at a distance of 150-180 meters from the line of defense of the enemy, under a birch, canted machine-gun fire. Her stump was seventy centimeters high. Branched birch fell, but did not come off completely from the stump. Formed a tent. At night, I planted birch with new branches. It was on the edge of a neutral grove and so close to the Fritz that they didn't even think that a Soviet sniper was under it.
This was the first advantage of my OP. Another advantage of her was that she allowed me to make a shot without sticking out the end of the trunk from the foliage. The sound of the shot was muffled by the foliage of birch. The smoke from the shot also spread out under the foliage, was almost invisible. Other snipers came to my OP. We watched as I settled.
It was from this firing position that I destroyed Fritz.
On the fifth or sixth day, I don't remember exactly now, the Fritz in front of my position began some earthworks. It was not far from me, in the hollow. From our positions they were not visible, and they probably knew it. There were ten of them. I did not open fire, since I decided that since the work was being done here, then an officer would probably come. Destroy the officer - it was my secret dream. But the officer did not go. And then the Nazis decided to make a smoke break, thrust shovels into the ground and began to close the circle. What kind of sniper will withstand this temptation ?!
I aimed and gasped right into the pile. They scattered like frightened predators. Three remained lying down. Three! This is a real sniper shot. At first I didn't even believe myself. But all three are lying, do not move and do not moan. And no one rose from those who had run away for a long time. Finally, one could not resist and climbed. I destroyed this too. And just that day I destroyed seven Fritz.
Seven Germans killed in a day is not bad. But a few days later I destroyed even more. This time I was already at a different firing position. This OP was good because it made it possible to view the position of the Germans from the flank.
At about ten o'clock in the morning a huge Fritz appeared to my left. He climbed out of the trench to the edge of the forest and carefully made his way into the hollow. There he stood upright, stood for a bit and went back. Zampolitruka Kuzmin, who was my partner, grunted: "Why did not you shoot? I missed the world target." I was thinking this way: "If Fritz is being trampled around here, then this is no accident." True, when he got back, I was inclined to regret - I missed it for nothing. But everything turned out as I expected.
Elapsed minutes 30-40, and Fritz appeared again, and after him as many as eight. Stop, I think there is an opportunity to work. They all got into the hollow and, stretching out a rare chain, went to the fishing line, in which they probably had dugouts. At this time there was a machine-gun rifle shooting. Taking this into account, I decided that no one would pay attention to the sniper rifle shot, and on the sly one could destroy more than one. I decided to shoot the last one.
Carefully aimed at the head and shot. One fell and the rest continued to walk. Shot the next one, which was already the last. He fell too. So for this day I laid 8 fascists.
On my account was already 47 exterminated fascists. But was there at least one officer among them? I did not know for sure, but the desire to destroy the officer did not leave me. I was looking for. And once I was lucky.
In the depths of the forest stood a hut. She was well disguised, and her approaches were hidden. I sat under my birch, watched. There was no shootout. Silence. A dapper officer came out of the dugout, in a new jacket tight, with epaulets and shiny buttons. Apparently he was from the headquarters, he was brave with courage, from the hut he shouted something, and he contemptuously waved his hand, they say, nonsense. I aimed carefully. "Well, dragon," I think, "let's go." The distance was 400 meters. The shot was accurate. The officer fell.
In the hut again shouted. Someone jumped out, ran past the corpse and stood behind a tree. Then shouted. Two men came out with a stretcher. Here one more managed to send to the next world, as an officer batman.
So I destroyed the officer. That was for sure.
So I beat the German invaders. And he destroyed them all forty and nine. "
Sniper L. Lazutin,
1942 year