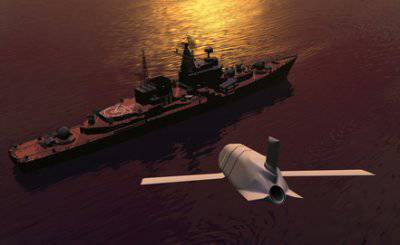 In the United States, successful tests were carried out on the vertical launch of long-range anti-ship missile (LRASM) long-range anti-ship missiles (anti-ship missiles). The Lockheed Martin missiles were launched from the Mk 41 vertical launcher (TLU).
As the Lockheed Martin company reported, four launches of LRASM missile simulators were carried out, which, when launched, broke through the upper covers of the TLU cells made of composite material. The purpose of the test was to verify the release of the missiles from the TLU without damaging its design, the receiver of the air pressure and the covering of the missiles themselves. Tests were conducted to assess the risk of using new anti-ship missiles from VPU Mk 41 using Lockheed Martin funds as part of integrating new anti-ship missiles into ship armaments and evaluating their successful operation as offensive anti-ship
weapons
OASuW (Offensive Anti-Surface Warfare).
LRASM missiles are autonomous high-precision anti-ship missiles, launched outside the object defense zone, and are intended for use in the Navy and the US Air Force.
At the end of 2013, Lockheed Martin will conduct flight tests of the LRASM BTV (Boosted Test Vehicle) missile from the TLU Mk 41, and at 2014, it will conduct two flights of guided test missiles using federal means.
The new LRASM RCC is being developed to replace the outdated Boaring RCC "Harpoon". The need to create a new anti-ship missile system is due to the fact that the missiles in the US Navy's arsenal do not have sufficient flight range and are vulnerable to the breakthrough of a modern ship defense system. The LRASM program is designed to demonstrate options for weapons that could quickly enter service with the Navy after the completion of flight tests in 2013-2014.
ROV LARSM is equipped with armor-piercing or high-explosive warheads, is an autonomous all-weather weapon that can be used at any time of the day.
The rocket is equipped with a multimode homing head, a data transmission line, and an improved digital noise-proof satellite navigation system for detecting and destroying the highest priority targets in a ship's warrant.