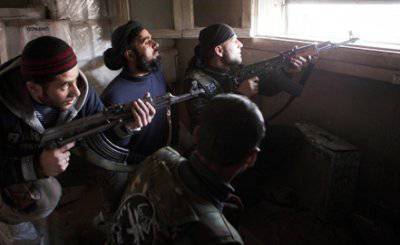 The Syrian army liberated today the city of al-Qusayr, located in 15 km from the border with Lebanon, where the largest militant base was located in the central province of Homs.
The soldiers of the government army and Hezbollah fighters say that al-Quseir was completely captured as a result of a night operation, and in the morning the city was cleared.
As reported by Al-Mayadin TV channel, a lieutenant colonel of the Syrian army, "the city was completely cleared of terrorists, their remnants fled to the north, towards the village of Dabaa." "At the moment, the streets are being cleared and they are being cleared from barricades and earthen barriers", -
he said
.
The Syrian army left the corridors for the militants to retreat in the direction of the villages of Bveda and Dabaa, so that it would be easier to eliminate them there than in urban areas. It is emphasized that the army retained control of the airport in Dabaa.
The decisive assault began at dawn. According to a military source quoted by the SANA news agency, "the operation was lightning fast and well prepared."
As a result, "the enemy's strongholds remaining in the city were destroyed, a large number of militants were killed and captured."
Syrian troops surrounded al-Qusayr / 162 km northwest of Damascus / three weeks ago after control of most other settlements in the border areas with Lebanon was restored.
The militants refused to capitulate and put up fierce resistance to the troops. To the rescue of them the rebels threw reinforcements from other areas of Syria. Troops of mercenaries tried to infiltrate there from Lebanese territory.
Border area in northern Lebanon was in the war zone.
"For the armed opposition, this bridgehead was very important as a staging post. Supply went through al-Quseir
weapons
and ammunition by terrorist formations in the central regions of Syria and detachments of Arab mercenaries were continuously deployed, "military expert Syrian Brigadier General Yahya Suleiman told Al-Mayadin TV channel.
According to him, "now after the final victory in al-Quseir, the situation has changed radically in favor of government forces."
"There was a strategic change in the" heart of Syria ", which opens the way to ridding the country of terrorist gangs in other provinces," the general said.
According to him, the battle in al-Quseir finally buried hopes for a split in Syria. "Who owns the central regions / Homs, Hama /, he is able to keep under his control the entire country," - said the expert.
The Syrian army called on the citizens to return to al-Qusayr and said that the battle for Syria would continue and foreign fighters would be destroyed everywhere.
In addition, the victory in al-Quseir was a clear message to the enemies of the country.