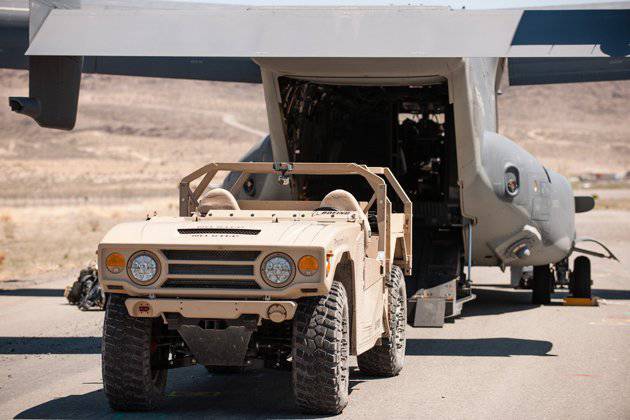 Boeing introduced a new tactical vehicle designed for in-car transportation in a convertible plane V-22 Osprey. This vehicle is designed to meet the requirements of American special forces in a highly mobile vehicle for transportation in the V-22 internal compartment (V-22 Internally Transportable Vehicle, ITV).
First introduced to reporters at Phantom Works in St. Louis 21 on May 2013, the new car "Phantom Badger" was developed based on the experience of MSI Defense Solutions, which in turn initially developed automotive technology for NASCAR racing.
Phantom Badger was specially developed by the Boeing Phantom Works Special Pursuits Cell for the United States Army Special Operations Command (SOCOM) for the V-22 ITV program. Production is expected to start at the end of this year.
Phantom Works program manager for combat vehicles, John Chicoli, said that the vehicle is designed to occupy a niche of vehicles capable of being transported in the internal compartment of the V-22 convertible plane, but which will provide more protection and comfort than smaller armored personnel carriers.
"This is a real tactical vehicle, not at all like all armored personnel carriers," Chikoli said. It provides high use of ready-made commercial components and we have done a great job together with special forces soldiers in order to make up their requirements for a tactical vehicle. "
Boeing recently submitted its proposals to the US Special Operations Command on the request of the V-22 ITV program, which was initially interested in two vehicles with the ability to purchase eight additional samples for testing.
The Phantom Badger was tested at Fort Bragg at the Nevada Automotive Testing Center test site, according to Chicoli, at the Humvee mobility level.
However, due to the nature of the requirements and given that a number of companies are expected to have not yet submitted their proposals for the final stage of the competition, Boeing does not want to disclose specific characteristics of the car, such as speed, power reserve, fuel reserve and weight.
The car has four steering wheels, reinforced shock absorbers and suspension developed by MSI and modules for each specific mission installed behind the two front seats. These modules can be replaced within 30 minutes, which allows special forces soldiers to quickly change the role of the vehicle in accordance with the task.
The vehicle can be loaded ready for the task in V-22 with a gap of 6 inches on each side.
The hood of the prototype car was made of carbon fiber, Boeing subsequently decided that this was a "bust" and replaced it with a fiberglass hood. Boeing claims that the Phantom Badger is relatively comfortable for this type of vehicle, which reduces fatigue troops during the trip.