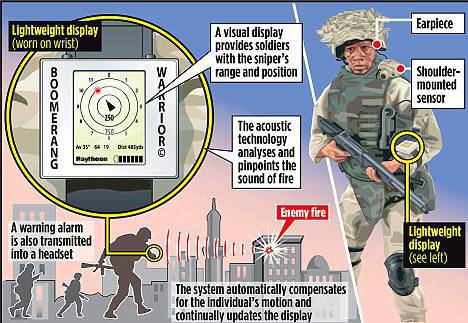 A device for detecting snipers as small as four inches is developed in Britain. British soldiers fighting in Afghanistan received a revolutionary device to test the exact position of enemy snipers at a distance of 1000 yards (900 m).
The tiny computerized sniper spotter was developed by scientists in a top-secret laboratory in Wiltshire and locates the shooter at the time of his shot, which allows British troops to return fire immediately and accurately. The device measures about four inches and weighs about 11 ounces (grams of 350), it includes a dial gauge on the wrist, a sensor on the fighter's shoulder, and a headset that signals shelling.
"Boomerang Warrior-X" is the most advanced development on the market of anti-sniper devices, its creation takes into account the experience of hostilities in Iraq using similar systems of the US Army. Over a thousand of such detectors have been ordered for British troops in Afghanistan for about 10 thousand pounds apiece. With the successful application of the purchase device will be increased.
The product also allows you to transfer data to strike the enemy helicopters and army aircraft
aviation
. Sniper detection technology is kept secret, but the unique software allows you to monitor the sniper even if he fires constantly moving. Earlier in Afghanistan, a larger device was used, but now the progress of defense technology has allowed it to be reduced to a minimum size.