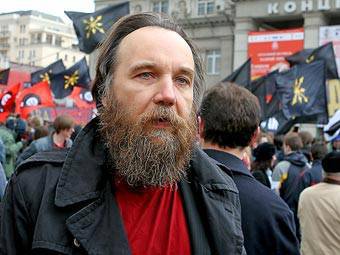 Recently, I began to notice, it is striking that in a society the number of frankly insane people is increasing. We see this on the streets, because people speak with a certain pathos, make unusual, unusual gestures, often people's speech becomes more and more confused, more and more weedy words, unfinished sentences, the use of terms not for their intended purpose. And in psychiatry, one of the signs of mental disorder is speech disorder. According to the level of speech, the quality of speech just judge the mental state.
If we turn on the TV (this is a terrible offer for an intelligent person, I've met with a number of our major television figures, they say: "Of course you don't watch TV" with the hope that maybe I will refute it - of course, I don't watch), they show absolutely incredible things there. That is, people - presenters, guests, program editors, analysts - gradually lose their idea of ​​a coherent intelligible discourse, forget what topic they are discussing, and the conversation comes down to screaming, screaming, or some kind of personal action. They say one another beats, shouts, who will burn in hell, who will show someone to whom from all obscene parts of the body, and this grows like a snowball. The meaning disappears from society, from culture, from the information environment, and people are becoming less aware of the simplest things. For example, a summary
News
is a simple thing. Previously, people more or less understood what was at stake, but today they don't, they don't understand who is good, who is bad. Good North Korea or bad, who in Syria is fighting with whom. News does not fall on any interpretation grid, and this is insanity.
The society gradually loses the most important human dignity - the ability to build from separate parts a certain system, a system of understanding the world, to build a world, and instead of peace there are separate fragments.
One German philosopher said that the animal is always looking. I recently see that people are also looking for something, they go and look, that is, they are led by certain strategies. But Heidegger, for example, said that the animal is obsessed - ist Benommen. The animal is obsessed with search or some obsession. Analyzing the work of the biologist Hückel, Heidegger says - pay attention to the bees, if you rearrange their hive by two meters from the place where he stood, they, returning and not finding, will be circling for that infinitely long time. Although it would seem - look away, here it is, your hive. No, they will fall in horror, filled with honey, and be destroyed there. Or like a woodpecker, who hammer an hour along the pole, where there are clearly no worms. But he is simply obsessed with this knock, just as the bees are obsessed with returning exactly to the place from which they flew. It seems that our society is becoming more and more obsessed. Career. It seems to them that this is a career. This is a career that does not lead anywhere, like bees, it is all the same. They reproduce the same actions, without thinking about their ultimate goal, their meaning.
Fragmentation of human life, society. Similarly, in science. A person knows some discipline, teaches, and what else? He does not understand the rest of the world at all. You can find such schizophrenic teachers who do not understand themselves what they say, but do it from year to year.
A phantom society is created, a society obsessed with simple things, like animals, with a certain set of behaviors. This obsession creates the feeling that everything is in order, that I understand everything, I control the situation, I am in the trend, I am in the top. But sorry, dear, in what trend? And what is the trend? And what's the top? Where are you climbing? What do you really want? What is your will? What is thinking? What is the strategy? What kind of society do you live in? What are you? If you give birth to children, then why? What do you tell them? You wonder why you need children? Are you breeding a new contingent for mora? Or do you put something human in them? If human - then tell me what is human? And what is human in you? Tell, analyze, you are a reasonable person. You can imagine how the answer will be hiss. Someone scratches, someone knocks, someone continues to fly as if nothing had happened.
It even seems to me that the meeting of the State Duma or some of our high-ranking, serious people is a kind of mask. In fact, they are naive, lost in the world of schizophrenics, who simply build a smart face. But in fact, if you ask: "What does your clever face, deputy, mean?", He cannot even answer, he is obsessed with deputy.
And no one feels great sorrow and sadness from the lack of peace, from the lack of meaning, from the lack of strategy, from the absence of the human dimension itself in our life. Bodily somehow everyone fumbles, but this is not human existence. Just survival can not be the goal of human life, or feeding, or procreation - all these are residual, subhuman manifestations. A person lives a dream, a person lives in thought, a person lives in will, a person lives in power, a person lives in philosophy and politics. If he refuses, puts his authority to think and act, that is, to be a meaningful being, to operate with meaning, it means that he surrenders his human dignity, and then he simply turns into cattle.
But man is not an animal. We can calmly watch the flight of a bee or a knock of a woodpecker, or a running dog, and especially an elegant and refined gait of a cat on the fence, but when we see a person who is walking on the fence, or pounding a lamppost, or looking for something , in society or in a nightclub, or in a store, sorting out goods packed with genetically modified products, there is a feeling of not contemplative enjoyment of nature and the richness of its diversity. There is a feeling of deep regret that, in this decline, people themselves do not experience this pain.
I look at the huge flows of cars. It is obvious that all people go in vain. They go the wrong way, each one of them separately and all together. They go absolutely wrong, they push, they squeal, whistle each other, press the horn, try to drive along the sidewalk, who turn on the red light, who knock down the old woman ... Each of them individually chose the wrong route because they did not choose. And the person is the one who chooses the route, who thinks - why? Man - who makes his presence meaningful. This is our human species dignity. Having lost it, we do not turn into beasts. We become sick, we become worse than beasts. We become just some kind of cattle that no one else breeds, it is also not needed by anyone, because it only needs to be fed. See how many state-owned machines, powerful blades, turbines, railroads are all unnecessary mess, these delirious masses are transported, transported, fed, taken care of, until they die. Huge efforts are pumped completely in vain, because a person is one who gives meaning to being, one who thinks about being. And the one who does not think about being is the one extra, it would be better for him not to be born at all.
Since we were born, we must respond to the challenge of being, and our Dasein, and our presence in the world, our presence here is an open wound. It is difficult to be a man, to think very responsibly and very risky, we have no other choice. Madness, in fact, also does not save, because secretly in each of us there is a feeling that we are doing something wrong, go wrong, go wrong, live incorrectly, not with those, in the wrong time and place and we don't really have the purpose that brought us to this world. Who is to blame? Someone's to blame. I think that it is impossible to blame the power, of course, but our power is a mirror of this state. She, unfortunately, is not smarter than everyone else, but should have been smarter. Therefore, the question of meaning should at least be put at the center of a national debate.