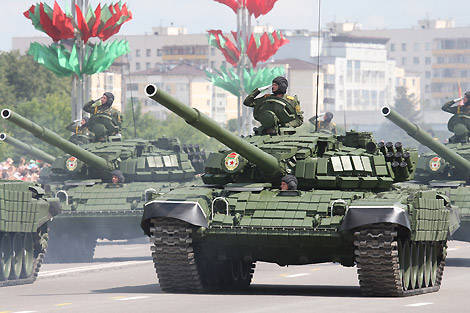 Arms exports from Belarus grew by 165%.
Such data are cited in its annual report by the Stockholm Peace Research Institute (SIPRI), published today.
The rating was based on data on the export of conventional weapons in 2008-2012. Over the past four years, Belarus has increased sales
weapons
by 165% compared to 2003-2007 over the years. According to the institute, our country is in the top twenty of the largest arms suppliers in the world, Radio Svaboda reports.
The rating of the largest arms sellers is headed by the USA, Russia, Germany, France and China. The main buyers are India, China, Pakistan, South Korea and Algeria.
The Belarusian authorities have repeatedly been accused of military cooperation with rogue states.
The Stockholm Peace Research Institute has already announced earlier that Minsk is selling weapons to Damascus. Belarus, according to researchers, is among the three largest suppliers of weapons for the Syrian dictator.
Cooperation with Assad concerns not only trade. Belarusian specialists also provided technical support. Some enterprises, in particular OAO Tetrahedr, helped Syria to modernize its air defense systems. Experts also believe that the 48 Syrian air-defense system "Buk" was completed last year with the assistance of the Belarusian enterprise "Alevkurp." On the military support of the Assad regime by Lukashenko has repeatedly declared the Syrian opposition. Last September, Belvneshpromservice was accused by the US Treasury of selling Damascus fuses for aerial bombs. Earlier, Washington also said that this company cooperates with Iran.
The accusations against the official Minsk sounded in connection with the supply of arms to Sudan. UN experts in March 2013 said that Belarus was selling planes and rockets to this African country in violation of international sanctions. This weapon is used against the rebels in the province of Darfur.
In 2011, international organizations reported that the Belarusian authorities were selling weapons to Libya. In this country, then, there was a civil war between supporters and opponents of the Gaddafi regime. It was reported that an Il-76 aircraft with weapons flew from Minsk to Tripoli.
The Belarusian trail was also seen at a military parade in Pyongyang. Some observers noted the similarity between the chassis for North Korean rocket launchers and the products of the Minsk wheel tractor plant.
Recall that in March the Belarusian authorities established new rules and procedures for defining and licensing dual-use goods and technologies that can be used to create weapons and military equipment. The authority for determining the relevant goods is vested in the Operational Analytical Center, and the licensing of trade intermediaries is entrusted to the State Military Industrial Committee. Thus, the arms trade was closed from "random" players.