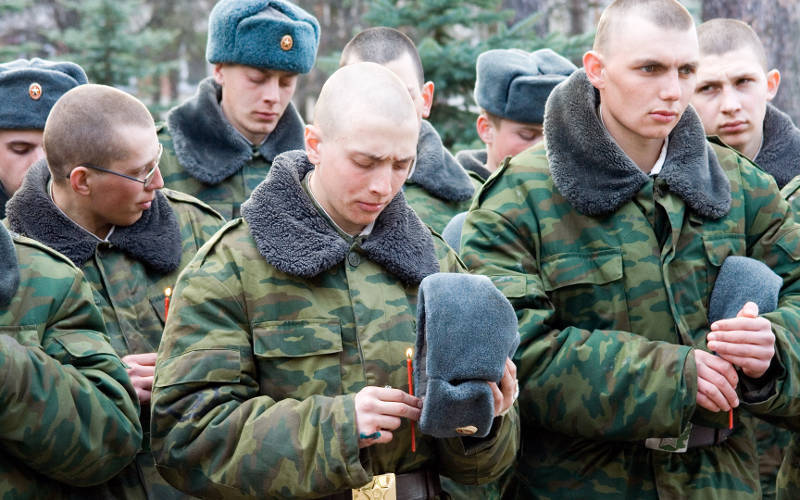 Not in these guys lies the danger, but in power, the expert believes
A strange anomaly was formed in Dagestan. Something is not happening there with young people, something that sincerely frightens even the new Minister of Defense Sergei Kuzhugetovich Shoigu, who is actually a terrified comrade - he saw a lot of things when he was head of the Emergencies Ministry.
And what else, if not fear, can be explained by the decision of the Ministry of Defense to establish a quota for the appeal of an 800 man for an almost three million region? For comparison: in the neighboring Stavropol Territory with approximately the same population, the draft conscription plan has already drawn up 4000 recruits. At the same time, according to the census data available, the Russian population in the Stavropol region is about 80% of the total, while Dagestan does not have such a pronounced national dominant.
However, Daitbeg Mustafayev, the military commissar, is trying to reassure: "Taking into account delays, health conditions and other circumstances, Dagestan could only give the Armed forces of the country 25 – 30 thousands of tough guys this spring, but so far these are quotas for the republic. We hope that, as in the best of times, thousands of people will be called up from 4 – 5 from Dagestan. "
Hope dies last, but here it is not she who is before us - the military commissar's hope - but his obvious slyness, since he is certainly well known for the real reason for this "condescension" of the center to Dagestan and other republics of the North Caucasus. The bureaucracy - be it civil or military - does not like to create problems for itself, that's the whole secret. And hot Caucasian guys are a real and inevitable threat to army-wide discipline, especially in those parts where whole diasporas are created. Well, there are no such "diasporas" - no, it seems like the problem itself.
The viciousness of this approach is recognized even by open opponents of "excessive militarization" - for example, the head of the "Committee of Soldiers' Mothers" Valentina Melnikova. "The level of discipline in the units depends on the commanders. Commanders and officers should work with barracks hooligans. And if they cannot do this, this is not a reason not to call up the natives of the Caucasus for the army, "concluded the human rights activist.
But Melnikova herself, in her commentary to Nezavisimaya Gazeta, indicated that the authorities are much more serious about this perspective, when young highlanders successfully complete the necessary training in order to take good positions as a pro in the Wahhabi hierarchy ... Do we need this? The question is rhetorical.
But what to do with a shortage of troops is not rhetorical, but the most vital, only it seems that responsible uncles with asterisks on shoulder straps do not care. But maybe the truth is now exactly what it seems, Sergei Kuzhugetovich? Well, shall we then consider then the first 140 recruits from Dagestan, Kabardino-Balkaria and North Ossetia, sent to military units by a good effort.
In a conversation with a KM.RU columnist, a well-known military-political expert, president of the Academy of Geopolitical Problems, reserve colonel-general Leonid Ivashov noted that the authorities are afraid, first of all, of publicly exposing their incompetence, rather than aggravating interethnic relations in military units:
- Yes, these fears are not justified by anything, we simply can't bring order in anything. What sphere do not take - everywhere defeat, corruption, theft. Here and in interethnic relations, too, frankly, a complete mess going on. Not in these guys lies the danger, but in such a power, which it will not undertake, it will surely izgadit, will destroy.
After all, what is the rejection of the mass appeal of young people from the same Dagestan? So then, according to their logic, we need to abandon Dagestan itself, as well as other republics, recruits of which "do not take root" in the Russian army. But if we leave them as part of Russia and they themselves don't want to leave anywhere, then we need to jointly establish an elementary order there. And then we once, under the sauce of "rights and freedoms", dragged radical Islam there, special structures of Western and Muslim countries, and now all that remains is that it is shy to close our eyes to that ...
The military in the current situation, you can try to understand: they also see who will come to the army. And in the same Dagestan, a good half of young people simply cannot find themselves in this life, they are deprived of the opportunity to get a good education, to join the culture, to find a decent job ... It is clear that the youth in these conditions inevitably degrade and, of course, such draftees - not really coveted contingent for army commanders.
But it is only here that it is time to put the question: what are these commanders today? We see that the military education system is actually destroyed. But this is still no excuse. If a commander cannot restore order in his platoon or in a company, how will he fight with a real opponent if he is unable to cope with the conscripts entrusted to him?