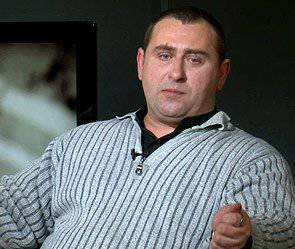 Politics in the postmodern world is show business and constant "gurgling"
MITIGATION IN THE ERA OF FOOLS
I know that you will tell me in reply, but I will still write what I think. My friends! As a cognitive examining the events of December 2011, I came to the conclusion: we were in the world of fools. In the ecumene of contagious nonsense. The so-called "people" will never rise. The stupidity and lack of will of the broad masses finally became the determining factor of the rule of the current regime. No, he can fly away - but only as a result of an "elite" coup, when his position will undermine the global crisis (the bribes will end). Stupid masses will be used as a controlled mindless force. But in their (the masses) position it will not change anything: after the possible overthrow of the regime they will remain in a deeply controlled state.
History
now only rich and powerful players are sending.
It is necessary to somehow adapt to the life-being in the world of the weak-minded. I do not mind them. I am writing to the few who have still preserved the Roman (Russian-Soviet) mind and education.
TIME OF JOKES AND DUSKS
What happened was what Maxim Kalashnikov and Sergey Pereslegin and Andrey Fursov both feared so much: politics degenerated into show business. In order to please the electorate, you need to constantly "dink" (the apt expression of Andrei Kobyakov) and engage in jestering. Well, like the Pole Palikot, who took a large percentage of the recent elections in his Commonwealth. Palikot constantly fumbled, jumped out onto the podium with rubber horseradish in one hand and a pistol in the other, demanded all sorts of freedoms for the fagots. So what? Yes, for him the Polish youth unanimously voted. This is fun! It's a tin! The story was repeated in Italy with the "Five Stars" movement.
But even without that it is clear that a massive electoral subhuman has come. With him it is impossible to talk seriously about serious. He must be constantly entertained. He does not know how to read (more than three lines on Twitter - "too many beeches"). At the most, it stands up - these are half-minute videos in U-Tube. Further, as in the weak-minded, his perception is lost, there is no concentrated attention. That is, it can consume only miserable thought-stamps, clichés. And the fact that such a massive idiot does not like Putin does not make him clever at all, capable of composure and understanding of the situation. He needs a permanent farce, and not something serious. These nonhumans will no longer be able to delve into the programs of raising the country, the nation, the economy, and disputes with the monetarists: they are bored. They do not understand. They are something simpler and more fun give.
It was established experimentally: you can remove the program with smart people and a serious problem of national importance. With a report and departure to the field. For example, the fate of the agrarian sphere or futuropolis. The maximum that will get such a movie - a couple of tens of thousands of views, and usually - 3-5 thousands. But if Konstantin Babkin and I would have naked for half a minute around the Torum combine (y-oops, y-ops, gunmen Style!), And also surrounded by naked girls from the Party's affairs (they are beautiful), then views it would be two hundred thousand - no less. And if Vasily Melnichenko were to join, so much more.
By the way, the fate of Vasily Melnichenko's "Bengal-fiery" fame is proof of that. I know him a little since 2010, and I deeply respect him for his remarkable wit, will and practical wit. So, when he fool around in his speech at the Moscow Economic Forum, giving a speech in the style of a simpleton-fool, this video was watched by 400 of thousands of viewers of the Runet. Well, yes, Melnichenko, with jokes and with a sweet Ukrainian (Little Russian) idiom, said about how bad things are around. But as soon as Vasily Alexandrovich moved from the statement "Everything around is bad" to some constructive presentations and to plans for concrete actions that require efforts in real life, so the views of the videos with his participation immediately fell to a maximum of fifteen thousand. Why? Yes, because the mass of idiots, he was already tired. Bengal fire broke out - and quickly went out. A lot of dummies-inhabitants of the Runet do not want to really act. She needs to have fun all the time, looking for more and more new stimuli, sources of "fun and tin." Melnichenko no longer "hooks" - let's give us a new show!
When Vladimir Kvachkov was free, the clips of his speeches and broadcasts gathered 150-200 thousands of hits on the web. But as soon as it was necessary to simply go to Suvorov Square and leave signatures on the demand for his release (the beginning of 2013 of the year), five hundred souls came to the rally. Although everywhere in RuNet reported about the upcoming meeting. All the vaunted paratroopers, all this fighting fraternity had disappeared without a trace.
Here you have the whole diagnosis. All the explanation of why the so-called people for a long time fell under the yoke. For he himself is now guilty of this. Yes, I hate our power, and since the end of 1991, for sure. I consider it a community of criminal fiends. But everything is clear with her for a long time, her nature has remained unchanged since the time of Yeltsin. But the so-called people - isn't it time to deal with them? Is it time to say about his fault in what is happening to him?
Why are you, the people, with such pleasure dropped to all fours and grunted when it was allowed to you? Why did you turn so quickly into those who can scold the rulers on the Internet, but don't even want to go to a protest rally?
Why can you, at least in some significant number, go out on an insignificant occasion, such as a march to defend the "rabies' queens" or in order for the Yankees to take the children out of here, but you cannot be raised to a rally against WTO, against strangulation of fuel prices, against inflation of prices by energy monopolies and utilities? Why do you not want to protest against what is really destroying you and selecting the future of your children?
Why are stocks of the left gaining an insignificant number of participants?
Why did the nationalists, like Pavlov's dogs, learn that it was necessary to go mass on the Russian march of November 4, but already on the Russian May Day participants — already many times less? Why nationalists can not gather in the slightest degree a decent number on operational grounds in defense of their own brothers, who fell behind bars. Why do nationalist fans throw tens of thousands of football games on, but they can't go out to protest in the same number?
There is one explanation for this. And it is scary.
REAL ESTABLISHMENT
The explanation is that our people (I repeat this not for the first time) have been dismantled and shattered into shrapnel islands, into many isolated groups. This is not the people, but the population. Moreover, this population is losing its mind more and more, turning into neurotic and non-passionate fools. And it doesn't matter how some individuals of the population call it - left, liberals or nationalists. They are still governed by the same principle: clip, joke, balagan, cliché memes, showmen at the head.
This population likes to complain: "Oh, if we united! If there was a man of action, Leader - we would have followed him! There are no leaders, everything is around — Surkov's agents and provocateurs! "
But we, the Kogi, perfectly understand: for this to happen, we need an acceptable level of will and passionarity of the mass itself, a certain minimum level of solidarity. If the mass is passive and if all its energy goes into words and into mutual insults, if it does not want to go out by itself, nothing will happen. No leaders will arise, for grain cannot grow on dry and barren land. The flames of popular anger will not soar, if the population is not smoldering even coals, but gray ashes that have cooled down. Moreover, the mass is so neurasthenic, prone to evil gossip (it believes them most willingly) and so suffers from mutual, pathological suspicion that the leader will not appear. For as soon as someone starts to stand out from the crowd and do something, as it is overwhelmed with mud and mud. Moreover, tricky manipulators from power need only be done a little: throwing gossip skillfully cooked into the mass through the I-no. And the mass of "dissatisfied" will itself announce the potential leader either as an FSB agent, now as a hired provocateur, now as a half-breed, now as a creature of the Putin administration, now as a cunning businessman, now as a hidden Jew, etc. According to Kvachkov, I know that. And thousands of inhabitants of the Runet without any payment, for the love of art, will spread it over the network. Placed on forums and websites. Draw demotivators.
If the leader appears, then only if some external forces create it, pumping funds into his promotion and covering his creature outside the Russian Federation. This is my deep conviction.
These are the realities of the world of mass idiocy, the era of universal postmodern. Therefore, there are no mass parties and movements in the Russian Federation: postmodern half-mongers, a dismantled people, cannot pathologically unite. Any organization will instantly pounce on factions (smaller and smaller!), Any "coordination councils" will become incapable. Well, you yourself have already seen it.
BREEDLESS BREEDS: BREEDING EXPERIENCE
Yes, this breed of disconnected fools and psychopaths (former Russians) was specifically bred for the post-soviet 22 years. Television, consumerism, the cult of acquisitions and money, the cult of obsiration of everything lofty and ideological, the cult of total cynicism, the destruction of the culture of reading and the destruction of education. At the same time (Pereslegin is right!) Nonsense is contagious: many of those who were once fully intelligent and capable of solidarity have lost their mind.
Was she taken out on purpose, with the help of secret developments of the Zion or Anglo-Saxon psychologists? I do not think. Even a few centuries ago, the ruling class could sense the need for social engineering, could create and apply it. Well, did the German feudal conquerors on the lands of present-day Latvia and Estonia have enough intelligence to issue serf women for the most stupid and submissive peasants - Estonians and Latvians? So, to breed breed wordlessly submissive to the point of thought? Did the Russian landowners have enough sense of mind to recruit 25 for years to join the army of the most passionate and recalcitrant guys from the villages, keeping the most obedient serfs for themselves? I think that in this case the top leaders also used their instincts in half, in half - they simply adopted the tried and tested Western political technologies and brainwashing facilities. For those who lived in the United States and Europe, they say: what is happening in the Russian Federation is what happened 20 years ago in the West.
But be that as it may, the breed of nervously quashed, mutually suspicious, cheap-selling and incapable of uniting, weak-willed stupid bred. She is now an electorate. Its bulk.
We, the Kogi from the USSR, already feel how we have drifted away from this mass. It is impossible to appeal to the assembly of the Nerds (new tormans), appealing to examples from great literature or at least to quotes from Soviet cartoons. They did not read all this and did not look. They need to contact with quotes and jokes from the retarded "South Park". Kholmogorov somehow brought a look. I honestly could not. For watching all this is somehow disgusting. I can not accept the degree of stupidity of those who like it. The masses no longer understand normal, literary Russian language. She cannot comprehend the simplest logical constructions and comprehend even the most complex texts. It is harder to talk with them: they have everything - jokes, rzhach and gurgling.
These are slaves forever. Slaves who are not even able to realize their slavery. And give them free elections - you end up with the dominance of crazy clowns in politics, and then a new tyranny.
FUTURE OF POSTMODERN MASS
The future masses of forever making fun, frivolous idiots is easy to predict. Since they are fragmented and sluggish, since they are corrupt, prone to vices and drugs of all kinds, because they do not bear children and cannot create stable families, they will simply be forced out of the once Russian lands. Who! Yes, even the newcomers from the Caucasus and Central Asia. For they have retained much greater capacity for cohesion and mutual aid, they multiply children, they have preserved the patterns of behavior of traditional society. Another five years of continuation of the current trends - and nothing we can not do with them. We'll have to learn Uzbek. And Chechen.
For the point of no return will be passed.
Mass does not like North Caucasian dudes. Yes, I myself do not like them. But why are they so free to walk here?
I must say now to myself, and honestly: the highlanders use our current national decay. Once again, not paying attention to the screams and snot, I will declare: there are no more Russians as a people, they have dismantled it. And now the task of the future government is to create a new Russian people. There is simply no other way. This has already happened: Radonezh could, from a completely decomposed Old Russian ethnos, generate the present Russians six hundred years ago!
The current Russians are miserable beings who will be jostled around by everyone who is separated from the Russian Federation. I am writing from impressions of communication with caring people from the Sverdlovsk region. The current Russians have become passive brewers (as I hate this "cult of beer" in Erefii!) With beer belly and sagging muscles. They can blow beer and stare at the TV box. They even can not caress women normally. Young Russian women complain: beer is inflated - and, sorry for the expression, they all pop into their mouths. And what's the point, if, excuse me, they are no longer worth it? Already young pivosos - impotence!
At the same time, a team of puny Kirgizians (in comparison with the beer bakers who had just come from the army), at the same loading rates, three trucks can "hack" for a working day. Whereas the beer beetles, incredibly sweating - only one.
At the same time, these beer-TV-minetnye creatures are cowards in front of any power. They instantly shut up the language in one place and scatter in different directions, not supporting the cause of those who decide to fight for their rights and to attack the thieving bosses. The current Russian-Russian mostly - fragmented and quarrelsome creatures. In Erefii, they strive to destroy anyone who thinks for himself, who is energetic and does not live like a gray flock of "lemmings." According to Vasyl Melnichenko, it was in the USSR that they were exterminated through one such person. Now - all.
A crowd of rams voting for the chiefs who buy elections for small handouts, not wanting to think about the future, she lies under the highlanders. Picture from life: in the current army, three Dagestani conscripts after the end of the game are knocking out the whole company. The Russian guy, who had just arrived, decided to rebel and call on everyone to fight back the Dagas. As a result, three highlanders blizzard him with the indifferent observation of other Russian conscripts.
But the next night the Dagestanis invite the only "spiritual" and militant Russian to the storeroom, treat him with food and booze, recognize him as a real man - and then invite him to go along with them to tantrum the rest of the company.
Of course, I am already under fifty, and in such years it is difficult to look the same as in more than twenty. But Maxim Kalashnikov still weights the barbell and after a workout can wave a kilometer in the pool. I remember how I did classical wrestling in 1988, for example. Moscow University in the USSR, the real republic of happiness - learn, play sports! So your humble servant managed to both read, and learn, and engage in sports. But who was going to fight? Few Russians and most of the Highlanders. And most of my Russian fellow practitioners preferred to blow beer and whip vodir. Well, the Russians came to this miserable, white-blue-red state.
Guys, that's why I tell you: there is no problem of the North Caucasus - there is a problem of the Russians themselves, who have turned from people into a liquid-amorphous, weak-cowardly population. You need to start with yourself. With the revival of us as a people.
For despite the fact that we have, there will never be either a wide protest uprising, no uprisings in the army. The fact that Serdyukov worked with impunity with his army with impunity proves this very well. Nobody dared openly rise against the Stool. And a weak attempt of paratroopers, retirees to speak out against the raging boor, came upon the arrival of a horde of generals with the titles of heroes of both the USSR and the Russian Federation, who called in unison to obey the minister of defense. The reasons for this are the same ...
PRACTICAL CONCLUSIONS
Why did I write all this? Yes, so that you, my Russian tribesmen, piss off. And make you think. So that you first take on yourself. For it hurts me for what happens to my people.
Yes, not all - helpless stupid flock. But we, intelligent and passionate, are few. We are still lost in the gray bland "kissel" of the electorate population, among which were new lemmings.
What to do? I am sure that sooner or later it will come to someone from industrialists that you need to spend only a few million in "green" to create a new social network. But not a simple "chat", where steam is released and the photo is hung out, but the network intertwined with the real. The network, where its members work together in business projects, has a mutual aid fund, joint protection of their business, joint legal protection, joint leisure, joint civil actions and their schools. Social Network Cause, real Russian Jamat, mafia, community. The germ of a new Russian nation.
Unfortunately, my proposals on the PD's councils on this issue did not find a response. The old stereotypes are too vivid, there are still unfounded hopes that it is possible, de, to build a party of the old type.
But massive, cohesive parties of the old type (as in the twentieth century) cannot be created where both the people and society are dismantled and turned into "gray kissel" from quarrelsome morons. No party: neither left nor liberal, nor nationalistic.
But I hope that sooner or later such "network building" will occur. With or without us, the main thing is to happen. The question is in very large initial investments, which, on the principle of crowdfunding (collecting a penny from thousands of volunteers), cannot be drawn. All one needs is the primary core of people with capabilities and with the understanding that congress-declarations are not going anywhere. It is bitter to admit, but the raw oligarch, not a Russian oligarch, came closest to this - Prokhorov. Alas…
If this does not happen, then nothing will save the Russians. Death from mass stupidity, lethargy and disunity will become inevitable. The power of the marauding regime will become eternal, and it will - albeit in different guises - rule us until we just fade away. And we will not hide in the waves of new citizens of the Russian Federation who do not speak Russian ...