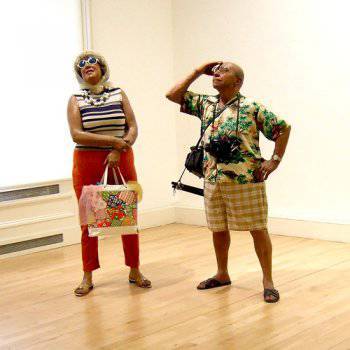 Man became omnivorous. It will not be afraid of anything, it will not recoil from anything. Screaming, but they will eat anything they ask for, especially if they are filming.
They will say to him: "Kiss here, hold here, stand here on your knees. This is for happiness, "it will fulfill. Wear all sorts of nonsense. Against the background of what you want nonsense photographed. Any fragrant stick will be lit before any idol.
And all this - from the inner emptiness and the reduction of space in time, which is called globalism.
In this way, an internally empty person, an important representative of Western civilization, moves within a shriveled space. He has plenty of money and plenty of free time. He gets easy access to any information of interest, but instead of a solid and suffering outlook, he has only a miserable mix of newspaper cliches like "market economy", "personal freedom", "terrorist threat", "environmental protection" ...
This great-grandson of a former Christian civilization in the vocabulary has the same words as three hundred or four hundred years ago: faith, hope, love. But this is "faith in progress", "hope for scientific achievements" and "self-love". The struggle for truth grew for him in the struggle for markets. But he feels himself a bit of a large whole not at a religious procession and not in a temple, but in a stadium and near an urn with ballots in the next election.
This cute man loves animals, but only because he does not love people, but to love at least someone, yes it is necessary. Humility he called humiliation, and pride - virtue. Finally, having lost all taste for truth, he decided that there is no truth at all, and it means that everyone is right in his own way.
He declared this vile thought as his achievement and called tolerance.
What does the rest of the world say to this representative of the white, proud, civilized world - exotic, many-sided and "uncivilized"? In many languages, the same thing: "Come to us. Treat yourself with our folk remedies. Dance at night on our beaches. Take pictures on the background of the ruins of our ancient temples. And pay us for it. "
He speaks softly, tilting his face down and wielding the sweeper's brushes over the shiny white tourist's shoes:
- We will soon come to you. Many of ours have already arrived, but this is only a landing force. We will live in your cities, study in your universities. You have money, a lot of money. We need them and your technology. You became lazy and accustomed to comfort, and we still know how to work. We know how to smile and simultaneously despise the one to whom we smile. We know how to take handouts, but also to hate those who give them to us. We will bend to the ground a hundred times, but one day we will stand up and you will bend. Only you will not straighten up.
We hate you, even when we study at your universities. We tie your fashion ties and hate you. We learn, along with the language of our mother, the languages ​​of foreign mothers, but only to curse you in all languages ​​over time. You have been feasting and enjoying too long, subjugating and dominating. This time is running out. You no longer have a soul, and in your coordinate system there is no other point of reference, except for your egoism. Therefore, you have nothing to rely on. When you die, even when you just fall, tired of debauchery, drunkenness or your own decrepitude, the number of people who want to wipe their feet on you will be so great that you will be forever mixed with dust ...
But great-grandchildren of the former Christian civilization do not seem to hear these threats.
They do not want to remember the truth and fill it with spiritual emptiness. The civilization in which we live, before the achievements of which, as before the image of Nebuchadnezzar, we crawl in the dust - the civilization of indifference to truth, the civilization of the heirs of the evangelical Pontius Pilate, the indifferent and cowardly accomplice of deicide.
Let us remember that sooner or later all untruth comes to an end. On the Day of Retribution, the heavens will fall together like a scroll. Great shame awaits the false glory of this age.
Then you will not envy not only big and small modern pilates, but also those petty souls who are now ready to tie their laces to a civilized European master. Only for this petty groveling will they be fully punished on a par with those whose laces were eager to tie.
And the Day of Retribution will, believe me. Our God is a little like us. He has no tolerance whatsoever.