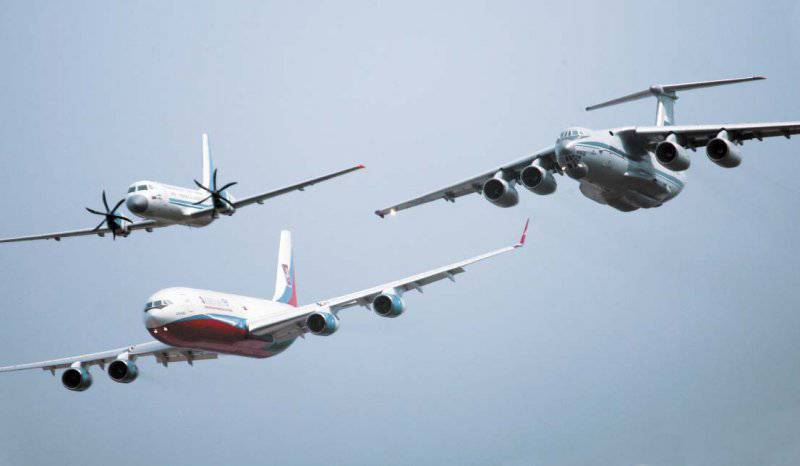 Today marks 82 years since the founding of the military transport
aviation
(BTA) The Air Force (Air Force) of Russia. On this day, ceremonial events will be held in the BTA air garrisons with the removal of combat banners of the units, the construction of personnel. The commanders will read the holiday order of the commander of the BTA, Major General Vladimir Valentinovich Benediktov, and honoring specialists who distinguished themselves in official activities will be held.
Currently armed with military units and military units of the BTA are IL-76MD, IL-62, An-26, An-22, An-124, An-12PP, An-2, Tu-154, Tu-134, Mi helicopters -8.
From 2014, the An-70 aircraft, deeply modernized Il-76MD90А, as well as the new An-124-300, will start to come into service with the BTA. In spite of the fact that the resource of the most part of the existing aviation fleet of BTA is calculated up to 2020-2030-s, the percentage ratio of new aircraft will grow steadily.
In the past winter period of training, the BTA crews performed more than 700 flight shifts, the total flight time during which was more than 22 thousand hours.
During the first half of this year, more than 20 thousand troops and about 14 thousand tons of cargo were transported.
During various events of combat training, more than 50 thousand troops were landed.
The geography of destinations and tasks for the flight crews of BTA extends from the polar base "Borneo" to the African continent.
Among the tasks facing the BTA in the summer period of training, the most significant are the preparation for the West-2013 strategic command and staff exercise, as well as for the Indra-2013, Selenga-2013 exercises and a number of others.
The 17 crews of the BTA are prepared for extinguishing fires on specially equipped IL-76 aircraft.