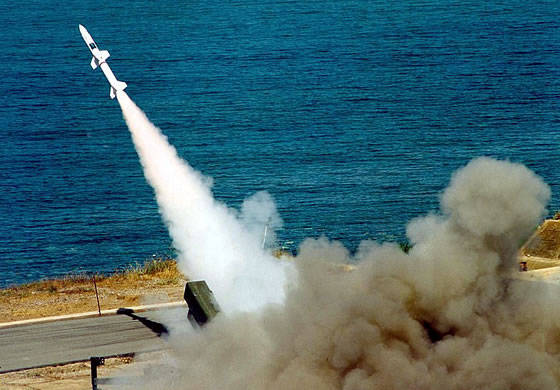 Defense Ministry of Peru is considering the possibility of acquiring Italian-made anti-aircraft missile systems. This statement was made during the official visit of the Minister of Defense of Peru Pedro Cateriano to Italy.
During the visit, the process of ratification by the Parliament of the "Memorandum between the Government of Italy and Peru in the field of security and defense, as well as defense products" was discussed. This agreement covers cooperation in the defense industry, including the acquisition by Peru of an air defense system manufactured by an Italian company.
Recall that in April 2012, the Ministry of Defense of Peru annulled the contract with the international consortium TRIAD consisting of Northrop Grumman (USA), Raphael (Israel) and Bumar (Poland) for the supply of short and medium-range air defense systems . The cost of the program was estimated at 150 million dollars.
According to Infodifensa, citing unnamed sources, the Air Force of Peru is considering the possibility of purchasing the Spada-2000 air defense system (Spada 2000) on the basis of the Aids-2000 SAM.
The process of evaluating the air defense system began in December 2012 of the year following the visit of Peru's Deputy Minister of Defense Jakke Valakivi to Italy. At the end of February 2013, the Peru Air Force held a seminar, during which the characteristics of the main air defense systems available on the international market were discussed in detail. In March, a delegation of the Air Force of Peru visited the enterprises of MBDA (manufacturer of the rocket "Asp") and Seleks (the manufacturer of the radar station), as well as the Italian Air Force base, where they got acquainted with the capabilities and support system of the Spada-2000 air defense system.
During the last visit, Defense Minister Pedro Cateriano visited the Italian Air Force Rivolto airbase, where he was provided with information about the air defense system.
The typical composition of the Spada-2000 + air defense missile system includes a detection center with RAC-3D radar from Seleks System Integration and up to four fire compartments, which include a fire control center and two or four launchers with six "Aspid-2000" SAMs on each .
The MBDA developed by Aspid-2000 rocket is 240 kg, length is 3,70 m, diameter is 0,20 m. Zur develops speed 2,5М and can hit targets at distances up to 25 km and altitudes up to 5 km.