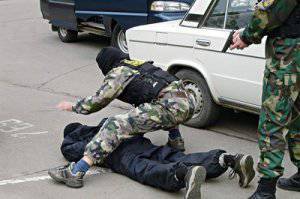 At the parliamentary hearings in the Federation Council, Alexander Roshchupkin, head of the FSB counterintelligence analysis analysis department, said that due to armed clashes in Syria, Russia is awaiting an influx of experienced militants through illegal migration channels.
According to him, the FSB reliably established "certain forces" within the stream of illegal immigrants. Analysis of the materials has already allowed to formulate several groups of threats. In addition to militants from Syria and other theaters of clashes of the "Arab Spring", the intelligence services of an unnamed number of foreign states are also undermined by the state system of Russia, using the same channels to carry out intelligence and sabotage activities, as well as "destructive forces and foreign non-governmental organizations that actively use migration topics to the detriment of the interests of Russia. "
It should be noted that the statement of Alexander Roshchupkin is not intended only to mark the beginning of some kind of activity. He reported on the intermediate result already achieved. During the measures taken by the FSB, personnel officers of foreign special services were identified and convicted, who settled in Russia under the guise of migrants and carried out subversive activities on its territory, including in the North Caucasus. At the moment, the administration headed by Roshchupkin is developing further ways to prevent the phenomenon of illegal migration itself and to eliminate the threats arising from it. Judging by the situation, in parallel with this work, active measures will be continued, which have already led to the detention of a number of saboteurs and have proven themselves.
Yevgeny Chernousov, retired police colonel, lawyer at the Moscow Bar Association, Ph.D. in Law, explained "However":
- I agree with the deputy head of the FSB. He is right that the number of migrants has gone too far. It would be half the trouble, but in operational terms, they are practically not covered. That is, only a small part is covered. Since all these migrants and their diasporas do not allow anyone into their circle, there is always, as in this case, a problem. If somewhere, someone among them is planning something, there is no operational information about it, because there are no people.
You do not have to be a security specialist or a big leader to understand that the cup is overflowing. We do not manage the migration process. Not in terms of violations of immigration laws, but in what crimes are planned. And thus nothing remains but to restore order by reducing the number of illegal immigrants.