These days, mention of weapons, printed on three-dimensional printers, conjures up mostly pictures of how people print assault rifles in their garage. But an article recently published in the Armed Forces Journal presents a more systematic approach to the use of weapon printing in military art.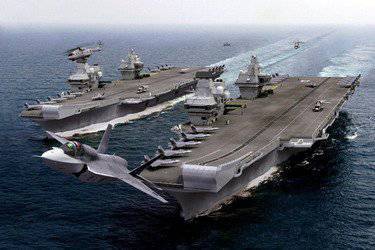 According to captain-lieutenant Michael Llenz, the US Navy plans to convert its aircraft carriers into "floating factories", each of which bears an armada of three-dimensional printers for printing weapons, drones, and even artificial shelters in accordance with instantaneous conditions. The global logistic rationality of such a scheme will save huge amounts of time and money. For example, tiny volumes of free space are created in a large pile of cylindrical bullets - which accumulate when it comes to many millions of units. Rectangular briquettes of powder, from which bullets can be printed when they are needed, use the available space as efficiently as possible.
At present, a detailed study of such a scheme has already been completed. Llenza cites several examples, including Contour Crafting, a three-dimensional printing system the size of a house, as well as several recent projects in which a fully operational drone was printed in one night.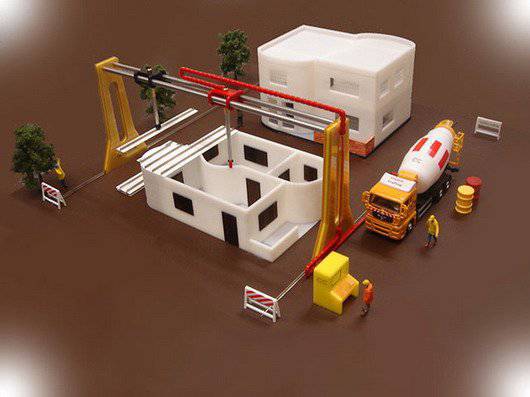 Image of the "Contour Crafting" system of the University of Southern California program, which has developed printing technology on an entire building scale.
Of course, huge technological gaps have to be closed before the 3D print can be adopted as part of a full-scale military supply strategy. Printing is very expensive at the moment, and more importantly, the structural stability of many materials used is not constant - so replacing critical parts of the mechanisms with printed parts is not even considered. However, this is a very promising idea, especially if we consider it in terms proposed by Neil Gershenfeld of the Massachusetts Institute of Technology, who described three-dimensional printing as an opportunity to "turn information into objects and objects into information." Llenz elegantly summed up this idea, suggesting how much simpler it would be for the Apollo 13 mission astronauts if they could just request the CAD models they needed at the moment from ground control.