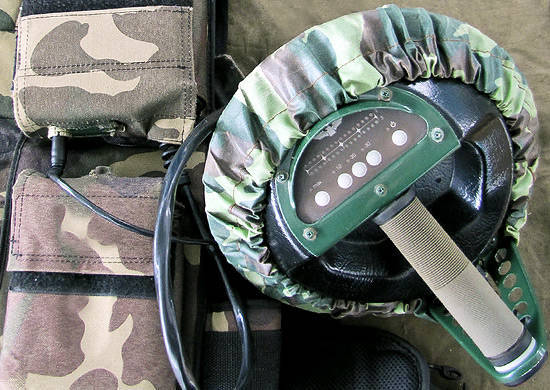 In June of this year. 10 new Korshun mine detectors manufactured by ZAO Protection Group - UTTA will be supplied to the engineering and sapper units of the Central Military District (TSO). Delivery will take place in accordance with the plan for the implementation of the state defense order.
The Kite Detector of Non-Contact Explosive Devices (INVU) makes it possible to detect explosive devices at a distance of up to 30 m both in soil and snow, as well as in various structures and behind obstacles: walls of concrete and brick, barbed wire fences and a metal grid, under asphalt and concrete pavement roads.
The search rate of explosive devices in 40-50 times higher than using metal detectors. In addition, the Kite allows detecting controlled mine-explosive devices containing semiconductor components both in the active and in the off state.
With the help of INVU, road sections and buildings are checked for the presence of land mines and mines containing semiconductors that are controlled by radio channels.
weapons
and ammunition, communications equipment, explosion control equipment and electronic time-delay devices.
The searcher consists of a transceiver, an antenna system, a control and display unit, an autonomous power source, interconnected by cables. Antenna system and remote control mounted on the pistol grip.
In July, engineering and sapper units of the Central Military District will use the Korshun INVU to ensure the security of the events of the XXVII World Summer Universiade in Kazan.