They have repeatedly said and argued that self-defense and small-caliber .22LR cartridge things are absolutely incompatible with each other. Nevertheless, for some reason each manufacturer tries to launch a small-sized pistol for a given ammunition, disregarding either common sense or specific examples of the very successful use of such
weapons
. What is most funny, even a shot in the head of the enemy will not always mean his death, since the kinetic energy of the bullet is very small and in certain circumstances it may not be enough to break through the skull of the enemy. But these nuances have already been mentioned many times, but I propose to get acquainted with such weapons of domestic production, and with a relatively new weapon. Briefly review the simplest sample under the name MP-435.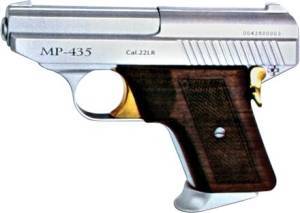 If someone is keen on gas pistols, then he probably noticed that the MP-435 pistol is very similar to the gas MP-76. In fact, the weapon is not just similar, but is even "related" to each other, since the MP-435 is an adaptation of the MP-76 gas pistol chambered for .22LR. In other words, they tried to make another from one means of self-defense, and I must say, it worked out. If we discard such moments as an ammunition that is absolutely unsuitable for self-defense, the gun turned out to be quite at the level of similar foreign models. The only weak point of the pistol can be a frame or a shutter-casing, since they are made of light alloys. It is clear that the weapon uses weak ammunition, is distinguished by compact dimensions and should have an appropriate weight, but so far there is no trust in domestic light alloys in the weapon - they did not deserve it.
The gun was built according to the automatics scheme with a free gate, which is not at all surprising, considering that the device is powered by rather weak cartridges. The appearance of the weapon is quite simple. On the left side of the pistol behind the pistol grip there is a fuse switch, which protrudes for convenient switching with the thumb of the holding hand, despite its small dimensions, the pistol has a slide delay when all ammunition is used up from the store. The weight of the weapon is only 0,5 kilogram. The total length is 135 millimeters with a barrel length 67 millimeters. The height of the gun is 100 millimeters, 25 millimeters thickness. In other words, the weapon, although compact, could be smaller.
Nevertheless, this pistol can easily fit in a jacket pocket and even more so in a woman's purse, so from this side the MP-435 pistol as a means of self-defense is quite good. If we talk in general about such weapons, then none of the samples chambered for .22LR, released in the late twentieth - early twenty-first century, did not enjoy success. Naturally, they bought weapons, sometimes they bought a lot, if the gun turned out to be convenient for entertaining shooting, but so that this would happen in large quantities and I don't remember with noise. So, as it would not want to admit it, but the MP-435 is a single shot.